Joseph Brady was born in Naas County Kildare in 1887. Before joining the army he was a professional billiard player and was in charge of  billiard rooms in Dublin. He enlisted in the 7th D Coy "Pals" Battalion of the Dub's as a private in 1915 and after his training he was sent on his first engagement to Suva Bay with his battalion. In Gallipoli he was working as a stretcher-bearer and was promoted to Lance Corporal on the 14th August 1915. Invalided home after he contracted enteric fever on the 20th August 1915,when he recovered he was attached to the 10th battalion as a Corporal
When the 10th Battalion were moved to France he was again transferred this time to the 11th Battalion with the rank of Sergeant. He was charged with allowing a prisoner to escape from Wellington Barrack's Dublin on the 7th November 1916 and faced a court martial a week later at Portobello Barrack's. Below is the newspapers account of the trial of Sergeant Brady.
COURT MARTIAL
PROFESSIONAL BILLARD PLAYER CHARGED
A PRISIONER'S ESCAPE
A district court martial at Portobello Barrack's inquired this morning into the extraordinary escape of a prisoner from Wellington Barracks on November 7th,when Sergeant Joseph Brady 11th Battalion Royal Dublin Fusiliers was charged with having without reasonable excuse while in command of the regimental guard allow Private J.Shine 11th Battalion R.D.F. to escape from custody. Accused pleaded not guilty and was defended by Mr Joseph Gleeson solicitor, Lieutenant J.Keenan 11th Battalion R.D.F. prosecuted. The officers constituting the court were Major W.Price, 3rd City of London Yeomanry, President Captain Millar 1st Battalion R.D.F. and Captain Coddington R.I.R. Regimental Sergeant-Major Ryan 11th Battalion R.D.F. stated that about 9.30 on the morning of November 7th Sergeant Brady, who was commanding the outer guard of Wellington Barracks, reported to him that Private Shine, who was a court martial prisoner, had escaped from his guard and placed under arrest.
Cross-examined by Mr Gleeson-
Q. The escape took place from the Wellington Barracks. Was there anything physically wrong to your knowledge with Sergeant Brady that morning?
A. As I entered the guardroom it appeared to me that Sergeant       Brady was ill.
Q. Was that after he had reported the escape?
A. No, it was before he reported it.
Q. You are a very experienced soldier and I want your opinion of the accused as a non-commissioned officer ?
A. During my dealings with Sergeant Brady I found him very steady, sober, reliable and a thoroughly efficient N.C.O.
Q. Having regard to that, do you think he would be likely to allow a prisoner in his charge to escape without reasonable excuse?
A. I do not consider that Sergeant Brady would allow a prisoner to escape without a reasonable excuse.
Sergeant Doyle 11th Battalion R.D.F. deposed to hearing accused report the escape of the prisoner to Sergeant Mayor Ryan. In cross-examination by Mr Gleeson witness said the stove which heats the detention room was out of order on the occasion in question and as a result men under detention were allowed to go to the guardroom to warm themselves on a cold day.
Cross-examined by Mr Gleeson-
Q. Was there not on this morning a whole guard in the guardroom    and a sentry outside the door?
A. Yes.
Q. And you were on duty there as Provost Sergeant?
A. Yes.
Q. So there was no possibility of this man escaping unless                 something extraordinary occurred?
A. No
Private W. McVey 11th Battalion R.D.F. said he was sitting in the guardroom on the morning in question, reading a newspaper and saw Shine sweeping round the fireplace, but did not see him leave the room. Sergeant Brady came in from the back yard of the guardroom and asked witness if he had see Private Shine, or had any of the regimental police come for him. Witness replied "No" Sergeant Brady then searched for Shine, but could not find him. Replying to Mr Gleeson, the witness said his mind was occupied reading the war news at the time. He knew Shine was a prisoner. There were other men in the guardroom at the time. There was another member of the guard in the yard and the sentry was at the door. He noticed Sergeant Brady leaving the guardroom very quickly, as if he had become suddenly ill.
Cross-examined by Mr Gleeson-
Q. You say where Shine disappeared to?
A. I don't know.
Q. Though he was behind you in the room?
A. I have not the slightest idea of where he went to.
Questioned by the court, the witness said six men; a corporal and a sergeant were on guard. Two were on sentry, one was washing himself in the yard, the witness was reading and another was cleaning his rifle. He did not know where the others were. This closed the case for the prosecution.
The accused gave evidence on his own behalf. In reply to Mr Gleeson, he said that before he joined the army he was a professional billard player. Shortly after the outbreak of war he sacrificed his earnings amounting to about £500 a year to join the army. He joined the 7th Battalion of the Royal Dublin Fusiliers and served in Gallipoli. Invalided home he became attached to the 10th Battalion R.D.F. and when the latter left Dublin he was transferred to the 11th Battalion with which he is now serving. On the 7th November he was commander of the outer guard at Wellington Barracks and had in his custody three prisoners in the guard detention room, one of whom was Private Shine. Becoming ill, he had to leave the guardroom suddenly, three of the guards remaining behind. Shine at the moment asked to get out to the yard for a wash and a witness let him out of the detention room. The witness saw one of the guard in the yard at the time and passed some remark or him "to look after Shine" though being in pain he could not remember what he said.
Cross-examined by Mr Gleeson-
Q. Were you perfectly satisfied in your mind that Shine was perfectly safe and could not escape
A. Yes.
Q. How long were you absent from the guardroom?
A. About two minutes.
Q. Was he gone in two minutes?
A. Yes and when I asked where he was no one could tell me.
Q. Did you search every place for him?
A. Yes, I ordered a thorough search for him, but he could not be found. I reported the matter immediately to the adjutant and subsequently to the regimental sergeant-major.
Q. Did you take every possible precaution to safeguard the custody of your prisoner?
A. Yes. I considered his escape impossible under the circumstances and in such a short space of time.
Cross-examined by the Prosecutor, the accused said he did not know Private Shine before he joined the army except by sight.
Cross-examined by Mr Gleeson-
Q. It has been suggested by the Prosecutor that you connived at Shine's escape, as you are a friend of his. Had you any contact with him either as friend or foe previously
A. No.
Lieutenant Keenan the prosecutor, was then called by Mr. Gleeson to give evidence as regard the character of accused. The witness said he acted as adjutant of the regiment for six months and knew accused as a trustworthy, efficient and sober N.C.O. This closed the case for the defence.
Mr Gleeson addressed the Court at length on behalf of the accused and submitted that the latter did not wilfully allow Shine to escape and that he did all he possibly could have done in the circumstance. Army law did not ordain that a man should do impossibities and the Court must be satisfied that the accused had no reasonable excuse for allowing his prisoner to escape. If ever there was a case in which the accused had acted reasonably it was this.
The accused was found not guilty.
Brady was again later transferred to the 1st Battalion was killed on the 1st March 1917 in France. He has no known grave and his name is commemorated on the Thiepval Memorial Somme pier and face 16 C.
Pte Brady's inscription on the Thiepval Memorial: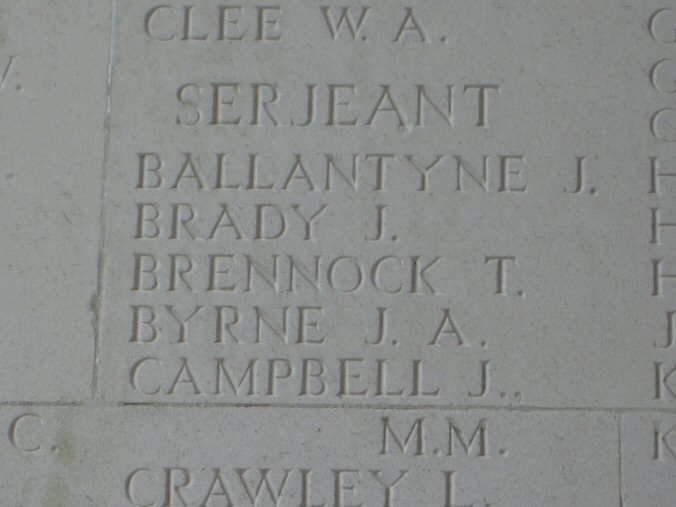 Sources:
Dublin Evening Mail
Evening Herald
The Pals at Suvla Bay
C.W.G.C.