The Queen's South Africa Medal was awarded by the British authorities to those who served in South Africa during the Second Boer War between the 11th of October 1899 and the 31st of May 1902. The Dubs took part in many of the major actions during this period including the attack on Talana Hill on the 20th of October 1899, the Defence and Relief of Ladysmith in late 1899/early 1900 and the Battle of Colenso on the 15th of December 1899 and suffered many casualties. The members of the regiment who died whilst on service during this campaign are today commemorated on The Royal Dublin Fusiliers Arch in St.Stephen's Green, Dublin.
The medal itself is a silver circular medal featuring a bust of Queen Victoria on its obverse and the image of Britannia holding a flag and laurel crown, in front of a group of soldiers on the reverse along with the words "SOUTH AFRICA". Each medal was also usually awarded with clasps which indicate where or in which battles the recipient served i.e. Talana, Orange Free State etc. Sometimes those who did not qualify for the King's South Africa Medal recieved a South Africa 1901 and/or a South Africa 1902 clasp for their QSA.
All of the medals were officially named with the recipient's number, rank, name and unit. (In the case of commissioned officers medals no number will be present). As with other medals abbreviations were used for the recipient's ranks (see full list on the website) such as Pte. (Private) and R. Dublin Fus. (Royal Dublin Fusiliers).
Almost 4,370 of these medals were issued to members of the regiment. A total of 26 clasps were awarded however members of the Royal Dublin Fusiliers did not receive all the clasps, they did receive the following, a total of 16:
Cape Colony
Talana
Defence of Ladysmith
Modder River
Tugela Heights
Natal
Relief of Kimberley
Paardeberg
Orange Free State
Relief of Ladysmith
Transvaal
Johannesburg
Laing's Nek
Diamond Hill
Wittebergen
Driefontein
South Africa 1901
South Africa 1902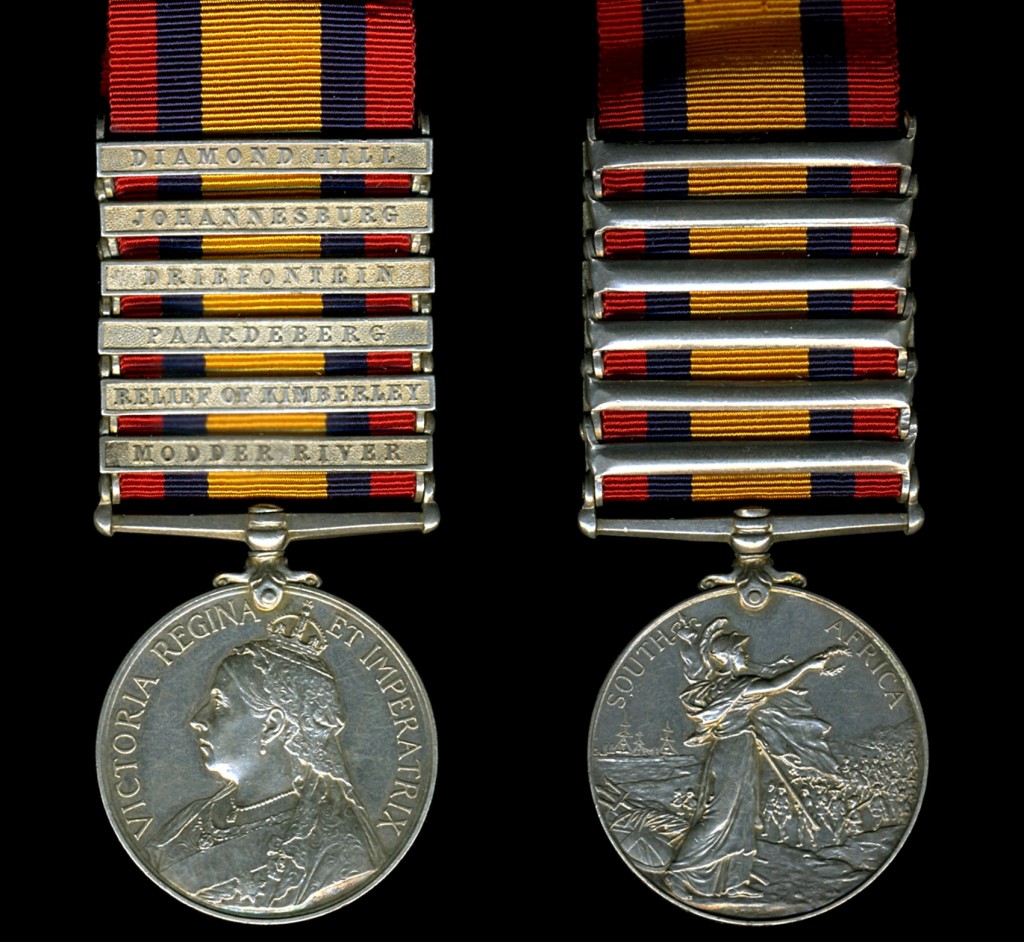 A Queen's South Africa Medal awarded to a member of the RDF
This example includes some of the most unusual clasps that were awarded to the regiment with 'Modder River' being unique, Relief of Kimberley (32 awarded), Paardeberg (35),  Driefontein (36),  Johannesburg (30),  and Diamond Hill (29).
Full list of members of the Royal Dublin Fusiliers entitled to the Queen's South Africa Medal
| | | | |
| --- | --- | --- | --- |
| Name | Rank | Number | Battalion |
| Abbott | Pte | 2777 | 1st Batt |
| Achilles J | Pte | 6352 | 2nd Batt |
| Acton | Pte | 3754 | 1st Batt |
| Adams | Pte | 1429 | 2nd Batt |
| Adams W | Pte | 3068 | 2nd Batt |
| Agnew | Pte | 3460 | 1st Batt |
| Ahern | Pte | 5514 | 1st Batt |
| Ahern R | Pte | 2565 | 1st Batt |
| Ahern R | Pte | 2565 | 2nd Batt |
| Ahern W | Pte | 2947 | 1st Batt |
| Aldridge C | Cpl | 3062 | 2nd Batt |
| Alen-Mahon L | Captain | | |
| Allen A | Pte | 5429 | 2nd Batt |
| Allen | Pte | 6296 | 2nd Batt |
| Allen | Pte | 6417 | 2nd Batt |
| Allen | Pte | 3052 | 4th Batt |
| Allen | L/Cpl | 5839 | 4th Batt |
| Allen | Pte | 1893 | 3rd Batt |
| Allen | Drummer | 5421 | 1st Batt |
| Allen J W | Cpl | 4327 | 4th Batt |
| Ambrose J | Colour Sgt | 4637 | 2nd Batt |
| Ambrose R | Pte | 2961 | 2nd Batt |
| Anderson | Pte | 4260 | 1st Batt |
| Anderson | Pte | 4119 | 5th Batt |
| Anderson B | Sgt | 4861 | 4th Batt |
| Anderson F | Colour Sgt | 1166 | 2nd Batt |
| Anderson G H | Drummer | 6653 | 1st Batt |
| Andrews | Pte | 7115 | 1st Batt |
| Andrews | Pte | 7240 | 1st Batt |
| Andrews | Pte | 3500 | 1st Batt |
| Andrews R | Pte | 5844 | 2nd Batt |
| Andrews W | Cpl | 6675 | 1st Batt |
| Angleton | Pte | 5070 | 2nd Batt |
| Arkins | Sgt | 3575 | 2nd Batt |
| Armstrong | Pte | 2052 | 2nd Batt |
| Armstrong | Pte | 1603 | 4th Batt |
| Armstrong | Pte | 5180 | 4th Batt |
| Armstrong | 2nd Lieut | | |
| Armstrong | Pte | 4538 | 1st Batt |
| Armstrong J | Pte | 4012 | 2nd Batt |
| Arnold | Drummer | 6207 | 4th Batt |
| Arnold | L/Cpl | 6861 | 1st Batt |
| Arnott F | L/Cpl | 4820 | 1st Batt |
| Ashton | Drummer | 5697 | 4th Batt |
| Ashton | Pte | 5696 | 4th Batt |
| Ashton | Pte | 5898 | 4th Batt |
| Ashuthust | L/Cpl | 5325 | 4th Batt |
| Athmoe | Pte | 2675 | 5th Batt |
| Atkinson | Pte | 3869 | 5th Batt |
| Atkinson | Pte | 3207 | 5th Batt |
| Austin | Pte | 7314 | 1st Batt |
| Babester | Pte | 5430 | 2nd Batt |
| Bacon | Pte | 5511 | 4th Batt |
| Baggott | Pte | 7 | 1st Batt |
| Bagnall | Pte | 5117 | 1st Batt |
| Bailey C | L/Sgt | 4861 | 2nd Batt |
| Baker | Pte | 534 | 3rd Batt |
| Baker | Pte | 3907 | 4th Batt |
| Baker | Pte | 7441 | 1st Batt |
| Baker | Captain | | |
| Baker | L/Sgt | 3426 | 1st Batt |
| Baker | Cpl | 6807 | 1st Batt |
| Baley | Pte | 4027 | 5th Batt |
| Balfe | Pte | 4485 | 5th Batt |
| Balfe M | Pte | 5795 | 2nd Batt |
| Ball | Pte | 3516 | 1st Batt |
| Ball | Pte | 4661 | 2nd Batt |
| Bannerman | Pte | 5663 | 4th Batt |
| Banfield W | L/Cpl | 3688 | 1st Batt |
| Barmes | Cpl | 5625 | 4th Batt |
| Barnley | Pte | 6021 | 4th Batt |
| Baron | Pte | 3614 | 1st Batt |
| Barrett | Pte | 4350 | 1st Batt |
| Barrett J | Pte | 460 | 2nd Batt |
| Barrett | Pte | 3796 | 5th Batt |
| Barry J | Pte | 5082 | 1st Batt |
| Barry | Pte | 5257 | 4th Batt |
| Barry | Pte | 6901 | 4th Batt |
| Barry | Pte | 4872 | 2nd Batt |
| Barry | Pte | 5131 | 2nd Batt |
| Barry P | Pte | 4663 | 2nd Batt |
| Barry C | Pte | 7207 | 4th Batt |
| Barry C | Pte | 6138 | 2nd Batt |
| Barry J | Pte | 3410 | 1st Batt |
| Barry J | Pte | 4497 | 2nd Batt |
| Barry J | Pte | 5189 | 2nd Batt |
| Barsdell W P | Pte | 5655 | 1st Batt |
| Barter R | Pte | 1703 | 1st Batt |
| Bass | Pte | 5835 | 4th Batt |
| Battersby J | Pte | 5127 | 2nd Batt |
| Bawn | Captain | | |
| Beatty | Pte | 6389 | 1st Batt |
| Beatty J | Sgt | 3136 | 2nd Batt |
| Bedding | Pte | 7476 | 1st Batt |
| Bedford | Drummer | 5518 | 1st Batt |
| Beggs | Pte | 4559 | 1st Batt |
| Begley | Pte | 5911 | 2nd Batt |
| Begley R | Pte | 7438 | 1st Batt |
| Behan | Pte | 6246 | 1st Batt |
| Behan | Pte | 4978 | 4th Batt |
| Behan | Pte | 2502 | 3rd Batt |
| Behan C | Pte | 6224 | 1st Batt |
| Behan J | Pte | 5386 | 2nd Batt |
| Behan J | Pte | 6608 | 2nd Batt |
| Behan M | Pte | 6147 | 2nd Batt |
| Belin | Pte | 4353 | 2nd Batt |
| Bell | Pte | 3324 | 1st Batt |
| Bell J | Pte | 6972 | 4th Batt |
| Bell T | Pte | 2992 | 5th Batt |
| Bell T B | Pte | 5290 | 1st Batt |
| Bellin | Pte | 5911 | 4th Batt |
| Belton | Pte | 4507 | 4th Batt |
| Bennett T J | Pte | 3115 | 1st Batt |
| Bennett | Pte | 5616 | 4th Batt |
| Bennett | Major | | |
| Bennett A | Pte | 6165 | 2nd Batt |
| Bergin | Pte | 5554 | 4th Batt |
| Bergin | Cpl | 4146 | 4th Batt |
| Bergin | Pte | 1854 | 5th Batt |
| Bermingham | Cpl | 6043 | 1st Batt |
| Bermingham | Pte | 3082 | 4th Batt |
| Bermingham | Pte | 4122 | 5th Batt |
| Bermingham | Cpl | 4145 | 5th Batt |
| Bermingham Edward | Pte | 5991 | 1st Batt |
| Bernes F | Pte | 6108 | 2nd Batt |
| Berrill W J | Pte | 6456 | 2nd Batt |
| Berry | Sgt | 3130 | 5th Batt |
| Bigley J | Pte | 5266 | 2nd Batt |
| Billson J | Pte | 5062 | 1st Batt |
| Birch | Pte | 5913 | 1st Batt |
| Bird | Major | | |
| Birkley | Pte | 3598 | 4th Batt |
| Birks | Sgt | 3177 | 2nd Batt |
| Birminghan | Pte | 1561 | 3rd Batt |
| Birney | Pte | 3637 | 4th Batt |
| Birney P | Pte | 6599 | 2nd Batt |
| Birney J | Pte | 5031 | 2nd Batt |
| Bishop | Pte | 6176 | 2nd Batt |
| Bissett | Pte | 2504 | 1st Batt |
| Black | Pte | 4185 | 1st Batt |
| Black J | Pte | 6600 | 1st Batt |
| Black T | Pte | 5310 | 2nd Batt |
| Black W | Sgt | 4804 | 2nd Batt |
| Blake | Pte | 2507 | 1st Batt |
| Bodkin C | Sgt | 5108 | 2nd Batt |
| Bohanna J | Pte | 3270 | 1st Batt |
| Boland | Pte | 5788 | 2nd Batt |
| Boland | Pte | 6758 | 1st Batt |
| Boland | Pte | 2190 | 4th Batt |
| Boland | Pte | 4504 | 4th Batt |
| Boland | Pte | 5118 | 5th Batt |
| Bole | Pte | 1502 | 2nd Batt |
| Bolger J | Pte | 3953 | 1st Batt |
| Bolger M | Pte | 5170 | 2nd Batt |
| Bolger | Pte | 4344 | 2nd Batt |
| Bolger | Pte | 2563 | 4th Batt |
| Bolger | Pte | 3391 | 4th Batt |
| Bollard Richard | Pte | 5708 | 2nd Batt |
| Bolton | Pte | 1905 | 2nd Batt |
| Bolton | Pte | 5872 | 2nd Batt |
| Bolton | Pte | 5959 | 2nd Batt |
| Bond F | Pte | 2036 | 4th Batt |
| Bonner W | Pte | 6089 | 1st Batt |
| Booth | Pte | 5552 | 1st Batt |
| Booth T | L/Cpl | 5550 | 2nd Batt |
| Booth | Pte | 6322 | 2nd Batt |
| Bourke | Pte | 4644 | 2nd Batt |
| Bourke T | Pte | 7028 | 4th Batt |
| Bourne H | Pte | 7281 | 1st Batt |
| Bowen E | Pte | 4679 | 2nd Batt |
| Bowes M | Pte | 5832 | 2nd Batt |
| Bowman | Pte | 4521 | 1st Batt |
| Bowman A | Pte | 7075 | 5th Batt |
| Boyce | Cpl | 4464 | 5th Batt |
| Boyd | Pte | 1601 | 2nd Batt |
| Boylan T | Pte | 3804 | 2nd Batt |
| Boylan W | Pte | 5713 | 2nd Batt |
| Boylan C | Pte | 6034 | 2nd Batt |
| Boylan | Pte | 4387 | 4th Batt |
| Boylan | Pte | 3526 | 5th Batt |
| Boyle F | Pte | 4246 | 1st Batt |
| Boyle | Pte | 3762 | 5th Batt |
| Boyle R | Pte | 7162 | 4th Batt |
| Boyne | Pte | 4454 | 1st Batt |
| Boyne | Pte | 3644 | 1st Batt |
| Boyne | Pte | 3802 | 5th Batt |
| Bracken P | Pte | 5349 | 2nd Batt |
| Bracken T | Pte | 5931 | 2nd Batt |
| Bradbury | Drummer | 6331 | 5th Batt |
| Bradford | Pte | 3528 | 1st Batt |
| Bradford | 2nd Lieut | | |
| Bradley T | Pte | 3346 | 1st Batt |
| Bradley T C | Pte | 4010 | 1st Batt |
| Bradley W | Pte | 4952 | 1st Batt |
| Bradley | Pte | 2231 | 5th Batt |
| Brady M | Pte | 3430 | 1st Batt |
| Brady | Pte | 4274 | 2nd Batt |
| Brady | Pte | 5222 | 2nd Batt |
| Brady M | Pte | 5320 | 2nd Batt |
| Brady | Cpl | 6090 | 2nd Batt |
| Brady | Pte | 3569 | 4th Batt |
| Brady C | Pte | 7166 | 1st Batt |
| Brady | Pte | 5539 | 4th Batt |
| Brady | Drummer | 5245 | 4th Batt |
| Brady | Pte | 5233 | 4th Batt |
| Brady | Pte | 3431 | 5th Batt |
| Brady | Sgt | 3044 | 5th Batt |
| Brady P | Pte | 6905 | 4th Batt |
| Brady J | Pte | 3361 | 5th Batt |
| Brady J W | L/Cpl | 5662 | 4th Batt |
| Brady P | Pte | 5745 | 2nd Batt |
| Brady P | Pte | 1997 | 5th Batt |
| Brady W | Pte | 6084 | 2nd Batt |
| Bramble J | Pte | 6444 | 2nd Batt |
| Branagan | Pte | 2004 | 5th Batt |
| Brannigan | Pte | 6251 | 1st Batt |
| Brannigan | Pte | 5717 | 1st Batt |
| Brannigan J | Pte | 5387 | 2nd Batt |
| Brassel Francis | Colour Sgt | 1177 | 5th Batt |
| Breadon W | Pte | 5336 | 2nd Batt |
| Breen | Pte | 2472 | 2nd Batt |
| Breen D | Pte | 4408 | 2nd Batt |
| Breen J | Pte | 7254 | 1st Batt |
| Breen | Drummer | 5177 | 4th Batt |
| Brehenny | Pte | 3355 | 1st Batt |
| Brennan F | Pte | 2297 | 1st Batt |
| Brennan | Pte | 2820 | 1st Batt |
| Brennan J | Pte | 3331 | 1st Batt |
| Brennan | Pte | 1993 | 1st Batt |
| Brennan | Pte | 3434 | 1st Batt |
| Brennan J | Cpl | 5729 | 1st Batt |
| Brennan G | Pte | 5419 | 1st Batt |
| Brennan | Pte | 5749 | 2nd Batt |
| Brennan P | Pte | 6612 | 2nd Batt |
| Brennan | Cpl | 5194 | 4th Batt |
| Brennan | Pte | 5566 | 4th Batt |
| Brennan | Pte | 4266 | 5th Batt |
| Brennan | Pte | 3103 | 5th Batt |
| Brennan P | Pte | 6507 | 5th Batt |
| Brennan | L/Cpl | 4527 | 5th Batt |
| Brennan | Sgt | 5220 | 1st Batt |
| Brennan | Pte | 6362 | 1st Batt |
| Brennan T | Pte | 1815 | 2nd Batt |
| Brennan P | Pte | 4949 | 2nd Batt |
| Brennan P | Sgt | 5311 | 2nd Batt |
| Brennan J | Pte | 7226 | 1st Batt |
| Brennan H | Pte | 5519 | 2nd Batt |
| Brennan L | Pte | 4406 | 2nd Batt |
| Brennan T | Sgt | 1769 | 2nd Batt |
| Brennan T | Pte | 1554 | 5th Batt |
| Brennan W | Pte | 5011 | 2nd Batt |
| Breslin | Pte | 2710 | 1st Batt |
| Breslin P | Cpl | 3916 | 5th Batt |
| Brian T | Pte | 6174 | 1st Batt |
| Brien | Cpl | 3206 | 2nd Batt |
| Brien | Pte | 1366 | 2nd Batt |
| Brien | Pte | 1391 | 2nd Batt |
| Brien | Pte | 4726 | 2nd Batt |
| Brien | Pte | 6029 | 2nd Batt |
| Brien | Pte | 6239 | 2nd Batt |
| Brien | Pte | 2591 | 3rd Batt |
| Brien | Pte | 716 | 4th Batt |
| Brien | Pte | 4518 | 4th Batt |
| Brien | Pte | 3639 | 5th Batt |
| Brien | Cpl | 5138 | 4th Batt |
| Brien E | Pte | 3144 | 5th Batt |
| Brien | Pte | 2415 | 5th Batt |
| Brien | Pte | 3152 | 5th Batt |
| Brien | Pte | 4360 | 5th Batt |
| Brien | Pte | 7027 | 4th Batt |
| Brien J | Pte | 4479 | 5th Batt |
| Brien J | Pte | 5479 | 2nd Batt |
| Brien P | Pte | 3592 | 1st Batt |
| Brien P | Pte | 6121 | 2nd Batt |
| Brien P | Pte | 3458 | 4th Batt |
| Brien W | Pte | 2787 | 2nd Batt |
| Brire | Pte | 3071 | 5th Batt |
| Brittain | Drummer | 5496 | 4th Batt |
| Britton | Lieut | | |
| Broad W | Cpl | 5981 | 2nd Batt |
| Broderick J | Pte | 5123 | 2nd Batt |
| Brodhurst-Hill T | Lieut | | |
| Brodnell | Drummer | 4910 | 2nd Batt |
| Broe | Pte | 2997 | 2nd Batt |
| Brogan J | Pte | 7406 | 1st Batt |
| Bromilow W | Captain | | |
| Brooks | Pte | 6856 | 1st Batt |
| Brooks | Pte | 6759 | 1st Batt |
| Brooks W | Pte | 5988 | 2nd Batt |
| Brophy | Pte | 6296 | 2nd Batt |
| Broslin M | Pte | 7273 | 1st Batt |
| Brosman W | Pte | 6582 | 2nd Batt |
| Broughall | Pte | 6674 | 2nd Batt |
| Broughton J | Sgt | 3094 | 2nd Batt |
| Brown | Sgt | 502 | 2nd Batt |
| Brown E | Pte | 2968 | 2nd Batt |
| Brown W | Pte | 3564 | 2nd Batt |
| Brown | Sgt | 4770 | 2nd Batt |
| Brown E | Pte | 5616 | 2nd Batt |
| Brown | Pte | 81 | 3rd Batt |
| Brown | Pte | 2283 | 4th Batt |
| Brown | Pte | 3203 | 5th Batt |
| Brown | Pte | 3236 | 5th Batt |
| Brown | Pte | 4388 | 5th Batt |
| Brown | Pte | 6990 | 4th Batt |
| Brown | Lieut | | |
| Brown A | Pte | 5962 | 2nd Batt |
| Brown E | Pte | 4530 | 2nd Batt |
| Brown F | Pte | 6323 | 2nd Batt |
| Brown R | Pte | 6716 | 2nd Batt |
| Brown W | Pte | 4352 | 1st Batt |
| Browne | Drummer | 5831 | 1st Batt |
| Browne | Pte | 5760 | 1st Batt |
| Browne | Pte | 3127 | 1st Batt |
| Browne | Pte | 2735 | 1st Batt |
| Browne T | Pte | 6253 | 1st Batt |
| Brown M | Pte | 5581 | 1st Batt |
| Browne J | Cpl | 7044 | 3rd Batt |
| Bruen B F | Q/Mas Sgt | 1969 | 5th Batt |
| Bryan | Pte | 4666 | 2nd Batt |
| Bryan | Pte | 4827 | 2nd Batt |
| Bryan E | Pte | 5384 | 2nd Batt |
| Bryan P | Pte | 4448 | 5th Batt |
| Buckley | Pte | 6053 | 2nd Batt |
| Buckley | Pte | 6109 | 2nd Batt |
| Buckley | Pte | 3851 | 4th Batt |
| Buckley M | Pte | 6542 | 1st Batt |
| Buckley | Pte | 5722 | 2nd Batt |
| Buckley D | Pte | 5626 | 2nd Batt |
| Buckley J | Pte | 6863 | 4th Batt |
| Buckley M | Pte | 5800 | 2nd Batt |
| Bullman | Pte | 3658 | 4th Batt |
| Burbidge W | L/Cpl | 5688 | 2nd Batt |
| Burchett G | Pte | 3550 | 1st Batt |
| Burge | Pte | 3715 | 5th Batt |
| Burke | Pte | 2821 | 1st Batt |
| Burke | Pte | 1418 | 2nd Batt |
| Burke T | Pte | 5797 | 2nd Batt |
| Burke | Pte | 5891 | 2nd Batt |
| Burke M | Pte | 7010 | 2nd Batt |
| Burke | Pte | 1899 | 3rd Batt |
| Burke | Pte | 2155 | 5th Batt |
| Burke | Pte | 3818 | 5th Batt |
| Burke | Pte | 5497 | 4th Batt |
| Burke | Pte | 4902 | 4th Batt |
| Burke | Cpl | 4630 | 4th Batt |
| Burke | Pte | 4910 | 4th Batt |
| Burke | Cpl | 3087 | 4th Batt |
| Burke | Pte | 3615 | 4th Batt |
| Burke | Lieut | | |
| Burke | Pte | 4005 | 5th Batt |
| Burke | Pte | 3721 | 1st Batt |
| Burke C | Pte | 6319 | 2nd Batt |
| Burke J | Pte | 4306 | 1st Batt |
| Burke J | Pte | 1741 | 2nd Batt |
| Burke J | Sgt Major | 43 | 2nd Batt |
| Burke P | Pte | 5458 | 2nd Batt |
| Burke R J | Pte | 5498 | 4th Batt |
| Burke T F | Pte | 858 | 2nd Batt |
| Burkette | Cpl | 4187 | 5th Batt |
| Burnett | Pte | 7187 | 1st Batt |
| Burns P | Cpl | 4459 | 1st Batt |
| Burns T | Pte | 7310 | 1st Batt |
| Burra | 2nd Lieut | | |
| Burrell | Sgt | 7501 | 4th Batt |
| Butler | Pte | 4851 | 2nd Batt |
| Butler | Pte | 4857 | 2nd Batt |
| Butler | Pte | 4580 | 5th Batt |
| Butler | Sgt | 2513 | 5th Batt |
| Butler | Lieut | | |
| Butler J | L/Cpl | 6369 | 1st Batt |
| Butler W | Pte | 6832 | 4th Batt |
| Byerby | Pte | 5855 | 2nd Batt |
| Byrne | Pte | 6676 | 1st Batt |
| Byrne | Pte | 6385 | 1st Batt |
| Byrne J | L/Cpl | 6583 | 1st Batt |
| Byrne | Pte | 5362 | 1st Batt |
| Byrne | Pte | 4221 | 1st Batt |
| Byrne | Pte | 3502 | 1st Batt |
| Byrne | Pte | 3474 | 1st Batt |
| Byrne | Pte | 1827 | 1st Batt |
| Byrne C | Pte | 6422 | 1st Batt |
| Byrne P | Pte | 6407 | 1st Batt |
| Byrne | L/Cpl | 6433 | 1st Batt |
| Byrne | Pte | 2709 | 1st Batt |
| Byrne P | Pte | 5331 | 1st Batt |
| Byrne P | Pte | 3700 | 1st Batt |
| Byrne | Pte | 2779 | 1st Batt |
| Byrne J | Pte | 6617 | 1st Batt |
| Byrne | Pte | 3360 | 1st Batt |
| Byrne | Pte | 2200 | 1st Batt |
| Byrne | Pte | 2872 | 1st Batt |
| Byrne | Pte | 1346 | 2nd Batt |
| Byrne | Pte | 1681 | 2nd Batt |
| Byrne | Sgt | 2144 | 2nd Batt |
| Byrne | Pte | 3215 | 2nd Batt |
| Byrne | Pte | 3296 | 2nd Batt |
| Byrne | Pte | 3641 | 2nd Batt |
| Byrne | Pte | 4541 | 2nd Batt |
| Byrne | Pte | 4662 | 2nd Batt |
| Byrne | Pte | 4946 | 2nd Batt |
| Byrne | Pte | 5084 | 2nd Batt |
| Byrne | Pte | 5214 | 2nd Batt |
| Byrne T | Pte | 6677 | 2nd Batt |
| Byrne | Pte | 6346 | 2nd Batt |
| Byrne | Pte | 2379 | 3rd Batt |
| Byrne | Pte | 4369 | 4th Batt |
| Byrne | Pte | 4465 | 4th Batt |
| Byrne | Pte | 2368 | 5th Batt |
| Byrne L | Pte | 3180 | 5th Batt |
| Byrne | Pte | 4125 | 5th Batt |
| Byrne | Pte | 7306 | 1st Batt |
| Byrne | Pte | 7437 | 1st Batt |
| Byrne | Pte | 7338 | 1st Batt |
| Byrne | Pte | 7598 | 1st Batt |
| Byrne | Pte | 1269 | 4th Batt |
| Byrne R | Pte | 5963 | 4th Batt |
| Byrne | Sgt | 4613 | 4th Batt |
| Byrne | Pte | 5338 | 4th Batt |
| Byrne R | Pte | 4093 | 4th Batt |
| Byrne | Pte | 5551 | 4th Batt |
| Byrne | Pte | 5649 | 4th Batt |
| Byrne | Pte | 5692 | 4th Batt |
| Byrne | Pte | 5506 | 4th Batt |
| Byrne | Pte | 4647 | 4th Batt |
| Byrne | Pte | 4557 | 4th Batt |
| Byrne | Pte | 5600 | 4th Batt |
| Byrne | Pte | 3228 | 5th Batt |
| Byrne | Pte | 4045 | 5th Batt |
| Byrne | Pte | 4519 | 5th Batt |
| Byrne | Pte | 4099 | 5th Batt |
| Byrne | Pte | 4205 | 5th Batt |
| Byrne | Pte | 1035 | 5th Batt |
| Byrne | Pte | 1229 | 5th Batt |
| Byrne | Pte | 4122 | 5th Batt |
| Byrne | Sgt | 3998 | 5th Batt |
| Byrne | Pte | 3166 | 5th Batt |
| Byrne | Pte | 4490 | 5th Batt |
| Byrne | Pte | 4026 | 5th Batt |
| Byrne | Pte | 4590 | 5th Batt |
| Byrne | Pte | 1626 | 4th Batt |
| Byrne | Pte | 2003 | 4th Batt |
| Byrne J | Pte | 6824 | 4th Batt |
| Byrne | Pte | 6886 | 4th Batt |
| Byrne A | Pte | 4449 | 1st Batt |
| Byrne C | Pte | 4864 | 2nd Batt |
| Byrne F | Pte | 5611 | 2nd Batt |
| Byrne J | Pte | 4505 | 2nd Batt |
| Byrne J | Pte | 6365 | 2nd Batt |
| Byrne J | Pte | 6857 | 4th Batt |
| Byrne J | Pte | 3264 | 1st Batt |
| Byrne J | Pte | 3976 | 1st Batt |
| Byrne J | Pte | 6792 | 4th Batt |
| Byrne J | Pte | 6452 | 2nd Batt |
| Byrne J | Pte | 903 | 3rd Batt |
| Byrne J | Colour Sgt | 2810 | 1st Batt |
| Byrne J | Pte | 4665 | 2nd Batt |
| Byrne J | Pte | 4767 | 2nd Batt |
| Byrne J | Pte | 5033 | 2nd Batt |
| Byrne J | Pte | 5499 | 2nd Batt |
| Byrne J | Pte | 6145 | 2nd Batt |
| Byrne M | Pte | 3977 | 1st Batt |
| Byrne M | Pte | 7082 | 1st Batt |
| Byrne M | Pte | 1846 | 2nd Batt |
| Byrne M | Pte | 7213 | 1st Batt |
| Byrne P | Pte | 3413 | 1st Batt |
| Byrne P | Pte | 3716 | 1st Batt |
| Byrne P | Pte | 3716 | 1st Batt |
| Byrne P | L/Cpl | 7078 | 4th Batt |
| Byrne P | Pte | 6280 | 1st Batt |
| Byrne P | Pte | 6247 | 1st Batt |
| Byrne P | Pte | 5702 | 2nd Batt |
| Byrne R | Sgt | 4975 | 1st Batt |
| Byrne T | Sgt | 4332 | 1st Batt |
| Byrne W | Pte | 6252 | 1st Batt |
| Byrne W | Cpl | 5915 | 2nd Batt |
| Cadwell | Pte | 4081 | 1st Batt |
| Cadwell G | Pte | 4847 | 2nd Batt |
| Caffery | Pte | 5598 | 4th Batt |
| Cahill H | Pte | 4319 | 1st Batt |
| Cahill P | Pte | 6574 | 1st Batt |
| Cahill P | Pte | 5714 | 5th Batt |
| Cahill P | Pte | 5103 | 2nd Batt |
| Cahill T | Pte | 5264 | 1st Batt |
| Cahill T | Pte | 4658 | 2nd Batt |
| Caine | Pte | 4849 | 2nd Batt |
| Callaghan D | Pte | 3596 | 2nd Batt |
| Callaghan M | Pte | 5332 | 2nd Batt |
| Callaghan | Pte | 3801 | 5th Batt |
| Callaghan J | Pte | 5050 | 2nd Batt |
| Callaghan J | Pte | 5918 | 2nd Batt |
| Callaghan T | Pte | 5553 | 2nd Batt |
| Callaghan W | Pte | 6601 | 2nd Batt |
| Callan J | Sgt | 4560 | 1st Batt |
| Callis J | Pte | 6015 | 2nd Batt |
| Callis | Pte | 3707 | 5th Batt |
| Cameron | Captain | | |
| Cameron | Lieut | | |
| Cameron | 2nd Lieut | | |
| Campbell | Pte | 4308 | 1st Batt |
| Campbell | Pte | 4319 | 1st Batt |
| Campbell C | Pte | 6117 | 2nd Batt |
| Campbell | Pte | 7120 | 5th Batt |
| Campbell | Pte | 7157 | 4th Batt |
| Campbell J | Colour Sgt | 2929 | 1st Batt |
| Campion P | Pte | 6297 | 2nd Batt |
| Canavan | Pte | 3858 | 2nd Batt |
| Canavan | Pte | 6482 | 2nd Batt |
| Canis | Pte | 6927 | 1st Batt |
| Cannon | Pte | 2408 | 5th Batt |
| Carberry | Pte | 5376 | 4th Batt |
| Carey | Pte | 6647 | 2nd Batt |
| Carey | Pte | 1999 | 5th Batt |
| Carey J | Pte | 7029 | 4th Batt |
| Carey | Pte | 6478 | 1st Batt |
| Carey | Pte | 3471 | 1st Batt |
| Carey M | Pte | 5856 | 1st Batt |
| Carlyle | Cpl | 5811 | 4th Batt |
| Carlyle | Pte | 4233 | 5th Batt |
| Carney | Pte | 790 | 3rd Batt |
| Carolan J | Pte | 5130 | 2nd Batt |
| Carolan | Cpl | 4539 | 5th Batt |
| Carpenter | Pte | 4317 | 1st Batt |
| Carpenter | L/Cpl | 5749 | 4th Batt |
| Carr | Pte | 5565 | 2nd Batt |
| Carr | Pte | 6454 | 2nd Batt |
| Carr | Pte | 4079 | 5th Batt |
| Carr | Pte | 3433 | 5th Batt |
| Carr | Pte | 1876 | 4th Batt |
| Carr | Pte | 7161 | 4th Batt |
| Carr | Pte | 5346 | 2nd Batt |
| Carr | Pte | 1859 | 4th Batt |
| Carr | L/Cpl | 5263 | 4th Batt |
| Carr E | Pte | 6095 | 2nd Batt |
| Carr E | Pte | 5584 | 2nd Batt |
| Carr P | Pte | 5427 | 2nd Batt |
| Carragher W | L/Cpl | 1630 | 1st Batt |
| Carrick | Pte | 4618 | 5th Batt |
| Carroll P | Pte | 4247 | 1st Batt |
| Carroll | Q/Mas Sgt | 3167 | 1st Batt |
| Carroll | Pte | 4942 | 1st Batt |
| Carroll | Pte | 1898 | 2nd Batt |
| Carroll T | Pte | 4761 | 2nd Batt |
| Carroll | Pte | 1423 | 2nd Batt |
| Carroll | Pte | 5880 | 2nd Batt |
| Carroll | Pte | 6338 | 2nd Batt |
| Carroll | Pte | 6710 | 2nd Batt |
| Carroll | Pte | 34 | 3rd Batt |
| Carroll | Pte | 7328 | 1st Batt |
| Carroll | Pte | 5831 | 4th Batt |
| Carroll | Pte | 4865 | 4th Batt |
| Carroll | Cpl | 5864 | 4th Batt |
| Carroll | Pte | 7023 | 4th Batt |
| Carroll | Pte | 6465 | 5th Batt |
| Carroll | Pte | 2190 | 5th Batt |
| Carroll | Pte | 7001 | 4th Batt |
| Carroll E | Pte | 6944 | 4th Batt |
| Carroll J | Pte | 6909 | 4th Batt |
| Carroll J | Pte | 4793 | 2nd Batt |
| Carroll J | Pte | 7343 | 1st Batt |
| Carroll J | Pte | 5929 | 2nd Batt |
| Carroll P | Pte | 5441 | 1st Batt |
| Carroll P | Pte | 5441 | 1st Batt |
| Carroll P | Sgt | 3761 | 2nd Batt |
| Carroll P | Pte | 6264 | 2nd Batt |
| Carron E | Pte | 4819 | 2nd Batt |
| Carroway J | Pte | 4301 | 1st Batt |
| Carruthers J | Pte | 6643 | 1st Batt |
| Carson | Pte | 6999 | 4th Batt |
| Carson A | Pte | 4174 | 1st Batt |
| Carter | Sgt | 3085 | 1st Batt |
| Carter | Pte | 4914 | 4th Batt |
| Carter | Pte | 3205 | 5th Batt |
| Carthy | Pte | 87 | 5th Batt |
| Carthy | Pte | 7614 | 4th Batt |
| Carthy | Pte | 5767 | 4th Batt |
| Carthy | Pte | 3232 | 5th Batt |
| Cartlidge | L/Cpl | 3065 | 1st Batt |
| Casey | L/Cpl | 6679 | 1st Batt |
| Casey T | Pte | 2720 | 1st Batt |
| Casey | Pte | 5150 | 1st Batt |
| Casey M | Pte | 6373 | 1st Batt |
| Casey | Cpl | 5806 | 2nd Batt |
| Casey Patrick | Pte | 5059 | 2nd Batt |
| Cash | Pte | 6181 | 1st Batt |
| Cash W | Pte | 6547 | 2nd Batt |
| Cashin | Pte | 6775 | 2nd Batt |
| Cassidy | Pte | 2125 | 2nd Batt |
| Cassidy F | Pte | 6770 | 2nd Batt |
| Cassidy W | Pte | 2965 | 1st Batt |
| Cassin | Pte | 6022 | 2nd Batt |
| Cathcart | Pte | 5298 | 4th Batt |
| Cathcart J | Pte | 6731 | 2nd Batt |
| Cathcart J | Pte | 6044 | 2nd Batt |
| Cavanagh | Pte | 5182 | 2nd Batt |
| Cavanagh | Pte | 5733 | 2nd Batt |
| Cawston | Sgt | 7606 | 1st Batt |
| Chambers T | Pte | 3037 | 2nd Batt |
| Champion | Pte | 4169 | 4th Batt |
| Chane | Pte | 5863 | 4th Batt |
| Chapman R | Pte | 3926 | 1st Batt |
| Chapman A J | Lieut Colonel | | |
| Chester W | Pte | 4034 | 1st Batt |
| Christie | Sgt | 1594 | 5th Batt |
| Church F | Sgt | 5628 | 2nd Batt |
| Chute | Pte | 5449 | 1st Batt |
| Chute | Pte | 6340 | 2nd Batt |
| Clancey | Pte | 6982 | 4th Batt |
| Clancy | Pte | 2744 | 1st Batt |
| Clare | Pte | 7244 | 1st Batt |
| Clarke M | Pte | 5206 | 1st Batt |
| Clarke | L/Sgt | 4880 | 1st Batt |
| Clarke | Pte | 1802 | 2nd Batt |
| Clarke | Pte | 5751 | 2nd Batt |
| Clarke | Pte | 1867 | 3rd Batt |
| Clarke | Pte | 5912 | 4th Batt |
| Clarke | Pte | 5262 | 4th Batt |
| Clarke J | Pte | 4510 | 5th Batt |
| Clarke | Pte | 4634 | 5th Batt |
| Clarke J | Pte | 6765 | 4th Batt |
| Clarke | Captain | | |
| Clarke | 2nd Lieut | | |
| Clarke | Pte | 4494 | 1st Batt |
| Clarke J | Pte | 4878 | 2nd Batt |
| Clarke P | Cpl | 6076 | 1st Batt |
| Clarke W | L/Cpl | 6111 | 2nd Batt |
| Clarke W | Pte | 3988 | 1st Batt |
| Cleary | Pte | 6221 | 1st Batt |
| Cleary | Pte | 5768 | 4th Batt |
| Cleary | Pte | 980 | 5th Batt |
| Cleary | Pte | 4520 | 5th Batt |
| Cleory | Pte | 5892 | 2nd Batt |
| Clifford | Pte | 5730 | 4th Batt |
| Clifford | Pte | 5895 | 2nd Batt |
| Clifford P | Pte | 4560 | 2nd Batt |
| Clilter | Pte | 5352 | 4th Batt |
| Clinch T | Pte | 7285 | 1st Batt |
| Clonan W | Pte | 5725 | 2nd Batt |
| Clooney | Pte | 4743 | 4th Batt |
| Clusker | Pte | 1810 | 1st Batt |
| Coady M | Pte | 6146 | 2nd Batt |
| Coady | L/Cpl | 5876 | 4th Batt |
| Codger A | Pte | 5502 | 2nd Batt |
| Coffey | Pte | 4601 | 1st Batt |
| Coffey | Pte | 5237 | 1st Batt |
| Coffey | Pte | 5048 | 2nd Batt |
| Coggle | Pte | 5907 | 4th Batt |
| Cole | Pte | 5896 | 4th Batt |
| Cole | Pte | 5719 | 4th Batt |
| Cole | Pte | 2967 | 4th Batt |
| Cole R | Pte | 6047 | 2nd Batt |
| Coleman | Cpl | 3771 | 1st Batt |
| Coleman | Pte | 1505 | 2nd Batt |
| Coleman | Pte | 1040 | 3rd Batt |
| Coleman | Pte | 4698 | 4th Batt |
| Coleman | Pte | 5388 | 4th Batt |
| Coleman M | Pte | 4759 | 4th Batt |
| Coleman | Pte | 3668 | 4th Batt |
| Coleman | Pte | 6971 | 4th Batt |
| Coleman | Pte | 6926 | 4th Batt |
| Coleman P | Pte | 6880 | 2nd Batt |
| Coleman P | Pte | 6880 | 4th Batt |
| Coleman P | Pte | 6445 | 1st Batt |
| Coles C E | O/Reg Sgt | 6956 | 4th Batt |
| Colgan F | Pte | 4215 | 1st Batt |
| Colgan | Sgt | 5220 | 4th Batt |
| Collier | Pte | 1120 | 1st Batt |
| Collins | Pte | 2906 | 1st Batt |
| Collins H | Pte | 3986 | 1st Batt |
| Collins | Pte | 4051 | 1st Batt |
| Collins | Pte | 3236 | 2nd Batt |
| Collins | Pte | 1190 | 3rd Batt |
| Collins | Pte | 7098 | 5th Batt |
| Collins | Pte | 5899 | 4th Batt |
| Collins | Pte | 4854 | 4th Batt |
| Collins | Pte | 3258 | 5th Batt |
| Collins L | Pte | 5755 | 2nd Batt |
| Collins T | Pte | 1553 | 1st Batt |
| Colt | Pte | 5505 | 1st Batt |
| Combes | Pte | 203 | 4th Batt |
| Combes | Pte | 5921 | 4th Batt |
| Combes | Pte | 3260 | 5th Batt |
| Comerford | Pte | 3126 | 5th Batt |
| Comgan | Pte | 2806 | 1st Batt |
| Concannon M | Pte | 3313 | 2nd Batt |
| Condon | Pte | 6453 | 1st Batt |
| Condron | Pte | 1878 | 1st Batt |
| Confrey | Pte | 7246 | 1st Batt |
| Conghlan | L/Cpl | 4338 | 5th Batt |
| Conlahan | Pte | 6868 | 5th Batt |
| Conlan | Pte | 4628 | 1st Batt |
| Conlan | Lieut | | |
| Connell | Pte | 3810 | 1st Batt |
| Connell E | Colour Sgt | 2101 | 2nd Batt |
| Connell M | Pte | 2800 | 2nd Batt |
| Connell | Pte | 4650 | 2nd Batt |
| Connell | Pte | 5050 | 2nd Batt |
| Connell | Pte | 5107 | 2nd Batt |
| Connell | Pte | 1546 | 3rd Batt |
| Connell | Pte | 3067 | 4th Batt |
| Connell | Sgt | 5227 | 4th Batt |
| Connell J | Pte | 3108 | 1st Batt |
| Connell W | Pte | 6308 | 2nd Batt |
| Connerton J | Pte | 6474 | 1st Batt |
| Connolly J | Pte | 6179 | 1st Batt |
| Connolly | Pte | 5387 | 2nd Batt |
| Connolly M | Pte | 4218 | 2nd Batt |
| Connolly | Pte | 3978 | 5th Batt |
| Connolly | Pte | 3811 | 5th Batt |
| Connolly | Pte | 3741 | 5th Batt |
| Connolly | Pte | 3680 | 5th Batt |
| Connolly | Pte | 3660 | 5th Batt |
| Connolly | Pte | 6698 | 4th Batt |
| Connolly J | Sgt | 4081 | 1st Batt |
| Connolly P | Pte | 6618 | 1st Batt |
| Connolly T | Pte | 6869 | 1st Batt |
| Connolly T | Pte | 7070 | 1st Batt |
| Connor | Pte | 5250 | 1st Batt |
| Connor P | Pte | 6439 | 1st Batt |
| Connor J | Pte | 2840 | 1st Batt |
| Connor B | Pte | 5377 | 2nd Batt |
| Connor J | Pte | 5609 | 2nd Batt |
| Connor | Pte | 6340 | 2nd Batt |
| Connor J | Pte | 5404 | 2nd Batt |
| Connor J | Pte | 5109 | 2nd Batt |
| Connor J | Pte | 5015 | 2nd Batt |
| Connor | Pte | 4853 | 4th Batt |
| Connor C | Pte | 7211 | 5th Batt |
| Connor E | Pte | 7252 | 1st Batt |
| Connor | Pte | 5629 | 4th Batt |
| Connor | Pte | 5199 | 4th Batt |
| Connor | Pte | 1889 | 3rd Batt |
| Connor | Pte | 1094 | 3rd Batt |
| Connor | Sgt | 3423 | 2nd Batt |
| Connor | Pte | 4191 | 5th Batt |
| Connor P | Pte | 6897 | 4th Batt |
| Connor P | Pte | 4920 | 1st Batt |
| Connor R | Pte | 5399 | 2nd Batt |
| Connor S | Pte | 4513 | 2nd Batt |
| Connor W | Sgt | 3111 | 1st Batt |
| Connors P | Cpl | 6741 | 1st Batt |
| Conroy | Pte | 6659 | 2nd Batt |
| Conroy | Pte | 4080 | 5th Batt |
| Conroy | Pte | 6748 | 4th Batt |
| Conroy | Pte | 2913 | 1st Batt |
| Conroy J | Pte | 7333 | 1st Batt |
| Conroy L | Cpl | 5448 | 1st Batt |
| Conway | Pte | 3844 | 2nd Batt |
| Conway | Pte | 5732 | 2nd Batt |
| Conway | Pte | 7038 | 3rd Batt |
| Conway | Pte | 5275 | 4th Batt |
| Conway | Pte | 5183 | 4th Batt |
| Conway | Pte | 5869 | 4th Batt |
| Conway | Pte | 4124 | 5th Batt |
| Coogan J | Pte | 6762 | 1st Batt |
| Coombes | Pte | 7376 | 1st Batt |
| Coombs | L/Cpl | 5603 | 4th Batt |
| Cooney | Pte | 6623 | 1st Batt |
| Cooney | Pte | 7264 | 1st Batt |
| Cooney | Pte | 5828 | 4th Batt |
| Cooney | Pte | 3903 | 5th Batt |
| Cooney | Pte | 1643 | 4th Batt |
| Cooney | Pte | 6031 | 1st Batt |
| Cooney B | Pte | 6103 | 2nd Batt |
| Cooney P | Pte | 4411 | 2nd Batt |
| Cooper | Pte | 3341 | 1st Batt |
| Cooper | Pte | 5970 | 2nd Batt |
| Cooper H | Pte | 6531 | 2nd Batt |
| Cooper | Pte | 3274 | 4th Batt |
| Cooper | Pte | 3560 | 5th Batt |
| Cooper | 2nd Lieut | | |
| Corbally | Pte | 5824 | 2nd Batt |
| Corcoran H | Pte | 7282 | 1st Batt |
| Corcoran | Pte | 4558 | 5th Batt |
| Corcoran | Pte | 4036 | 5th Batt |
| Cormack | Pte | 6035 | 2nd Batt |
| Corr | Sgt | 5071 | 2nd Batt |
| Corr T | Pte | 5622 | 2nd Batt |
| Corrigan | Pte | 1798 | 5th Batt |
| Corrigan M | Pte | 4808 | 2nd Batt |
| Corrigan M | Sgt | 5094 | 2nd Batt |
| Corrway | Pte | 7047 | 3rd Batt |
| Cory | Captain | | |
| Cosgrove | Pte | 6713 | 1st Batt |
| Cossy E | Colour Sgt | 2961 | 2nd Batt |
| Costello | Pte | 4780 | 1st Batt |
| Costello P | Pte | 6374 | 1st Batt |
| Costello | Pte | 1285 | 5th Batt |
| Costello M | Pte | 4974 | 2nd Batt |
| Costello P | Pte | 2196 | 1st Batt |
| Costello R | Pte | 3276 | 1st Batt |
| Cotter | Pte | 852 | 4th Batt |
| Cottle P | Pte | 1739 | 5th Batt |
| Coughlin | Pte | 6816 | 1st Batt |
| Courtney | Pte | 6732 | 2nd Batt |
| Courtney | Pte | 1856 | 3rd Batt |
| Courtney | Pte | 7064 | 4th Batt |
| Courtney P | Pte | 4779 | 2nd Batt |
| Courtney T | Pte | 2566 | 4th Batt |
| Cowell J | Cpl | 5091 | 1st Batt |
| Cox | Pte | 2982 | 1st Batt |
| Cox | Com Sgt | 2573 | 5th Batt |
| Cox C | Pte | 6945 | 4th Batt |
| Coy | Pte | 7291 | 1st Batt |
| Coyle | Pte | 3725 | 1st Batt |
| Coyle | Pte | 1728 | 2nd Batt |
| Coyle | Pte | 4820 | 2nd Batt |
| Coyle | Pte | 6742 | 2nd Batt |
| Coyle J | Pte | 7173 | 5th Batt |
| Coyle | Pte | 5610 | 4th Batt |
| Coyle M | Pte | 5914 | 2nd Batt |
| Coyle P | Pte | 2695 | 1st Batt |
| Coyle W | L/Cpl | 5319 | 2nd Batt |
| Coyne J | L/Cpl | 5796 | 1st Batt |
| Coyne T | Pte | 3446 | 5th Batt |
| Cragg | Sgt | 3548 | 2nd Batt |
| Cragg W | L/Cpl | 6283 | 2nd Batt |
| Craig | Pte | 7473 | 1st Batt |
| Craugh | Pte | 7213 | 1st Batt |
| Crawford | Pte | 2719 | 5th Batt |
| Crawford | Pte | 6820 | 4th Batt |
| Crawford J | Cpl | 4440 | 2nd Batt |
| Crawford R | Pte | 2719 | 2nd Batt |
| Crean T | Sgt | 5178 | 2nd Batt |
| Creegan P | Pte | 2337 | 4th Batt |
| Cregan | Pte | 5603 | 1st Batt |
| Cregan | Pte | 1480 | 2nd Batt |
| Cregan | Pte | 5603 | 2nd Batt |
| Cregan P | Pte | 4444 | 2nd Batt |
| Creman | Pte | 5605 | 2nd Batt |
| Crimmin | Pte | 5449 | 4th Batt |
| Croker | Captain | | |
| Croncher | Pte | 3195 | 2nd Batt |
| Cronin M | Pte | 4399 | 1st Batt |
| Cronin J | Pte | 7107 | 4th Batt |
| Crooke A | L/Cpl | 6520 | 1st Batt |
| Crosbie | Cpl | 1705 | 5th Batt |
| Crosby | Pte | 6292 | 2nd Batt |
| Crossan | Pte | 2771 | 5th Batt |
| Crotty | Pte | 6231 | 2nd Batt |
| Crotty J | Pte | 5933 | 2nd Batt |
| Crowe J | Pte | 6658 | 1st Batt |
| Crowley | Pte | 5866 | 4th Batt |
| Crowley | Pte | 5824 | 4th Batt |
| Crowthers | Sgt | 5252 | 1st Batt |
| Crozier | Pte | 4705 | 2nd Batt |
| Cuddy | Pte | 2849 | 4th Batt |
| Cuddy | Pte | 2683 | 4th Batt |
| Cullen P | Pte | 2545 | 1st Batt |
| Cullen | Pte | 4248 | 1st Batt |
| Cullen | Pte | 5034 | 1st Batt |
| Cullen | Pte | 4278 | 1st Batt |
| Cullen | Pte | 3858 | 2nd Batt |
| Cullen | Pte | 5171 | 2nd Batt |
| Cullen | Pte | 5624 | 2nd Batt |
| Cullen | Pte | 5643 | 2nd Batt |
| Cullen | Pte | 6120 | 2nd Batt |
| Cullen | Pte | 6170 | 2nd Batt |
| Cullen | Pte | 367 | 3rd Batt |
| Cullen | Pte | 1728 | 4th Batt |
| Cullen | Pte | 423 | 4th Batt |
| Cullen | Pte | 7362 | 1st Batt |
| Cullen | Pte | 3924 | 4th Batt |
| Cullen | Pte | 4650 | 5th Batt |
| Cullen | Pte | 4416 | 5th Batt |
| Cullen | Pte | 6847 | 4th Batt |
| Cullen F | L/Cpl | 4655 | 2nd Batt |
| Cullen J | Pte | 2880 | 1st Batt |
| Cullen J | Pte | 5836 | 2nd Batt |
| Cullen P | Colour Sgt | 5204 | 2nd Batt |
| Cullen P | Pte | 4592 | 2nd Batt |
| Cullen W | Pte | 4063 | 1st Batt |
| Culleton | Pte | 6756 | 4th Batt |
| Culley | Pte | 1001 | 3rd Batt |
| Cullion | Pte | 2347 | 2nd Batt |
| Cully | Pte | 5669 | 4th Batt |
| Cully | Pte | 2785 | 5th Batt |
| Cummins | Pte | 3354 | 1st Batt |
| Cummins | Pte | 5515 | 1st Batt |
| Cummins | Pte | 3218 | 1st Batt |
| Cummins | Pte | 4195 | 1st Batt |
| Cummins | Pte | 4058 | 1st Batt |
| Cummins | Pte | 6021 | 2nd Batt |
| Cummins | Pte | 2158 | 3rd Batt |
| Cummins | Pte | 4170 | 5th Batt |
| Cummins | Pte | 2218 | 5th Batt |
| Cummins W | Pte | 6603 | 1st Batt |
| Cummiskey P | Pte | 2706 | 1st Batt |
| Cumnock | L/Cpl | 6693 | 1st Batt |
| Cunningham | Pte | 3925 | 1st Batt |
| Cunningham | Pte | 6791 | 1st Batt |
| Cunningham | Sgt | 4209 | 2nd Batt |
| Cunningham H | Pte | 5037 | 2nd Batt |
| Cunningham | Pte | 7451 | 1st Batt |
| Cunningham | Pte | 3970 | 5th Batt |
| Cunningham J | Pte | 6529 | 1st Batt |
| Curran | Pte | 6019 | 2nd Batt |
| Curran | Pte | 7122 | 1st Batt |
| Curran | Pte | 4776 | 4th Batt |
| Curran | Sgt | 4660 | 4th Batt |
| Curran | Pte | 5831 | 4th Batt |
| Curran | Pte | 4451 | 5th Batt |
| Curran | L/Cpl | 4905 | 2nd Batt |
| Curran D | Pte | 4325 | 2nd Batt |
| Curran J | Cpl | 4882 | 1st Batt |
| Curran T J | Drummer | 4719 | 5th Batt |
| Curry | Cpl | 4444 | 5th Batt |
| Curtan | Pte | 5613 | 4th Batt |
| Curtis J | Pte | 4686 | 2nd Batt |
| Curtis | Pte | 4445 | 4th Batt |
| Curtis J | L/Cpl | 6289 | 2nd Batt |
| Cushing | Pte | 5725 | 1st Batt |
| Dalton | Pte | 6486 | 1st Batt |
| Dalton | Pte | 5328 | 2nd Batt |
| Dalton | Pte | 6134 | 2nd Batt |
| Dalton | Pte | 4459 | 5th Batt |
| Dalton | Pte | 3687 | 5th Batt |
| Dalton M | Cpl | 5353 | 2nd Batt |
| Dalton M | Pte | 5993 | 2nd Batt |
| Daly P | Pte | 2957 | 1st Batt |
| Daly | Sgt | 4936 | 2nd Batt |
| Daly P | Pte | 5217 | 2nd Batt |
| Daly J | Pte | 5817 | 2nd Batt |
| Daly J | Pte | 6367 | 2nd Batt |
| Daly J | Pte | 6505 | 2nd Batt |
| Daly | Pte | 6648 | 2nd Batt |
| Daly | L/Cpl | 4656 | 4th Batt |
| Daly | Pte | 2870 | 4th Batt |
| Daly D | Drummer | 5588 | 4th Batt |
| Daly | Pte | 6940 | 4th Batt |
| Daly J | Sgt | 4956 | 1st Batt |
| Daly O | Pte | 5316 | 2nd Batt |
| Daly P | L/Cpl | 5280 | 2nd Batt |
| Daniels | Pte | 3113 | 1st Batt |
| Daniels W | Pte | 7301 | 1st Batt |
| Danils | Sgt | 3015 | 4th Batt |
| Darby | Drummer | 6313 | 1st Batt |
| Darby | Pte | 6948 | 4th Batt |
| Darby | Pte | 6948 | 4th Batt |
| D'arcy J | Pte | 6450 | 1st Batt |
| D'arcy | Pte | 2807 | 1st Batt |
| D'arcy | Pte | 6438 | 1st Batt |
| D'arcy M | Cpl | 6738 | 1st Batt |
| D'arcy P | Pte | 4883 | 1st Batt |
| D'arcy P | Pte | 4883 | 1st Batt |
| Dardell | Pte | 5118 | 4th Batt |
| Dardis | Colour Sgt | 2152 | 1st Batt |
| Dargan | Pte | 4994 | 1st Batt |
| Davidson-Hounton | Captain | | |
| Davis J | Pte | 6300 | 1st Batt |
| Davis T | Pte | 5697 | 2nd Batt |
| Davis | Pte | 2237 | 2nd Batt |
| Davis | Pte | 1382 | 4th Batt |
| Davis | Pte | 6238 | 4th Batt |
| Davis | Cpl | 4595 | 5th Batt |
| Davis F | Sgt | 838 | 2nd Batt |
| Davis O J | L/Cpl | 5327 | 2nd Batt |
| Davoran | Pte | 5191 | 2nd Batt |
| Dawse | Pte | 6350 | 2nd Batt |
| Dawson | Pte | 5094 | 4th Batt |
| Day | Pte | 295 | 3rd Batt |
| Day | Pte | 5101 | 4th Batt |
| Day | Pte | 3585 | 5th Batt |
| De Burgh | Lieut | | |
| De Salis E A A | Lieut | | |
| Deasey C | Pte | 7356 | 1st Batt |
| Deegan C | Pte | 4330 | 1st Batt |
| Deegan | Pte | 1872 | 2nd Batt |
| Deegan | Pte | 289 | 3rd Batt |
| Deegan | Pte | 990 | 3rd Batt |
| Deegan | Pte | 7037 | 3rd Batt |
| Deering | Pte | 4016 | 5th Batt |
| Deevey | Pte | 6560 | 2nd Batt |
| Deevey P | Pte | 4193 | 1st Batt |
| Delahunt | Pte | 2433 | 1st Batt |
| Delaney | Pte | 3272 | 1st Batt |
| Delaney | Pte | 3921 | 1st Batt |
| Delaney | Colour Sgt | 4318 | 1st Batt |
| Delaney | Pte | 1845 | 2nd Batt |
| Delaney | Pte | 5839 | 2nd Batt |
| Delaney | Pte | 6623 | 2nd Batt |
| Delaney | Pte | 3124 | 4th Batt |
| Delaney | Pte | 5829 | 4th Batt |
| Delaney | Pte | 5264 | 4th Batt |
| Delaney M | Pte | 2585 | 5th Batt |
| Delaney | L/Cpl | 6463 | 5th Batt |
| Delaney | Pte | 6815 | 4th Batt |
| Delaney | Pte | 4416 | 1st Batt |
| Delaney E | Pte | 5235 | 2nd Batt |
| Delaney L | Pte | 6126 | 2nd Batt |
| Dempsey | Pte | 7182 | 1st Batt |
| Dempsey | Pte | 1634 | 1st Batt |
| Dempsey | Pte | 3333 | 1st Batt |
| Dempsey | Pte | 6627 | 1st Batt |
| Dempsey D | Pte | 576 | 2nd Batt |
| Dempsey | Pte | 1914 | 2nd Batt |
| Dempsey | Pte | 5724 | 2nd Batt |
| Dempsey | Pte | 3554 | 5th Batt |
| Dempsey | Pte | 4496 | 4th Batt |
| Dempsey | Pte | 5300 | 4th Batt |
| Dempsey | Pte | 7182 | 4th Batt |
| Dempsey | Pte | 2605 | 5th Batt |
| Dempsey | Pte | 3506 | 5th Batt |
| Dempsey | Pte | 6788 | 4th Batt |
| Dempsey | Pte | 870 | 3rd Batt |
| Dempsey H | Pte | 6155 | 2nd Batt |
| Dempsey P | Pte | 2827 | 1st Batt |
| Dempsey P | Pte | 3873 | 1st Batt |
| Dennany | Sgt | 3738 | 5th Batt |
| Dennehy J | Pte | 5461 | 2nd Batt |
| Dennis | 2nd Lieut | | |
| Derwin P | Pte | 4539 | 2nd Batt |
| Desmond | Pte | 5816 | 4th Batt |
| Devereux | Pte | 3855 | 2nd Batt |
| Devereux P | Pte | 6004 | 1st Batt |
| Devine | Pte | 4169 | 1st Batt |
| Devine | Pte | 4971 | 2nd Batt |
| Devine | Pte | 5351 | 2nd Batt |
| Devine | Pte | 4532 | 4th Batt |
| Devlin | Pte | 3121 | 4th Batt |
| Devlin | Pte | 7260 | 4th Batt |
| Devlin | Pte | 6939 | 4th Batt |
| Devoy | Cpl | 5911 | 4th Batt |
| Dewin | Pte | 5607 | 2nd Batt |
| Dibley A | Captain | | |
| Dickson | Pte | 2753 | 4th Batt |
| Digby-Johnson | Lieut | | |
| Dignan L | L/Cpl | 3448 | 2nd Batt |
| Dignan | Pte | 5812 | 2nd Batt |
| Dignan | Pte | 6139 | 2nd Batt |
| Dignum | L/Cpl | 6831 | 1st Batt |
| Dillon | Pte | 2499 | 1st Batt |
| Dillon | Pte | 3978 | 1st Batt |
| Dillon | Pte | 4420 | 1st Batt |
| Dillon R | Sgt | 5086 | 2nd Batt |
| Dillon | Pte | 5219 | 2nd Batt |
| Dillon | Pte | 5334 | 2nd Batt |
| Dillon W | Pte | 5219 | 5th Batt |
| Dillon | Pte | 7394 | 1st Batt |
| Dillon | Pte | 4793 | 4th Batt |
| Dillon | Pte | 5239 | 4th Batt |
| Dillon | Pte | 5324 | 4th Batt |
| Dillon J | Pte | 5710 | 4th Batt |
| Dillon | Pte | 7118 | 4th Batt |
| Dillon F | Pte | 5833 | 2nd Batt |
| Dillon J | Pte | 3775 | 5th Batt |
| Dillon R | Pte | 6965 | 4th Batt |
| Dixon | Pte | 5333 | 2nd Batt |
| Dixon | Pte | 2957 | 4th Batt |
| Dixon | Pte | 4830 | 4th Batt |
| Dixon | L/Cpl | 5104 | 4th Batt |
| Dixon | Pte | 4206 | 5th Batt |
| Dixon J | Pte | 5909 | 2nd Batt |
| Dobbs | Pte | 6432 | 2nd Batt |
| Docherty | Pte | 7068 | 1st Batt |
| Dodd J | L/Cpl | 3776 | 5th Batt |
| Doheney E | Pte | 5712 | 2nd Batt |
| Doherty H | Sgt | 4341 | 2nd Batt |
| Doherty | Pte | 4944 | 2nd Batt |
| Doherty | Pte | 7068 | 4th Batt |
| Doherty | Pte | 4506 | 5th Batt |
| Doherty | Pte | 2277 | 5th Batt |
| Doherty | Pte | 6822 | 4th Batt |
| Doherty F | Pte | 3125 | 1st Batt |
| Dokes R | L/Cpl | 7257 | 1st Batt |
| Dolan P | Pte | 3476 | 1st Batt |
| Domican | Pte | 2060 | 3rd Batt |
| Donaldson | Pte | 5293 | 4th Batt |
| Donegan | Pte | 4400 | 4th Batt |
| Donegan | Pte | 5653 | 4th Batt |
| Donegan J | Pte | 2712 | 1st Batt |
| Donegan J | Pte | 3501 | 1st Batt |
| Donnelly C | Pte | 3451 | 1st Batt |
| Donnelly T | Pte | 4735 | 2nd Batt |
| Donnelly | Cpl | 5823 | 2nd Batt |
| Donnelly | Pte | 2936 | 5th Batt |
| Donnelly | Cpl | 5747 | 4th Batt |
| Donnelly | Pte | 4834 | 4th Batt |
| Donnelly | Pte | 3682 | 5th Batt |
| Donnelly | Pte | 3563 | 5th Batt |
| Donnelly | Pte | 7160 | 4th Batt |
| Donnelly | Pte | 6934 | 4th Batt |
| Donnelly J | Pte | 6841 | 4th Batt |
| Donnelly J | Pte | 2648 | 1st Batt |
| Donnolly | Pte | 5577 | 1st Batt |
| Donnolly J | Pte | 4711 | 1st Batt |
| Donoghue D | Pte | 3365 | 1st Batt |
| Donohoe J | Pte | 4231 | 1st Batt |
| Donohoe J | Cpl | 4392 | 1st Batt |
| Donohoe T | Pte | 6887 | 4th Batt |
| Donohue | L/Sgt | 2479 | 1st Batt |
| Donohue | Pte | 3837 | 1st Batt |
| Donohue B | Pte | 6059 | 2nd Batt |
| Donohue | Pte | 2982 | 5th Batt |
| Donohue | Pte | 6957 | 5th Batt |
| Donohue | Pte | 7235 | 1st Batt |
| Donohue | Pte | 7330 | 1st Batt |
| Donohue P | Pte | 4433 | 4th Batt |
| Donohue | Pte | 3740 | 5th Batt |
| Donohue | Pte | 4407 | 5th Batt |
| Donohue E | Pte | 5937 | 2nd Batt |
| Donovan | Pte | 3732 | 2nd Batt |
| Donovan | Pte | 5198 | 2nd Batt |
| Donovan | Sgt | 3024 | 4th Batt |
| Donovan | Pte | 3812 | 5th Batt |
| Donovan | L/Sgt | 3168 | 5th Batt |
| Doody | Pte | 2789 | 1st Batt |
| Doody | Pte | 5027 | 2nd Batt |
| Doody | Cpl | 5935 | 4th Batt |
| Doody M | Pte | 3449 | 1st Batt |
| Doogan J | Pte | 5249 | 2nd Batt |
| Doolan | Cpl | 5602 | 4th Batt |
| Doolan J | Pte | 4380 | 2nd Batt |
| Dooley | Pte | 3058 | 1st Batt |
| Dooley P | Pte | 5099 | 2nd Batt |
| Dooley | Cpl | 4470 | 5th Batt |
| Doolin | Pte | 5838 | 4th Batt |
| Doolin | Drummer | 5473 | 4th Batt |
| Doran | Pte | 3923 | 1st Batt |
| Doran | Pte | 4369 | 2nd Batt |
| Doran J | Pte | 5953 | 2nd Batt |
| Doran | Pte | 1217 | 3rd Batt |
| Dornan | Pte | 4354 | 4th Batt |
| Dougal | Pte | 5905 | 2nd Batt |
| Douglas | Pte | 6411 | 1st Batt |
| Douglas F | Pte | 5225 | 2nd Batt |
| Dowd | Pte | 4999 | 2nd Batt |
| Dowdall | Pte | 3990 | 1st Batt |
| Dowdall J | Pte | 6584 | 2nd Batt |
| Dowdall L | Pte | 5857 | 1st Batt |
| Dowdall P | Pte | 7105 | 1st Batt |
| Dowgan | Pte | 8638 | 4th Batt |
| Dowler | Pte | 5184 | 2nd Batt |
| Dowling | Pte | 3883 | 1st Batt |
| Dowling J | Pte | 3454 | 1st Batt |
| Dowling | Pte | 4526 | 1st Batt |
| Dowling C | Pte | 6205 | 1st Batt |
| Dowling | Pte | 4096 | 1st Batt |
| Dowling W | Pte | 5533 | 2nd Batt |
| Dowling | Pte | 5799 | 2nd Batt |
| Dowling J | Pte | 6112 | 2nd Batt |
| Dowling | Pte | 6565 | 2nd Batt |
| Dowling A | Pte | 6215 | 1st Batt |
| Dowling A | Pte | 6025 | 2nd Batt |
| Dowlins | Pte | 2311 | 1st Batt |
| Dowman | Cpl | 5077 | 2nd Batt |
| Dowman | Pte | 5381 | 4th Batt |
| Downing G | Captain | | |
| Downs M | Pte | 4579 | 1st Batt |
| Doyle | Pte | 1644 | 1st Batt |
| Doyle J | Pte | 6281 | 1st Batt |
| Doyle | Pte | 6763 | 1st Batt |
| Doyle P | Pte | 6423 | 1st Batt |
| Doyle | Pte | 2886 | 1st Batt |
| Doyle | L/Cpl | 1936 | 1st Batt |
| Doyle | Pte | 3350 | 1st Batt |
| Doyle P | Pte | 3608 | 1st Batt |
| Doyle | Pte | 4022 | 1st Batt |
| Doyle | L/Cpl | 1648 | 1st Batt |
| Doyle | Pte | 2828 | 2nd Batt |
| Doyle | Pte | 2962 | 2nd Batt |
| Doyle J | Pte | 3234 | 2nd Batt |
| Doyle | Pte | 4366 | 2nd Batt |
| Doyle | Pte | 4062 | 2nd Batt |
| Doyle | Pte | 5249 | 2nd Batt |
| Doyle | Pte | 5821 | 2nd Batt |
| Doyle C | Pte | 5854 | 2nd Batt |
| Doyle | Pte | 6115 | 2nd Batt |
| Doyle P | Pte | 6490 | 2nd Batt |
| Doyle | Pte | 6683 | 2nd Batt |
| Doyle | Pte | 266 | 3rd Batt |
| Doyle | Pte | 656 | 3rd Batt |
| Doyle | Pte | 882 | 3rd Batt |
| Doyle | Pte | 1576 | 3rd Batt |
| Doyle | Pte | 1690 | 3rd Batt |
| Doyle | Pte | 2844 | 4th Batt |
| Doyle | Pte | 3706 | 4th Batt |
| Doyle | Pte | 2877 | 5th Batt |
| Doyle | Pte | 2553 | 5th Batt |
| Doyle | Pte | 5149 | 5th Batt |
| Doyle | Pte | 2752 | 4th Batt |
| Doyle | Pte | 5358 | 4th Batt |
| Doyle | Pte | 5858 | 4th Batt |
| Doyle | Pte | 5862 | 4th Batt |
| Doyle | Pte | 5893 | 4th Batt |
| Doyle | Pte | 3305 | 5th Batt |
| Doyle H | Pte | 4276 | 5th Batt |
| Doyle | Pte | 3509 | 5th Batt |
| Doyle | Pte | 4415 | 5th Batt |
| Doyle | Pte | 4001 | 5th Batt |
| Doyle | Pte | 2293 | 5th Batt |
| Doyle | Pte | 4250 | 5th Batt |
| Doyle | Pte | 3052 | 5th Batt |
| Doyle | Pte | 4068 | 5th Batt |
| Doyle | Pte | 3690 | 5th Batt |
| Doyle J | Pte | 6910 | 4th Batt |
| Doyle C | Pte | 7025 | 4th Batt |
| Doyle D | Pte | 4275 | 1st Batt |
| Doyle D | Pte | 4446 | 2nd Batt |
| Doyle E | L/Sgt | 5827 | 1st Batt |
| Doyle E | Pte | 5390 | 2nd Batt |
| Doyle J | Pte | 6826 | 4th Batt |
| Doyle J | Pte | 4815 | 2nd Batt |
| Doyle J | Pte | 347 | 3rd Batt |
| Doyle J | Pte | 2204 | 5th Batt |
| Doyle M | Pte | 5478 | 2nd Batt |
| Doyle P | Pte | 7275 | 1st Batt |
| Doyle T | Pte | 1160 | 5th Batt |
| Doyle T | Pte | 4149 | 1st Batt |
| Doyle T | Pte | 5042 | 2nd Batt |
| Doyle T | Pte | 5620 | 2nd Batt |
| Doyle W | Pte | 6818 | 4th Batt |
| Doyle W | Pte | 4455 | 1st Batt |
| Drew J | Pte | 5297 | 2nd Batt |
| Driscoll | L/Cpl | 4686 | 1st Batt |
| Driscoll M | Pte | 4676 | 2nd Batt |
| Drohan | Pte | 5681 | 2nd Batt |
| Duff | Pte | 2385 | 4th Batt |
| Duff | Pte | 2819 | 5th Batt |
| Duff | Pte | 5826 | 4th Batt |
| Duffin J | Pte | 1726 | 2nd Batt |
| Duffy | Pte | 4484 | 1st Batt |
| Duffy | Drummer | 5398 | 1st Batt |
| Duffy J | Pte | 5085 | 2nd Batt |
| Duffy | Pte | 6390 | 2nd Batt |
| Duffy J | Pte | 6476 | 2nd Batt |
| Duffy J | Pte | 6497 | 2nd Batt |
| Duffy | Pte | 630 | 3rd Batt |
| Duffy | Pte | 5363 | 4th Batt |
| Duffy | Pte | 5782 | 4th Batt |
| Duffy | Pte | 5599 | 4th Batt |
| Duffy A | Pte | 7450 | 1st Batt |
| Duffy E | Pte | 5359 | 5th Batt |
| Duggan | Pte | 6358 | 2nd Batt |
| Duggan | Pte | 6343 | 2nd Batt |
| Duggan | Pte | 2946 | 4th Batt |
| Duggan | Pte | 5769 | 4th Batt |
| Dunbar | Pte | 6207 | 1st Batt |
| Duncan A | Pte | 3420 | 1st Batt |
| Duncan | Sgt | 3246 | 2nd Batt |
| Dunleavy | Pte | 7514 | 1st Batt |
| Dunleavy | Pte | 7268 | 1st Batt |
| Dunlop | Pte | 3296 | 4th Batt |
| Dunne | Drummer | 6406 | 1st Batt |
| Dunne J | Pte | 4126 | 1st Batt |
| Dunne J | Colour Sgt | 2396 | 1st Batt |
| Dunne | Pte | 3701 | 1st Batt |
| Dunne | Pte | 2332 | 2nd Batt |
| Dunne | Pte | 4565 | 2nd Batt |
| Dunne | Pte | 4988 | 2nd Batt |
| Dunne | Pte | 5140 | 2nd Batt |
| Dunne | Pte | 5209 | 2nd Batt |
| Dunne | Pte | 5839 | 2nd Batt |
| Dunne T | Pte | 6363 | 2nd Batt |
| Dunne | Pte | 123 | 3rd Batt |
| Dunne | Pte | 2390 | 5th Batt |
| Dunne | Pte | 7237 | 1st Batt |
| Dunne | Pte | 7415 | 1st Batt |
| Dunne | Pte | 5362 | 4th Batt |
| Dunne | Pte | 7190 | 4th Batt |
| Dunne | Pte | 3973 | 5th Batt |
| Dunne | Pte | 3711 | 5th Batt |
| Dunne J | Pte | 3447 | 1st Batt |
| Dunne J | Cpl | 6064 | 2nd Batt |
| Dunne J | Pte | 1088 | 4th Batt |
| Dunne M | Pte | 6781 | 1st Batt |
| Dunne M | Colour Sgt | 3765 | 5th Batt |
| Dunne P | Pte | 7427 | 1st Batt |
| Dunne T | Pte | 5640 | 2nd Batt |
| Dunnett | Pte | 5365 | 1st Batt |
| Dunney A | Pte | 6553 | 1st Batt |
| Dunphy | Pte | 6605 | 1st Batt |
| Dunphy | Pte | 3166 | 1st Batt |
| Dunphy | Pte | 3847 | 1st Batt |
| Dunphy | Pte | 4021 | 2nd Batt |
| Dunphy E | Pte | 6844 | 4th Batt |
| Dunphy J | L/Cpl | 3498 | 2nd Batt |
| Dunphy R | Pte | 6811 | 4th Batt |
| Dwyer S | Pte | 6457 | 1st Batt |
| Dwyer | Pte | 6430 | 1st Batt |
| Dwyer | Cpl | 5887 | 4th Batt |
| Dwyer J | Pte | 5936 | 4th Batt |
| Dwyer J | Pte | 5741 | 2nd Batt |
| Dwyer L | Pte | 6140 | 2nd Batt |
| Dwyer T M | Sgt | 1043 | 1st Batt |
| Dynam | Pte | 7277 | 1st Batt |
| Earls | Pte | 6814 | 2nd Batt |
| Ears M | Pte | 4686 | 2nd Batt |
| Easty | Pte | 5740 | 2nd Batt |
| Easty | Pte | 7258 | 1st Batt |
| Eccles | Pte | 4141 | 1st Batt |
| Edwards L A | Drummer | 6191 | 2nd Batt |
| Edwards R | Pte | 5904 | 2nd Batt |
| Egan | Pte | 7302 | 1st Batt |
| Egan | Cpl | 4369 | 5th Batt |
| Elgy | Pte | 6793 | 2nd Batt |
| Elkin | Pte | 3987 | 1st Batt |
| Ellard | Drummer | 5925 | 2nd Batt |
| Elliott W | Pte | 6163 | 1st Batt |
| Elliott J | Pte | 6812 | 1st Batt |
| Elliott A | L/Cpl | 5689 | 1st Batt |
| Ellis | Sgt | 5476 | 1st Batt |
| Ellis F | Pte | 4305 | 1st Batt |
| Ellis | Pte | 5208 | 4th Batt |
| Ellis | Pte | 4440 | 4th Batt |
| Ellis E | Pte | 4395 | 2nd Batt |
| Elston | Pte | 1477 | 2nd Batt |
| Elston John | Pte | 7055 | 4th Batt |
| Ely T B | Lieut | | |
| Emerson H | 2nd Lieut | | |
| English J | Pte | 1016 | 3rd Batt |
| English | Major | | |
| Ennis | Pte | 3607 | 5th Batt |
| Ennis | Pte | 6985 | 4th Batt |
| Ennis J | Pte | 6927 | 4th Batt |
| Enright J | Pte | 4284 | 1st Batt |
| Enwright J | Pte | 5687 | 2nd Batt |
| Erney | Pte | 5461 | 2nd Batt |
| Erty | Pte | 4182 | 4th Batt |
| Eston J | Pte | 3839 | 1st Batt |
| Evans | Pte | 3266 | 1st Batt |
| Evans G | Pte | 6080 | 1st Batt |
| Evans | Sgt | 4167 | 5th Batt |
| Evans | Colour Sgt | 2911 | 5th Batt |
| Fabey | Pte | 5669 | 1st Batt |
| Fagan R | Pte | 2537 | 1st Batt |
| Fagan J | Pte | 4457 | 1st Batt |
| Fagan | Pte | 6541 | 1st Batt |
| Fagan J | Pte | 4457 | 2nd Batt |
| Fagan | Pte | 5774 | 2nd Batt |
| Fagan | Pte | 6355 | 2nd Batt |
| Fagan E | Pte | 1765 | 5th Batt |
| Fagan | Pte | 5891 | 4th Batt |
| Fagan | Pte | 5210 | 4th Batt |
| Fagan | Pte | 1073 | 5th Batt |
| Fagan | Pte | 3409 | 5th Batt |
| Fagan | Pte | 2855 | 5th Batt |
| Fahey | Pte | 6620 | 2nd Batt |
| Fahey | Drummer | 5558 | 5th Batt |
| Falconer F | Pte | 3506 | 1st Batt |
| Fallon | Pte | 6636 | 2nd Batt |
| Fallon J | Pte | 6459 | 2nd Batt |
| Fanning | Pte | 1883 | 3rd Batt |
| Fanning | Pte | 6871 | 4th Batt |
| Fannon | Pte | 6970 | 4th Batt |
| Farley | L/Cpl | 4558 | 4th Batt |
| Farrell | Pte | 4287 | 1st Batt |
| Farrell M | Pte | 4467 | 1st Batt |
| Farrell W | Pte | 4493 | 1st Batt |
| Farrell | Pte | 5126 | 2nd Batt |
| Farrell W | Pte | 5350 | 2nd Batt |
| Farrell | Pte | 5667 | 2nd Batt |
| Farrell | Pte | 6069 | 2nd Batt |
| Farrell | Pte | 5219 | 2nd Batt |
| Farrell | Pte | 1120 | 3rd Batt |
| Farrell | Pte | 1698 | 3rd Batt |
| Farrell | Pte | 1039 | 4th Batt |
| Farrell | Pte | 1033 | 5th Batt |
| Farrell | Pte | 5626 | 4th Batt |
| Farrell | Pte | 5700 | 4th Batt |
| Farrell | Pte | 5133 | 4th Batt |
| Farrell | Pte | 5582 | 4th Batt |
| Farrell | Pte | 4462 | 4th Batt |
| Farrell | Pte | 7399 | 4th Batt |
| Farrell | Pte | 4637 | 5th Batt |
| Farrell | Pte | 2338 | 5th Batt |
| Farrell | Pte | 45 | 5th Batt |
| Farrell | Pte | 3458 | 5th Batt |
| Farrell | Pte | 4582 | 5th Batt |
| Farrell | Pte | 7194 | 4th Batt |
| Farrell | Pte | 1435 | 2nd Batt |
| Farrell | Sgt | 1590 | 2nd Batt |
| Farrell | Pte | 1698 | 2nd Batt |
| Farrell | Pte | 3209 | 2nd Batt |
| Farrell M | L/Sgt | 3758 | 2nd Batt |
| Farrell B | Pte | 1461 | 2nd Batt |
| Farrell J | Pte | 1377 | 2nd Batt |
| Farrell J | Pte | 2096 | 5th Batt |
| Farrell M | Pte | 3574 | 1st Batt |
| Farrell M | Pte | 6447 | 2nd Batt |
| Farrell P | Pte | 5284 | 2nd Batt |
| Farrelly | Pte | 5306 | 2nd Batt |
| Farrelly | Pte | 2375 | 5th Batt |
| Farrelly | Pte | 1362 | 5th Batt |
| Farrelly | Pte | 6930 | 4th Batt |
| Farrelly O | Pte | 6489 | 1st Batt |
| Farrington J | Pte | 3767 | 5th Batt |
| Faulkner | Pte | 5307 | 2nd Batt |
| Fay W | Pte | 4163 | 2nd Batt |
| Fay | Pte | 5760 | 4th Batt |
| Fay R | Pte | 5125 | 1st Batt |
| Faye J | Pte | 4747 | 2nd Batt |
| Feehan F | Pte | 6938 | 4th Batt |
| Feeney | Pte | 1067 | 5th Batt |
| Fenelon | Pte | 3836 | 1st Batt |
| Fenelon J | Pte | 5822 | 2nd Batt |
| Fennell M | Pte | 2336 | 1st Batt |
| Fenton | Cpl | 4569 | 5th Batt |
| Ferguson | L/Cpl | 6128 | 2nd Batt |
| Ferguson J | Pte | 7312 | 1st Batt |
| Ferguson A | Pte | 6917 | 1st Batt |
| Fermoyle | Pte | 6750 | 4th Batt |
| Ferris | Pte | 2917 | 5th Batt |
| Fetherstonhaugh | Captain | | |
| Field | Pte | 5249 | 4th Batt |
| Field | Pte | 5678 | 4th Batt |
| Fields B | Drummer | 3914 | 5th Batt |
| Finegan | Pte | 3854 | 5th Batt |
| Finlay A | Drummer | 5752 | 1st Batt |
| Finlay | Pte | 5985 | 2nd Batt |
| Finlay | Lieut Colonel | | |
| Finlay | Captain | | |
| Finn | Pte | 3965 | 1st Batt |
| Finn | Pte | 4230 | 1st Batt |
| Finn | Pte | 3884 | 2nd Batt |
| Finn | Pte | 5183 | 2nd Batt |
| Finn C | Pte | 5551 | 2nd Batt |
| Finn P | Pte | 3302 | 4th Batt |
| Finn P | Pte | 4163 | 5th Batt |
| Finnegan | Pte | 1823 | 2nd Batt |
| Finnegan | Pte | 5157 | 4th Batt |
| Finnegan | Cpl | 5875 | 4th Batt |
| Finnegan J | Pte | 5714 | 2nd Batt |
| Finnegan W | Pte | 2923 | 1st Batt |
| Finnigan | Pte | 5235 | 1st Batt |
| Firzzill | L/Cpl | 6372 | 1st Batt |
| Fitxgerald | Pte | 5254 | 4th Batt |
| Fitxgerald | Pte | 1796 | 4th Batt |
| Fitzgerald J | Pte | 5096 | 1st Batt |
| Fitzgerald T | Cpl | 5294 | 2nd Batt |
| Fitzgerald J | Pte | 5096 | 1st Batt |
| Fitzgerald J | Pte | 3815 | 2nd Batt |
| Fitzgerald J | Pte | 6814 | 4th Batt |
| Fitzgerald J | Pte | 4490 | 2nd Batt |
| Fitzgerald T | Pte | 4680 | 2nd Batt |
| Fitzgerald W | Pte | 7013 | 4th Batt |
| Fitzgerald-Lombard | Lieut | | |
| Fitzharris | Pte | 6093 | 2nd Batt |
| Fitzharris | Pte | 3107 | 5th Batt |
| Fitzmaurce | Pte | 5506 | 4th Batt |
| Fitzmorris D | Pte | 5120 | 2nd Batt |
| Fitzpatrick | Pte | 4138 | 1st Batt |
| Fitzpatrick | Pte | 2829 | 1st Batt |
| Fitzpatrick T | L/Cpl | 3543 | 1st Batt |
| Fitzpatrick | Pte | 3096 | 1st Batt |
| Fitzpatrick | Pte | 6566 | 1st Batt |
| Fitzpatrick | Pte | 6231 | 1st Batt |
| Fitzpatrick | Pte | 4597 | 2nd Batt |
| Fitzpatrick P | Pte | 5691 | 2nd Batt |
| Fitzpatrick | Pte | 6158 | 2nd Batt |
| Fitzpatrick C | Pte | 6587 | 2nd Batt |
| Fitzpatrick | Pte | 3810 | 3rd Batt |
| Fitzpatrick | Pte | 4619 | 5th Batt |
| Fitzpatrick | Pte | 6859 | 4th Batt |
| Fitzpatrick C | Pte | 5156 | 2nd Batt |
| Fitzpatrick C J | Drummer | 6288 | 1st Batt |
| Fitzpatrick H A C | Pte | 6177 | 2nd Batt |
| Fitzpatrick J | Pte | 7153 | 1st Batt |
| Fitzpatrick J | Pte | 6893 | 4th Batt |
| Fitzpatrick J | Pte | 5862 | 2nd Batt |
| Fitzsimmons | Pte | 4380 | 5th Batt |
| Fitzsimons | Pte | 3877 | 1st Batt |
| Fitzsimons | Pte | 5900 | 4th Batt |
| Fitzsimons G | Pte | 5938 | 2nd Batt |
| Flanagan J | Pte | 5500 | 1st Batt |
| Flanagan | Pte | 2661 | 4th Batt |
| Flanagan | Pte | 2723 | 5th Batt |
| Flanagan | Pte | 5395 | 4th Batt |
| Flanagan | Pte | 4432 | 5th Batt |
| Flanagan | Pte | 6854 | 4th Batt |
| Flanagan | Pte | 6019 | 2nd Batt |
| Flanagan J | Pte | 6498 | 2nd Batt |
| Flanagan T | L/Cpl | 2532 | 1st Batt |
| Flanagan T | Pte | 4542 | 2nd Batt |
| Flannery | Cpl | 2367 | 1st Batt |
| Flannery P | L/Cpl | 4879 | 1st Batt |
| Fleming | Pte | 1612 | 2nd Batt |
| Fleming | Pte | 5893 | 2nd Batt |
| Fleming T | Pte | 6100 | 2nd Batt |
| Fleming | Pte | 6918 | 4th Batt |
| Flood | L/Cpl | 4972 | 1st Batt |
| Flood P | Pte | 6010 | 1st Batt |
| Flood T | Pte | 3710 | 1st Batt |
| Flood | Pte | 5131 | 1st Batt |
| Flood | Pte | 1787 | 2nd Batt |
| Flood | Pte | 1078 | 2nd Batt |
| Flood | Pte | 4525 | 2nd Batt |
| Flood | Pte | 4238 | 2nd Batt |
| Flood V | Pte | 5617 | 2nd Batt |
| Flood W | Pte | 5789 | 2nd Batt |
| Flood A | Pte | 4593 | 2nd Batt |
| Flood F | L/Cpl | 6585 | 1st Batt |
| Flood J | Pte | 5826 | 2nd Batt |
| Floyd G | Pte | 4531 | 5th Batt |
| Floyd J | Pte | 5344 | 2nd Batt |
| Fluck A | Drummer | 6506 | 2nd Batt |
| Flynn | Pte | 3244 | 1st Batt |
| Flynn | Pte | 4932 | 2nd Batt |
| Flynn | Pte | 5735 | 2nd Batt |
| Flynn | Pte | 6286 | 2nd Batt |
| Flynn | Pte | 2159 | 3rd Batt |
| Flynn | Pte | 3924 | 4th Batt |
| Flynn J | Cpl | 5143 | 2nd Batt |
| Flynn J | Sgt | 3514 | 1st Batt |
| Flynn W | Pte | 7104 | 1st Batt |
| Fogarty | Pte | 2114 | 2nd Batt |
| Fogarty P | Pte | 2147 | 1st Batt |
| Fogarty P | Pte | 4184 | 1st Batt |
| Foley | L/Sgt | 5623 | 2nd Batt |
| Foley | Pte | 739 | 3rd Batt |
| Foley | Pte | 5150 | 4th Batt |
| Foley | Pte | 5387 | 4th Batt |
| Foley T | Pte | 4472 | 5th Batt |
| Foley | Pte | 3671 | 4th Batt |
| Foley J | Pte | 2889 | 1st Batt |
| Foran | Pte | 153 | 3rd Batt |
| Foran J | Pte | 4643 | 2nd Batt |
| Foran J | Pte | 7327 | 1st Batt |
| Ford | Colour Sgt | 795 | 1st Batt |
| Foreman | Pte | 3500 | 5th Batt |
| Forest | Pte | 3883 | 5th Batt |
| Forrester | Pte | 3098 | 1st Batt |
| Forrester | Cpl | 4292 | 5th Batt |
| Forster | Pte | 5246 | 1st Batt |
| Fox | Pte | 4519 | 1st Batt |
| Fox P | Pte | 6429 | 1st Batt |
| Fox | Pte | 3370 | 1st Batt |
| Fox T | L/Cpl | 5040 | 2nd Batt |
| Fox | Pte | 2582 | 5th Batt |
| Fox | Sgt | 4596 | 4th Batt |
| Fox | Pte | 4467 | 5th Batt |
| Fox | Pte | 3009 | 5th Batt |
| Fox C | Pte | 7114 | 1st Batt |
| Fox H | Pte | 4823 | 1st Batt |
| Fox T | Pte | 6399 | 2nd Batt |
| Foy | Pte | 398 | 4th Batt |
| Foy | Pte | 5252 | 4th Batt |
| Foy | Pte | 4931 | 4th Batt |
| Frahill P | Pte | 2753 | 2nd Batt |
| Francis M | Pte | 5036 | 2nd Batt |
| Francy | Pte | 5186 | 4th Batt |
| Franklin | Captain | | |
| Franklin | Lieut | | |
| Franklin J | Pte | 5625 | 2nd Batt |
| Freeman | Cpl | 2439 | 1st Batt |
| Freeman W | Pte | 6508 | 4th Batt |
| Freeney | Pte | 2826 | 1st Batt |
| Freeney | Pte | 6030 | 2nd Batt |
| French | Pte | 1404 | 2nd Batt |
| French | Q/Mas Sgt | 677 | 2nd Batt |
| Friel J | Pte | 7011 | 4th Batt |
| Frohlich F | Pte | 4372 | 2nd Batt |
| Frost G F | Cpl | 4419 | 1st Batt |
| Fulham P | Pte | 6746 | 4th Batt |
| Furlong N | L/Cpl | 6180 | 1st Batt |
| Furlong | Pte | 4303 | 2nd Batt |
| Furlong | Pte | 4627 | 4th Batt |
| Fury | Pte | 3766 | 5th Batt |
| Gaddwell W | Pte | 1846 | 5th Batt |
| Gaffney | Pte | 1724 | 2nd Batt |
| Gaffney | Cpl | 2890 | 2nd Batt |
| Gaffney | Pte | 5973 | 2nd Batt |
| Gage | Captain | | |
| Gage J | Colour Sgt | 3467 | 2nd Batt |
| Gage J E F | Colour Sgt | 2615 | 2nd Batt |
| Gains | Pte | 7006 | 4th Batt |
| Galbrath P | Pte | 5359 | 2nd Batt |
| Gallagher | Pte | 4154 | 1st Batt |
| Gallagher | Pte | 6772 | 2nd Batt |
| Gallagher | Pte | 5723 | 2nd Batt |
| Gallagher | Pte | 3095 | 4th Batt |
| Gallagher | Pte | 5326 | 4th Batt |
| Gallagher | Sgt | 5152 | 4th Batt |
| Gallagher | Pte | 4538 | 5th Batt |
| Gallagher | Drummer | 2889 | 5th Batt |
| Gallagher J | Pte | 3251 | 5th Batt |
| Gallagher O | Pte | 4489 | 1st Batt |
| Galvin | Pte | 1720 | 2nd Batt |
| Galway | L/Sgt | 5638 | 1st Batt |
| Galway E | Pte | 5998 | 2nd Batt |
| Gamble T | Pte | 3879 | 1st Batt |
| Gamble R | Pte | 7008 | 4th Batt |
| Gannon | Pte | 3684 | 1st Batt |
| Gannon | Pte | 4204 | 4th Batt |
| Gannon C | Pte | 3579 | 5th Batt |
| Garbutt | Pte | 3326 | 2nd Batt |
| Gardiner J | Sgt Drummer | 6204 | 5th Batt |
| Garland | Pte | 6896 | 4th Batt |
| Garner W H | Sgt | 5562 | 2nd Batt |
| Garvice C | Lieut | | |
| Gaskin C | Cpl | 3954 | 5th Batt |
| Gatford | Pte | 4241 | 4th Batt |
| Gavan | Pte | 1729 | 2nd Batt |
| Gavan J | L/Sgt | 5805 | 1st Batt |
| Gavin | Pte | 6701 | 2nd Batt |
| Gavin | Pte | 7393 | 1st Batt |
| Gavin | Pte | 3233 | 5th Batt |
| Gay M | Pte | 6998 | 2nd Batt |
| Gaynor | Pte | 1633 | 5th Batt |
| Geary | Cpl | 4540 | 4th Batt |
| Geary | Pte | 7112 | 4th Batt |
| Geogehan | Pte | 5489 | 2nd Batt |
| Geoghegan | Pte | 4897 | 1st Batt |
| Geoghegan | Pte | 4055 | 2nd Batt |
| Geoghegan | L/Cpl | 4025 | 4th Batt |
| Geoghegan | Pte | 5411 | 4th Batt |
| Geoghegan | Pte | 3935 | 5th Batt |
| Geoghegan W | Pte | 6986 | 4th Batt |
| George | 2nd Lieut | | |
| Geraghty | Pte | 5168 | 2nd Batt |
| Geraghty | Pte | 5493 | 4th Batt |
| Geraghty H | Pte | 5627 | 1st Batt |
| Geraghty W | Pte | 7432 | 1st Batt |
| Gernon | Lieut Colonel | | |
| Gervine | Pte | 7386 | 1st Batt |
| Gibbons | Pte | 4313 | 2nd Batt |
| Gibbons | Pte | 287 | 5th Batt |
| Gibbons J | Sgt | 4986 | 2nd Batt |
| Gibney P | Pte | 6829 | 4th Batt |
| Gibney | Pte | 6215 | 2nd Batt |
| Gibney H | Pte | 4964 | 2nd Batt |
| Gibney J | Pte | 4177 | 1st Batt |
| Gibney J | Pte | 5136 | 1st Batt |
| Gibson J | L/Cpl | 6287 | 2nd Batt |
| Giff J | Pte | 6946 | 4th Batt |
| Gilbert | Pte | 4316 | 1st Batt |
| Gilbert | Pte | 5102 | 4th Batt |
| Gill | Pte | 6852 | 2nd Batt |
| Gillan | Pte | 2969 | 1st Batt |
| Gillespie | Pte | 3630 | 5th Batt |
| Gillespie T | Pte | 3169 | 1st Batt |
| Gillespie W | Sgt Major | 3961 | 4th Batt |
| Gillick | Pte | 5402 | 4th Batt |
| Gilligan | Pte | 2157 | 4th Batt |
| Gillooley W | Pte | 6096 | 2nd Batt |
| Gilson | Pte | 3449 | 5th Batt |
| Githens J | Pte | 4368 | 2nd Batt |
| Gittens J R | Sgt | 3059 | 1st Batt |
| Glasspool | Drummer | 5858 | 1st Batt |
| Gleeson | Pte | 4786 | 1st Batt |
| Gleeson | Pte | 7043 | 3rd Batt |
| Gleeson F | Cpl | 4863 | 2nd Batt |
| Gleeson T | Pte | 5600 | 2nd Batt |
| Glennon | Pte | 1670 | 2nd Batt |
| Glennon | Sgt | 5607 | 2nd Batt |
| Glorney M | Pte | 3047 | 1st Batt |
| Glynn | Pte | 4566 | 2nd Batt |
| Glynn T | Pte | 7169 | 1st Batt |
| Glynn | Pte | 4578 | 4th Batt |
| Glynn | Pte | 2779 | 5th Batt |
| Glynn B | Pte | 5968 | 2nd Batt |
| Glynn R | Pte | 5274 | 2nd Batt |
| Godfrey | Pte | 4086 | 1st Batt |
| Godfrey | L/Cpl | 4250 | 1st Batt |
| Goff | 2nd Lieut | | |
| Goff T | Pte | 6057 | 2nd Batt |
| Gomley | L/Sgt | 4036 | 1st Batt |
| Goodall | Pte | 3384 | 1st Batt |
| Goodman | Pte | 3802 | 2nd Batt |
| Goodwin | Pte | 4400 | 5th Batt |
| Goodwin W H | 2nd Lieut | | |
| Gordon | L/Cpl | 5528 | 2nd Batt |
| Gordon | Pte | 6943 | 4th Batt |
| Gordon | Major | | |
| Gordon J | Pte | 17 | 3rd Batt |
| Gorman | Pte | 3686 | 1st Batt |
| Gorman E | Pte | 6544 | 1st Batt |
| Gorman | Colour Sgt | 4569 | 2nd Batt |
| Gorman | Pte | 5211 | 2nd Batt |
| Gorman | Pte | 5751 | 2nd Batt |
| Gorman | Pte | 2073 | 3rd Batt |
| Gorman | Pte | 1720 | 5th Batt |
| Gorman C | Pte | 5078 | 2nd Batt |
| Gorman P | Pte | 4043 | 5th Batt |
| Gosson | Pte | 6747 | 1st Batt |
| Gosson J | Pte | 7360 | 1st Batt |
| Gough | Pte | 1380 | 3rd Batt |
| Gough W | Pte | 4178 | 2nd Batt |
| Goughran | L/Cpl | 6042 | 2nd Batt |
| Goulter B | Pte | 3320 | 1st Batt |
| Gouran | Pte | 132 | 3rd Batt |
| Gowran | Pte | 5962 | 1st Batt |
| Grace | Sgt | 4894 | 2nd Batt |
| Graham | Pte | 4932 | 4th Batt |
| Graham | Pte | 3564 | 5th Batt |
| Graham | Cpl | 4085 | 5th Batt |
| Graham | Pte | 4375 | 5th Batt |
| Graham A | L/Cpl | 6203 | 1st Batt |
| Graham J | Pte | 4716 | 2nd Batt |
| Grant | Cpl | 3369 | 1st Batt |
| Grant J B | Colour Sgt | 1140 | 1st Batt |
| Grant | Pte | 3178 | 1st Batt |
| Grant | Pte | 3453 | 1st Batt |
| Grant | Pte | 2778 | 1st Batt |
| Grant | Pte | 5567 | 4th Batt |
| Grant R | Colour Sgt | 1180 | 4th Batt |
| Grantham | Pte | 7179 | 1st Batt |
| Gray | Pte | 4390 | 1st Batt |
| Gray H | Pte | 5096 | 2nd Batt |
| Gray | Pte | 6088 | 2nd Batt |
| Gray | Pte | 5735 | 4th Batt |
| Gray L | Pte | 5686 | 2nd Batt |
| Grayer | Pte | 5592 | 4th Batt |
| Greaves | Pte | 4564 | 5th Batt |
| Green J | Pte | 4829 | 1st Batt |
| Green | Sgt Drummer | 2306 | 4th Batt |
| Green | L/Cpl | 5645 | 4th Batt |
| Green | Pte | 5379 | 4th Batt |
| Green | Pte | 6243 | 5th Batt |
| Green | Pte | 3259 | 5th Batt |
| Green | Pte | 6501 | 2nd Batt |
| Green J | Cpl | 4868 | 2nd Batt |
| Green P | Pte | 3101 | 1st Batt |
| Green P | Pte | 6977 | 4th Batt |
| Green R | Pte | 2228 | 1st Batt |
| Greene | Pte | 6888 | 4th Batt |
| Greene J | Pte | 5790 | 2nd Batt |
| Greenlees A | Pte | 2239 | 1st Batt |
| Greer J | Pte | 5047 | 2nd Batt |
| Gregg | Pte | 4569 | 5th Batt |
| Gregory | Pte | 4723 | 2nd Batt |
| Greig | Pte | 4084 | 1st Batt |
| Grendon J | Pte | 2950 | 1st Batt |
| Grey | Pte | 4366 | 4th Batt |
| Gribb | Pte | 1447 | 4th Batt |
| Grierson | Pte | 3487 | 1st Batt |
| Griffin | Pte | 4899 | 1st Batt |
| Griffin | Pte | 3264 | 4th Batt |
| Griffin | Pte | 5503 | 4th Batt |
| Griffin | Captain | | |
| Griffin J | Pte | 7007 | 4th Batt |
| Griffiths | Pte | 4466 | 4th Batt |
| Grigg | Pte | 3285 | 1st Batt |
| Grimes | Pte | 1453 | 3rd Batt |
| Grimes | Pte | 2108 | 3rd Batt |
| Grimes | Pte | 6915 | 4th Batt |
| Grimes W | Pte | 2327 | 5th Batt |
| Grimes W | Pte | 2108 | 4th Batt |
| Grimley | Pte | 3762 | 2nd Batt |
| Grimley | Pte | 2984 | 4th Batt |
| Groom | Pte | 1100 | 3rd Batt |
| Grosert J H | Colour Sgt | 6060 | 4th Batt |
| Groughran R | Pte | 5777 | 2nd Batt |
| Grouse | Sgt | 4432 | 4th Batt |
| Groves | Pte | 6386 | 1st Batt |
| Groves | Pte | 6954 | 3rd Batt |
| Guest | Pte | 5373 | 2nd Batt |
| Guest A | Sgt | 4856 | 1st Batt |
| Guilfoyle | Pte | 3795 | 1st Batt |
| Guilfoyle | Pte | 5018 | 4th Batt |
| Guilfoyle | Pte | 7265 | 4th Batt |
| Guilfoyle C | Colour Sgt | 3278 | 2nd Batt |
| Guilfoyle M | Sgt | 4388 | 2nd Batt |
| Gwynne | Pte | 6724 | 2nd Batt |
| Hackett | Major | | |
| Hackett T | Pte | 5157 | 1st Batt |
| Hackett T | Pte | 5520 | 2nd Batt |
| Hagan | Pte | 2406 | 2nd Batt |
| Haggerty D | Pte | 3935 | 1st Batt |
| Hague | L/Cpl | 5360 | 4th Batt |
| Haines | Pte | 3192 | 5th Batt |
| Halahan | Lieut | | |
| Halfpenny | Pte | 6995 | 1st Batt |
| Hall | Pte | 4120 | 2nd Batt |
| Hall | Pte | 4825 | 4th Batt |
| Hall R S | Sgt | 5039 | 1st Batt |
| Hallahan R | Sgt | 5114 | 2nd Batt |
| Halligan | Pte | 6806 | 4th Batt |
| Hallinan | Pte | 4792 | 1st Batt |
| Hallington | Pte | 7026 | 4th Batt |
| Halloran | Pte | 4406 | 5th Batt |
| Halpin M | Pte | 3035 | 1st Batt |
| Halpin F | Pte | 3147 | 1st Batt |
| Halpin | Pte | 5576 | 2nd Batt |
| Halpin | Pte | 6058 | 2nd Batt |
| Halpin C | Pte | 2965 | 4th Batt |
| Hamilton | Pte | 5418 | 4th Batt |
| Hamilton | Pte | 8486 | 4th Batt |
| Hamilton | Lieut | | |
| Hamilton W | Sgt | 501 | 2nd Batt |
| Hamon | Pte | 2572 | 5th Batt |
| Hampson W | Pte | 7478 | 1st Batt |
| Hand H | Pte | 4473 | 2nd Batt |
| Hanley D | Cpl | 6094 | 2nd Batt |
| Hanlon | Pte | 2220 | 1st Batt |
| Hanlon | Pte | 6198 | 1st Batt |
| Hanlon | L/Cpl | 4970 | 2nd Batt |
| Hanlon | Pte | 6353 | 2nd Batt |
| Hanlon | Pte | 3245 | 5th Batt |
| Hanlon | Pte | 4413 | 4th Batt |
| Hanly | Pte | 5088 | 2nd Batt |
| Hanna | Sgt | 3105 | 2nd Batt |
| Hannigan | Pte | 5877 | 2nd Batt |
| Hannon | Pte | 2221 | 1st Batt |
| Hannon | Pte | 3998 | 5th Batt |
| Hannon | Pte | 6900 | 4th Batt |
| Hanoran | Pte | 2541 | 2nd Batt |
| Hanraham J | Sgt | 4499 | 2nd Batt |
| Hardy M | Pte | 6295 | 1st Batt |
| Hare | L/Cpl | 4445 | 5th Batt |
| Hare | Pte | 6939 | 4th Batt |
| Harling T | Pte | 7017 | 4th Batt |
| Harman | Pte | 1415 | 2nd Batt |
| Harper G | Cpl | 4947 | 2nd Batt |
| Harris | Pte | 5250 | 2nd Batt |
| Harris | Pte | 3432 | 5th Batt |
| Harris | Pte | 4239 | 5th Batt |
| Harris | Pte | 2886 | 5th Batt |
| Harris | Pte | 2815 | 5th Batt |
| Harris | L/Cpl | 5003 | 1st Batt |
| Harrison | Pte | 5072 | 2nd Batt |
| Harrison H | Pte | 5647 | 2nd Batt |
| Harrison T | Pte | 6723 | 4th Batt |
| Hart | Pte | 4425 | 2nd Batt |
| Hart | Pte | 5629 | 4th Batt |
| Hart | Pte | 5211 | 4th Batt |
| Hart | Pte | 5234 | 4th Batt |
| Hart | Pte | 3943 | 5th Batt |
| Hart T | Pte | 5200 | 2nd Batt |
| Harte | Pte | 4489 | 1st Batt |
| Harte | Pte | 7345 | 1st Batt |
| Harte | Pte | 7071 | 1st Batt |
| Hartigan | Sgt Major | | 1st Batt |
| Hartley | Major | | |
| Harty O | Pte | 6116 | 2nd Batt |
| Harvey | Pte | 6597 | 1st Batt |
| Harvey | Pte | 2203 | 2nd Batt |
| Haskard J McD | Lieut | | |
| Haslam | Pte | 5311 | 4th Batt |
| Hassett E | Sgt | 3672 | 2nd Batt |
| Hastings | Pte | 5611 | 4th Batt |
| Hatch W | Pte | 4602 | 2nd Batt |
| Hatt F W | L/Cpl | 5531 | 2nd Batt |
| Hawkes E C B | Lieut | | |
| Hawkins | Pte | 2888 | 4th Batt |
| Hawkins | Pte | 4606 | 5th Batt |
| Hawkins | Pte | 3724 | 5th Batt |
| Hawley | Pte | 2685 | 4th Batt |
| Hawthorn C | Pte | 4998 | 2nd Batt |
| Hayden | Pte | 6678 | 1st Batt |
| Hayden | L/Cpl | 2986 | 1st Batt |
| Hayden | Pte | 3381 | 2nd Batt |
| Hayden | Pte | 5820 | 2nd Batt |
| Hayden | Sgt | 2652 | 5th Batt |
| Hayden | Pte | 7355 | 1st Batt |
| Hayden | Sgt | 2652 | 5th Batt |
| Hayes | Pte | 2837 | 1st Batt |
| Hayes | Pte | 4507 | 1st Batt |
| Hayes | Pte | 6446 | 1st Batt |
| Hayes J | Pte | 4876 | 2nd Batt |
| Hayes | Pte | 5023 | 2nd Batt |
| Hayes | Pte | 6666 | 2nd Batt |
| Hayes | Pte | 6076 | 5th Batt |
| Hayes | Pte | 5269 | 4th Batt |
| Hayes | Colour Sgt | 2911 | 5th Batt |
| Hayes | Pte | 4184 | 5th Batt |
| Hayes | Pte | 1386 | 5th Batt |
| Hayes | Pte | 4775 | 2nd Batt |
| Hayes | Pte | 6576 | 1st Batt |
| Hayes | Pte | 6078 | 2nd Batt |
| Hayes E P | Sgt | 3441 | 2nd Batt |
| Hayes J | Sgt | 5859 | 5th Batt |
| Hayes J | Pte | 5229 | 1st Batt |
| Hayes J | Pte | 5947 | 2nd Batt |
| Hayes M | Pte | 6472 | 1st Batt |
| Hayes W | Pte | 2967 | 2nd Batt |
| Haynes | L/Cpl | 3357 | 1st Batt |
| Hayter | L/Cpl | 5267 | 4th Batt |
| Heade | Pte | 3372 | 5th Batt |
| Heade | Cpl | 4353 | 5th Batt |
| Heafey | Pte | 3786 | 4th Batt |
| Heagerty | Pte | 3946 | 5th Batt |
| Healy | Pte | 3086 | 1st Batt |
| Healy | Pte | 5425 | 2nd Batt |
| Healy | Sgt | 3013 | 2nd Batt |
| Healy M | Pte | 6285 | 2nd Batt |
| Healy | Pte | 971 | 5th Batt |
| Healy | Pte | 5937 | 4th Batt |
| Healy J | Pte | 4376 | 1st Batt |
| Healy T | Pte | 4537 | 2nd Batt |
| Heaney J | Pte | 3791 | 1st Batt |
| Heany | Cpl | 6242 | 1st Batt |
| Heaps J | Pte | 4014 | 2nd Batt |
| Hearne | Pte | 5605 | 4th Batt |
| Hearns | Sgt | 2708 | 1st Batt |
| Hearns | Pte | 7498 | 1st Batt |
| Hearty | Pte | 4484 | 2nd Batt |
| Hearty | Pte | 4101 | 4th Batt |
| Heavey E | Pte | 5960 | 2nd Batt |
| Hedger | Pte | 4731 | 1st Batt |
| Heeney | L/Cpl | 4866 | 4th Batt |
| Heeney | Pte | 2684 | 5th Batt |
| Heffernan J | Pte | 4669 | 2nd Batt |
| Heffernan | L/Cpl | 5677 | 4th Batt |
| Heffernan | Pte | 2971 | 1st Batt |
| Heffernan M | Pte | 2190 | 1st Batt |
| Heffernan R | Pte | 6929 | 1st Batt |
| Heffernan W | Pte | 7150 | 5th Batt |
| Hegarty J | Pte | 4277 | 1st Batt |
| Hegarty W | Pte | 3943 | 2nd Batt |
| Hegarty W | Pte | 4667 | 2nd Batt |
| Hegarty D | Pte | 2772 | 1st Batt |
| Heggarty | Pte | 2839 | 1st Batt |
| Heggarty | Pte | 2803 | 1st Batt |
| Henderson | Pte | 4855 | 2nd Batt |
| Hendrick | Pte | 2318 | 4th Batt |
| Hennessey B | Pte | 5980 | 1st Batt |
| Hennessy | Pte | 6200 | 1st Batt |
| Hennessy | Pte | 6020 | 1st Batt |
| Hennessy | Pte | 2218 | 2nd Batt |
| Hennessy | Pte | 2845 | 2nd Batt |
| Hennessy | Pte | 2517 | 5th Batt |
| Hennessy | Pte | 7497 | 1st Batt |
| Hennessy W | Pte | 5503 | 2nd Batt |
| Henry | Lieut | | |
| Henry W | Pte | 547 | 4th Batt |
| Hensley C A | Captain | | |
| Heraghty | Pte | 7344 | 1st Batt |
| Herbert P | L/Cpl | 5239 | 2nd Batt |
| Heron | Pte | 4487 | 5th Batt |
| Hesham | Pte | 7493 | 1st Batt |
| Hetherston R | Pte | 5684 | 2nd Batt |
| Heys-Thomson | Lieut | | |
| Hickey | Pte | 626 | 1st Batt |
| Hickey | Pte | 5128 | 2nd Batt |
| Hickey | Pte | 466 | 3rd Batt |
| Hickey | Pte | 4449 | 5th Batt |
| Hickey | Pte | 2998 | 1st Batt |
| Hickey | Pte | 1914 | 1st Batt |
| Hickey T | Pte | 5719 | 2nd Batt |
| Hickie | Pte | 5181 | 5th Batt |
| Hicks | Lieut Colonel | | |
| Higginbotham | Pte | 3675 | 4th Batt |
| Higgins | Pte | 3181 | 1st Batt |
| Higgins | Pte | 1929 | 2nd Batt |
| Higgins | Pte | 2338 | 4th Batt |
| Higgins | Pte | 5279 | 4th Batt |
| Higginson | Pte | 5823 | 2nd Batt |
| Higginson | Captain | | |
| Higginson | Lieut | | |
| Hill | Pte | 5594 | 2nd Batt |
| Hill | Captain | | |
| Hill T | Pte | 6736 | 1st Batt |
| Hillier | Pte | 5768 | 2nd Batt |
| Hinnett | Pte | 6302 | 1st Batt |
| Hobson | Pte | 3066 | 2nd Batt |
| Hodgkins | Lieut | | |
| Hoey E | Cpl | 6680 | 1st Batt |
| Hoey | Pte | 4879 | 1st Batt |
| Hoey | Pte | 3183 | 1st Batt |
| Hoey | Pte | 2233 | 5th Batt |
| Hoey | Pte | 4429 | 5th Batt |
| Hoey | 2nd Lieut | | |
| Hoey C | Cpl | 5204 | 4th Batt |
| Hoey G | Sgt | 5371 | 2nd Batt |
| Hoey W | Drummer | 4443 | 2nd Batt |
| Hogan | L/Cpl | 3508 | 1st Batt |
| Hogan | Pte | 1730 | 1st Batt |
| Hogan | Pte | 840 | 3rd Batt |
| Hogan | Pte | 2132 | 3rd Batt |
| Hogan | Pte | 7241 | 4th Batt |
| Hogan | Sgt | 956 | 5th Batt |
| Hogan | Pte | 2468 | 3rd Batt |
| Hogan | Pte | 6923 | 4th Batt |
| Hogan J | Sgt | 2156 | 2nd Batt |
| Hohmann | Pte | 7079 | 4th Batt |
| Holden | Pte | 6303 | 1st Batt |
| Holland | L/Cpl | 4780 | 1st Batt |
| Holland W | Pte | 6194 | 1st Batt |
| Holloway | L/Cpl | 4908 | 1st Batt |
| Holloway | Q/Mas Sgt | 2741 | 1st Batt |
| Holloway A W | Cpl | 6421 | 1st Batt |
| Hollywood | Pte | 6804 | 4th Batt |
| Holmes | Pte | 5674 | 4th Batt |
| Holmes | Pte | 5566 | 2nd Batt |
| Holmes W | Sgt | 5433 | 2nd Batt |
| Holohan J | Pte | 4508 | 2nd Batt |
| Holohan P | Pte | 5330 | 2nd Batt |
| Holton | L/Cpl | 7266 | 4th Batt |
| Homan | Drummer | 6052 | 1st Batt |
| Homan | Pte | 6129 | 2nd Batt |
| Hooligan | Pte | 2018 | 5th Batt |
| Hooper M | Pte | 5089 | 2nd Batt |
| Hooper J J | Q/Mas Sgt | 2647 | 4th Batt |
| Hope-Johnstone J A | Captain | | |
| Hopkins | Pte | 5471 | 1st Batt |
| Hopkins | Pte | 4925 | 2nd Batt |
| Hopkins S | Pte | 4785 | 2nd Batt |
| Horan | Pte | 1999 | 1st Batt |
| Horan J | Pte | 4332 | 2nd Batt |
| Horlick T | Pte | 6061 | 2nd Batt |
| Horne | Pte | 6016 | 2nd Batt |
| Horne J | Pte | 6865 | 4th Batt |
| Hosford J | Sgt | 5644 | 1st Batt |
| Houlding | Pte | 4816 | 2nd Batt |
| Houlihan | Pte | 4217 | 2nd Batt |
| Howard | Pte | 3273 | 1st Batt |
| Howard | Pte | 4895 | 2nd Batt |
| Howard | Pte | 5989 | 2nd Batt |
| Howard | Pte | 5874 | 2nd Batt |
| Howard | Pte | 7086 | 1st Batt |
| Howard F | Pte | 6767 | 1st Batt |
| Howard T | Cpl | 3504 | 5th Batt |
| Howell | Sgt | 7622 | 1st Batt |
| Hoy W | Pte | 5841 | 2nd Batt |
| Hudleston G | Lieut | | |
| Hudson | Pte | 6879 | 4th Batt |
| Hudson W | Pte | 2805 | 1st Batt |
| Hughes | Pte | 3656 | 1st Batt |
| Hughes S | Pte | 5119 | 1st Batt |
| Hughes | Pte | 438 | 1st Batt |
| Hughes M | Pte | 2076 | 1st Batt |
| Hughes | Pte | 2758 | 1st Batt |
| Hughes | Pte | 6081 | 2nd Batt |
| Hughes | Pte | 361 | 3rd Batt |
| Hughes | Pte | 1337 | 4th Batt |
| Hughes | Pte | 2386 | 5th Batt |
| Hughes J | Pte | 4029 | 1st Batt |
| Hughes N | Pte | 6625 | 5th Batt |
| Hughes N | Pte | 6625 | 1st Batt |
| Hunt W | Pte | 4506 | 2nd Batt |
| Hunt J | Pte | 5873 | 2nd Batt |
| Hunt J P | Colour Sgt | 4290 | 2nd Batt |
| Hunter | Pte | 6691 | 1st Batt |
| Hurst | L/Cpl | 6449 | 2nd Batt |
| Hustler | Pte | 5686 | 4th Batt |
| Hutchinson | Pte | 2771 | 1st Batt |
| Hutchinson | Pte | 7189 | 1st Batt |
| Hutchinson | Pte | 3209 | 5th Batt |
| Hyder C | Pte | 5518 | 4th Batt |
| Hyland | Pte | 6316 | 1st Batt |
| Hyland | Pte | 942 | 3rd Batt |
| Hyland | Pte | 2110 | 4th Batt |
| Hyland | Pte | 6316 | 5th Batt |
| Hyland | Pte | 4387 | 4th Batt |
| Hyland | Pte | 6719 | 2nd Batt |
| Hyland J | Pte | 4621 | 2nd Batt |
| Hynes | Pte | 5009 | 1st Batt |
| Hynes | Pte | 3239 | 2nd Batt |
| Hynes W | Q/Mas Sgt | 684 | 2nd Batt |
| Illiffe G H | Pte | 4817 | 2nd Batt |
| Ireland R | Pte | 6031 | 4th Batt |
| Iremonger | Pte | 5804 | 4th Batt |
| Irving | Pte | 3435 | 1st Batt |
| Irwin | Pte | 2848 | 1st Batt |
| Irwin | Pte | 7335 | 1st Batt |
| Irwin | Pte | 2781 | 5th Batt |
| Ison T | Pte | 3343 | 1st Batt |
| Ivens J | Cpl | 5951 | 1st Batt |
| Ivory | Pte | 1184 | 4th Batt |
| Jackman | Pte | 6487 | 1st Batt |
| Jackman | Pte | 6846 | 4th Batt |
| Jackson | L/Cpl | 7141 | 4th Batt |
| Jackson E | Pte | 4555 | 1st Batt |
| Jago | Pte | 4242 | 5th Batt |
| James | Pte | 593 | 1st Batt |
| James E | Sgt | 2392 | 2nd Batt |
| Jeffreys | Lieut | | |
| Jenings | 2nd Lieut | | |
| Jenkins R | Pte | 6464 | 1st Batt |
| Jervis | Pte | 7453 | 1st Batt |
| Jesson A L P | Lieut | | |
| Johns | Lieut | | |
| Johnson | Pte | 1034 | 3rd Batt |
| Johnson | 2nd Lieut | | |
| Johnson | Pte | 5890 | 2nd Batt |
| Johnson A E | Pte | 4771 | 2nd Batt |
| Johnston | Pte | 3347 | 1st Batt |
| Johnston R | Pte | 3405 | 2nd Batt |
| Johnston | Pte | 5851 | 2nd Batt |
| Johnston | Sgt | 2014 | 5th Batt |
| Johnston C | Pte | 5263 | 2nd Batt |
| Johnston J | Pte | 4528 | 2nd Batt |
| Jones | Pte | 3348 | 2nd Batt |
| Jones E | Pte | 5866 | 2nd Batt |
| Jones | Pte | 5541 | 2nd Batt |
| Jones | Pte | 6448 | 2nd Batt |
| Jones M | Cpl | 7267 | 1st Batt |
| Jones | Pte | 1674 | 5th Batt |
| Jones | Pte | 7018 | 4th Batt |
| Jones | Captain | | |
| Jones A | Pte | 6828 | 4th Batt |
| Jones G | Pte | 4462 | 5th Batt |
| Jordan | Pte | 6400 | 1st Batt |
| Jordan | Pte | 6133 | 2nd Batt |
| Jordan | Pte | 4571 | 5th Batt |
| Jordan | Pte | 3589 | 5th Batt |
| Jordan | Pte | 6881 | 4th Batt |
| Jordan J | Pte | 6641 | 1st Batt |
| Jordan P | Pte | 2888 | 2nd Batt |
| Jordan T | Pte | 4382 | 2nd Batt |
| Joyce | Pte | 4436 | 4th Batt |
| Joyce G | Pte | 4242 | 1st Batt |
| Judge E | Pte | 4232 | 1st Batt |
| Judge E | Pte | 4232 | 1st Batt |
| Judge P | Pte | 3859 | 1st Batt |
| Judge | Pte | 3531 | 4th Batt |
| Kane | Pte | 3255 | 4th Batt |
| Kane | Pte | 4165 | 4th Batt |
| Kane T | Pte | 4927 | 2nd Batt |
| Kane J | Pte | 4461 | 2nd Batt |
| Kavanagh | Pte | 6413 | 1st Batt |
| Kavanagh | Pte | 4812 | 1st Batt |
| Kavanagh H | Pte | 3513 | 1st Batt |
| Kavanagh | Pte | 1635 | 2nd Batt |
| Kavanagh J | Pte | 5014 | 2nd Batt |
| Kavanagh | Pte | 5586 | 2nd Batt |
| Kavanagh T | Pte | 5912 | 2nd Batt |
| Kavanagh | Pte | 5718 | 2nd Batt |
| Kavanagh M | Pte | 6023 | 2nd Batt |
| Kavanagh | Pte | 6466 | 2nd Batt |
| Kavanagh | Pte | 3514 | 5th Batt |
| Kavanagh | Pte | 3211 | 4th Batt |
| Kavanagh | Pte | 4890 | 4th Batt |
| Kavanagh | Pte | 5693 | 4th Batt |
| Kavanagh | Pte | 5655 | 4th Batt |
| Kavanagh | Pte | 5005 | 4th Batt |
| Kavanagh | Cpl | 5664 | 4th Batt |
| Kavanagh | Pte | 3649 | 5th Batt |
| Kavanagh | Pte | 4073 | 5th Batt |
| Kavanagh | Pte | 4318 | 5th Batt |
| Kavanagh | Pte | 3193 | 5th Batt |
| Kavanagh | Sgt | 3866 | 4th Batt |
| Kavanagh J | Pte | 3848 | 2nd Batt |
| Kavanagh J | Pte | 5986 | 1st Batt |
| Kavanagh M | Pte | 5256 | 2nd Batt |
| Kavanagh P | Pte | 6171 | 2nd Batt |
| Kavanagh P | Pte | 5508 | 4th Batt |
| Kayne A | Sgt | 5543 | 1st Batt |
| Kealey J | Pte | 1846 | 3rd Batt |
| Keane | Pte | 7287 | 1st Batt |
| Keane | Pte | 3688 | 5th Batt |
| Keane M | Pte | 5868 | 2nd Batt |
| Kearney | Pte | 5472 | 4th Batt |
| Kearney | Pte | 5864 | 4th Batt |
| Kearney | Pte | 3247 | 5th Batt |
| Kearns | Pte | 4280 | 5th Batt |
| Kearns J | Pte | 3949 | 1st Batt |
| Kearns J | Pte | 3122 | 1st Batt |
| Kearns J | Pte | 4625 | 1st Batt |
| Kearns T | L/Cpl | 3784 | 2nd Batt |
| Keating | Pte | 4161 | 1st Batt |
| Keating | Pte | 4451 | 1st Batt |
| Keating | Pte | 3032 | 1st Batt |
| Keating | Pte | 5679 | 4th Batt |
| Keating | Pte | 5564 | 4th Batt |
| Keating C | Pte | 4543 | 2nd Batt |
| Keating E | Pte | 5693 | 2nd Batt |
| Keating E | Cpl | 5730 | 2nd Batt |
| Keating M | Pte | 7195 | 4th Batt |
| Keefe | Pte | 5748 | 2nd Batt |
| Keeffe J | Pte | 3619 | 1st Batt |
| Keegan | Pte | 3190 | 5th Batt |
| Keegan | Pte | 6729 | 1st Batt |
| Keegan | Pte | 7454 | 1st Batt |
| Keegan | Pte | 5716 | 4th Batt |
| Keegan | Pte | 3154 | 5th Batt |
| Keegan | Pte | 3462 | 5th Batt |
| Keegan | Pte | 6266 | 4th Batt |
| Keegan A | Pte | 5710 | 2nd Batt |
| Keegan J | Pte | 5769 | 2nd Batt |
| Keegan T | Pte | 6393 | 2nd Batt |
| Keeley | Pte | 2660 | 1st Batt |
| Keeley | L/Cpl | 4281 | 5th Batt |
| Keeley J | Pte | 7000 | 4th Batt |
| Keenan | Pte | 909 | 3rd Batt |
| Keenan | Pte | 7208 | 5th Batt |
| Keenan | Pte | 7199 | 4th Batt |
| Keenan | Pte | 566 | 5th Batt |
| Keenan | Pte | 6914 | 4th Batt |
| Keenan | Pte | 6932 | 4th Batt |
| Keenan | Pte | 6924 | 4th Batt |
| Keenan | Pte | 6974 | 4th Batt |
| Keenan | Pte | 6993 | 4th Batt |
| Keenan | Pte | 7005 | 4th Batt |
| Keenan J | Sgt | 4480 | 2nd Batt |
| Keenan T | Pte | 5634 | 2nd Batt |
| Keevan J | Pte | 4931 | 1st Batt |
| Kegney W | Pte | 5828 | 2nd Batt |
| Kehoe P | Pte | 5920 | 2nd Batt |
| Kelleher | Pte | 3671 | 5th Batt |
| Kellett | Pte | 4324 | 5th Batt |
| Kelly | Pte | 2864 | 1st Batt |
| Kelly | Pte | 3892 | 1st Batt |
| Kelly | Pte | 6141 | 1st Batt |
| Kelly | Pte | 6397 | 1st Batt |
| Kelly | Sgt | 3861 | 1st Batt |
| Kelly | Pte | 3660 | 1st Batt |
| Kelly | Pte | 3702 | 1st Batt |
| Kelly J | L/Cpl | 6402 | 1st Batt |
| Kelly | Pte | 3876 | 1st Batt |
| Kelly | Pte | 6541 | 1st Batt |
| Kelly | Pte | 3502 | 1st Batt |
| Kelly | Pte | 1877 | 3rd Batt |
| Kelly | Pte | 1395 | 3rd Batt |
| Kelly | Pte | 2128 | 3rd Batt |
| Kelly | Pte | 7040 | 3rd Batt |
| Kelly | Pte | 3551 | 4th Batt |
| Kelly | Pte | 7005 | 1st Batt |
| Kelly | Pte | 6932 | 1st Batt |
| Kelly | Pte | 7276 | 1st Batt |
| Kelly | Pte | 7388 | 1st Batt |
| Kelly | Pte | 5290 | 4th Batt |
| Kelly | Cpl | 4847 | 4th Batt |
| Kelly | Pte | 5565 | 4th Batt |
| Kelly | Pte | 5736 | 4th Batt |
| Kelly | Pte | 5043 | 4th Batt |
| Kelly | Pte | 5874 | 4th Batt |
| Kelly | Sgt | 1891 | 5th Batt |
| Kelly | Sgt | 4592 | 5th Batt |
| Kelly | Pte | 987 | 5th Batt |
| Kelly | Pte | 2608 | 5th Batt |
| Kelly | Pte | 201 | 5th Batt |
| Kelly | Pte | 3666 | 5th Batt |
| Kelly C | Pte | 5721 | 2nd Batt |
| Kelly F | L/Cpl | 5875 | 2nd Batt |
| Kelly G | Pte | 4552 | 2nd Batt |
| Kelly G | Pte | 2739 | 2nd Batt |
| Kelly J | Pte | 5850 | 1st Batt |
| Kelly J | Pte | 5153 | 1st Batt |
| Kelly J | Pte | 3286 | 1st Batt |
| Kelly J | Pte | 6751 | 1st Batt |
| Kelly J | Pte | 1794 | 2nd Batt |
| Kelly J | Pte | 3651 | 2nd Batt |
| Kelly J | Pte | 4495 | 2nd Batt |
| Kelly J | Drummer | 4648 | 2nd Batt |
| Kelly J | Pte | 5063 | 2nd Batt |
| Kelly J | Pte | 5612 | 2nd Batt |
| Kelly J | Pte | 6123 | 2nd Batt |
| Kelly J | Pte | 6132 | 2nd Batt |
| Kelly J | Pte | 6299 | 2nd Batt |
| Kelly J | Pte | 6649 | 2nd Batt |
| Kelly J | Pte | 6895 | 2nd Batt |
| Kelly M | Pte | 3862 | 2nd Batt |
| Kelly M | Pte | 1143 | 2nd Batt |
| Kelly M | Pte | 6589 | 2nd Batt |
| Kelly P | Pte | 3522 | 1st Batt |
| Kelly P | Pte | 1834 | 4th Batt |
| Kelly P | Pte | 4082 | 1st Batt |
| Kelly P | Pte | 4082 | 1st Batt |
| Kelly P | Pte | 1696 | 2nd Batt |
| Kelly P | Pte | 5416 | 2nd Batt |
| Kelly P | Pte | 5757 | 2nd Batt |
| Kelly P | Pte | 5969 | 2nd Batt |
| Kelly P | Sgt | 1864 | 4th Batt |
| Kelly R | Pte | 6038 | 2nd Batt |
| Kelly S | Pte | 5971 | 1st Batt |
| Kelly S | Pte | 1428 | 2nd Batt |
| Kelly T | Pte | 4741 | 2nd Batt |
| Kelly T | Pte | 5785 | 2nd Batt |
| Kelly T | Pte | 6082 | 2nd Batt |
| Kelly W | Pte | 2112 | 2nd Batt |
| Kelly W | Pte | 4642 | 2nd Batt |
| Kelly W | Pte | 6110 | 2nd Batt |
| Kelly W | Pte | 6471 | 2nd Batt |
| Kemps | Pte | 7405 | 1st Batt |
| Kempster C | Pte | 6293 | 2nd Batt |
| Kendleton | Pte | 2613 | 1st Batt |
| Kenna | Pte | 4127 | 4th Batt |
| Kennedy J | Pte | 4009 | 1st Batt |
| Kennedy | Pte | 6348 | 1st Batt |
| Kennedy J | Pte | 3613 | 1st Batt |
| Kennedy | Pte | 3620 | 1st Batt |
| Kennedy | Pte | 4046 | 4th Batt |
| Kennedy | Pte | 4431 | 5th Batt |
| Kennedy | Pte | 1950 | 5th Batt |
| Kennedy P | Pte | 5704 | 2nd Batt |
| Kennedy W | Pte | 4575 | 2nd Batt |
| Kenny | Pte | 2930 | 1st Batt |
| Kenny | Pte | 3406 | 1st Batt |
| Kenny P | Pte | 2296 | 1st Batt |
| Kenny | Pte | 5888 | 1st Batt |
| Kenny | Sgt | 4796 | 1st Batt |
| Kenny G | Pte | 2842 | 1st Batt |
| Kenny | Pte | 4068 | 1st Batt |
| Kenny | Pte | 1205 | 4th Batt |
| Kenny | Pte | 3610 | 4th Batt |
| Kenny | Pte | 2120 | 5th Batt |
| Kenny | Pte | 5594 | 4th Batt |
| Kenny | Pte | 4469 | 5th Batt |
| Kenny | Pte | 4222 | 5th Batt |
| Kenny | Pte | 4561 | 5th Batt |
| Kenny H | Pte | 3998 | 2nd Batt |
| Kenny J | Pte | 7087 | 1st Batt |
| Kenny P | Pte | 1679 | 2nd Batt |
| Kenny P | Pte | 5888 | 2nd Batt |
| Kenny T | Pte | 7004 | 4th Batt |
| Kenny T | Pte | 4884 | 2nd Batt |
| Kent L | L/Cpl | 6425 | 1st Batt |
| Keogh P | Pte | 3840 | 1st Batt |
| Keogh | Pte | 2762 | 1st Batt |
| Keogh | Pte | 3705 | 1st Batt |
| Keogh | Pte | 3648 | 1st Batt |
| Keogh | Pte | 3787 | 1st Batt |
| Keogh | Pte | 6245 | 1st Batt |
| Keogh | Pte | 1558 | 3rd Batt |
| Keogh | Pte | 1865 | 3rd Batt |
| Keogh | Pte | 2060 | 3rd Batt |
| Keogh | Pte | 1760 | 4th Batt |
| Keogh | Pte | 2023 | 4th Batt |
| Keogh | Pte | 2457 | 4th Batt |
| Keogh | Pte | 4556 | 4th Batt |
| Keogh | Pte | 5378 | 4th Batt |
| Keogh | Pte | 7220 | 4th Batt |
| Keogh | Pte | 3765 | 5th Batt |
| Keogh | Pte | 704 | 4th Batt |
| Keogh | Pte | 6034 | 4th Batt |
| Keogh M | Pte | 4854 | 2nd Batt |
| Keogh M | Pte | 5889 | 2nd Batt |
| Keogh P | Pte | 1772 | 2nd Batt |
| Kerr | 2nd Lieut | | |
| Kerr | Pte | 6562 | 1st Batt |
| Kerr M | Pte | 690 | 2nd Batt |
| Kerrigan | Pte | 6957 | 1st Batt |
| Kerrigan | L/Cpl | 4609 | 5th Batt |
| Kerrigan T | Pte | 1443 | 2nd Batt |
| Kewill | L/Cpl | 2512 | 5th Batt |
| Kidd J | Sgt | 5642 | 2nd Batt |
| Kidd N | Cpl | 6105 | 2nd Batt |
| Kiernan P | Pte | 6440 | 1st Batt |
| Kiernan | Pte | 2397 | 4th Batt |
| Kiernan | Pte | 3049 | 4th Batt |
| Kiernan J | Pte | 5004 | 2nd Batt |
| Kilduff | Pte | 7224 | 1st Batt |
| Kilduff J | Pte | 6127 | 2nd Batt |
| Kilkelly | Sgt | 4534 | 5th Batt |
| Killeen | Pte | 6683 | 1st Batt |
| Killeen P | Pte | 3755 | 5th Batt |
| Kilmartin J | Pte | 2581 | 1st Batt |
| Kilmet M | Pte | 5796 | 2nd Batt |
| Kilroy P | Pte | 5227 | 2nd Batt |
| Kinahan P | Pte | 4980 | 2nd Batt |
| Kinberley | Pte | 5021 | 4th Batt |
| Kinberley | L/Cpl | 4616 | 5th Batt |
| King | Pte | 2852 | 1st Batt |
| King | Pte | 1852 | 5th Batt |
| King | Sgt | 975 | 4th Batt |
| King | Pte | 3964 | 5th Batt |
| King M | Pte | 1370 | 2nd Batt |
| King P | Pte | 7425 | 1st Batt |
| King W | Pte | 3487 | 5th Batt |
| Kinsella J | Pte | 6837 | 1st Batt |
| Kinsella | Pte | 2619 | 5th Batt |
| Kinsella | Pte | 2825 | 5th Batt |
| Kinsella | Pte | 3586 | 5th Batt |
| Kinsella A | Pte | 3883 | 1st Batt |
| Kinsella D | Pte | 5073 | 2nd Batt |
| Kinsella J | Pte | 1651 | 5th Batt |
| Kinsella R | Pte | 6186 | 1st Batt |
| Kinsman | Captain | | |
| Kinsman | Lieut | | |
| Kirkpatrick A D | Captain | | |
| Kirrnan | Pte | 7178 | 1st Batt |
| Kirwan | Pte | 4251 | 1st Batt |
| Kirwan | Pte | 597 | 5th Batt |
| Kirwan | Pte | 3111 | 5th Batt |
| Kirwan M | Pte | 5057 | 2nd Batt |
| Kirwan M | Pte | 5141 | 2nd Batt |
| Kirwan W | Pte | 4532 | 2nd Batt |
| Kitterick P | Pte | 5337 | 2nd Batt |
| Knighorn | Sgt | 4383 | 4th Batt |
| Knight H | Pte | 2945 | 1st Batt |
| Knight E | Pte | 3930 | 1st Batt |
| Knight | Pte | 4230 | 5th Batt |
| Knight A C | Sgt | 5645 | 1st Batt |
| Knox | 2nd Lieut | | |
| Knox | 2nd Lieut | | |
| Knox S | Pte | 3559 | 5th Batt |
| Kunharte | 2nd Lieut | | |
| Lacy | Pte | 4305 | 5th Batt |
| Lahey | Pte | 748 | 5th Batt |
| Lahey F | Sgt | 2716 | 1st Batt |
| Lalis J | Pte | 230 | 1st Batt |
| Lambe | Cpl | 5799 | 4th Batt |
| Lambe J | Pte | 6722 | 1st Batt |
| Lambert J | Pte | 3699 | 1st Batt |
| Lammonby | Pte | 4043 | 1st Batt |
| Lanagan W | Pte | 3468 | 2nd Batt |
| Landy | Sgt | 3912 | 1st Batt |
| Landy | Sgt | 3912 | 1st Batt |
| Landy J | Sgt | 3713 | 5th Batt |
| Landy J | Pte | 6195 | 1st Batt |
| Lane | Pte | 7209 | 5th Batt |
| Lane | Lieut | | |
| Lang | Captain | | |
| Lang R | Pte | 5767 | 2nd Batt |
| Lannon | Pte | 3921 | 5th Batt |
| Lansfrey | 2nd Lieut | | |
| Larwin P | Pte | 5660 | 2nd Batt |
| LaTouche P | Major | | |
| Laven M | Pte | 5546 | 2nd Batt |
| Laverty R C | Sgt.Drummer | 6663 | 1st Batt |
| Lavin L | Pte | 4405 | 1st Batt |
| Lawless | Pte | 4062 | 1st Batt |
| Lawless | Pte | 4062 | 1st Batt |
| Lawless | Drummer | 6001 | 1st Batt |
| Lawless | Pte | 176 | 5th Batt |
| Lawless R | Pte | 6864 | 4th Batt |
| Lawlor | Pte | 4500 | 1st Batt |
| Lawlor | Pte | 6403 | 1st Batt |
| Lawlor | Pte | 2804 | 1st Batt |
| Lawlor J | Pte | 4292 | 1st Batt |
| Lawlor | Pte | 5821 | 1st Batt |
| Lawlor | Pte | 374 | 3rd Batt |
| Lawlor J | Pte | 6611 | 1st Batt |
| Lawlor | Pte | 7145 | 1st Batt |
| Lawlor | Pte | 5274 | 4th Batt |
| Lawlor | Pte | 5491 | 4th Batt |
| Lawlor | Pte | 5407 | 4th Batt |
| Lawlor A | Pte | 4040 | 5th Batt |
| Lawlor | Pte | 4129 | 5th Batt |
| Lawlor | Pte | 3752 | 5th Batt |
| Lawlor | Pte | 2328 | 5th Batt |
| Lawlor | Pte | 4532 | 5th Batt |
| Lawton | L/Cpl | 5133 | 1st Batt |
| Lawton T | Pte | 4651 | 2nd Batt |
| Lawton W | Pte | 6513 | 2nd Batt |
| Le Mesuire F N | Captain | | |
| Leader | Pte | 3503 | 4th Batt |
| Leahy | Pte | 7076 | 1st Batt |
| Leahy | Pte | 5695 | 4th Batt |
| Leahy | Pte | 2716 | 5th Batt |
| Leahy J | Pte | 5716 | 2nd Batt |
| Leahy J | Pte | 4347 | 2nd Batt |
| Leary | Pte | 4111 | 1st Batt |
| Leary | Pte | 6855 | 4th Batt |
| Leary J | Pte | 4776 | 2nd Batt |
| Leavey B | Pte | 6595 | 1st Batt |
| Ledwidge | Pte | 4222 | 1st Batt |
| Ledwidge | Pte | 4386 | 4th Batt |
| Ledwidge J | Pte | 4846 | 2nd Batt |
| Lee M | Pte | 5187 | 1st Batt |
| Lee | Pte | 7368 | 1st Batt |
| Lee | Pte | 5632 | 4th Batt |
| Lee | Sgt | 3807 | 5th Batt |
| Lee | Pte | 4406 | 1st Batt |
| Lee J | Pte | 6860 | 4th Batt |
| Lee J | Pte | 5069 | 2nd Batt |
| Lee M | L/Cpl | 5601 | 2nd Batt |
| Leech J | Pte | 4728 | 2nd Batt |
| Leech P | Pte | 4831 | 2nd Batt |
| Leedon | Pte | 4663 | 5th Batt |
| Leeper C | Cpl | 5674 | 2nd Batt |
| Lees | Pte | 4028 | 1st Batt |
| Leeson J | Pte | 4418 | 1st Batt |
| Leeson | Pte | 2314 | 1st Batt |
| Leeson | Pte | 3419 | 4th Batt |
| Leffinas | Lieut | | |
| Lefroy | Lieut | | |
| Lenehan | Pte | 3418 | 5th Batt |
| Lenehan J | Sgt | 2865 | 2nd Batt |
| Lennon | Pte | 7044 | 3rd Batt |
| Lennon | Pte | 2377 | 5th Batt |
| Lennon | Drummer | 4602 | 5th Batt |
| Lennon C | Pte | 6731 | 2nd Batt |
| Lennox | Pte | 3997 | 5th Batt |
| Lenton | Pte | 3968 | 5th Batt |
| Leon R | Pte | 6332 | 2nd Batt |
| Leonard | Pte | 2870 | 1st Batt |
| Leonard | Pte | 4554 | 4th Batt |
| Leonard | Pte | 6928 | 4th Batt |
| Leonard | Pte | 4128 | 5th Batt |
| Leonard J | Pte | 4700 | 2nd Batt |
| Leonard P | Pte | 6737 | 2nd Batt |
| Leslie | Pte | 5784 | 4th Batt |
| Lester | Pte | 4581 | 5th Batt |
| Lester P | Pte | 3787 | 1st Batt |
| Lett B | Pte | 6402 | 2nd Batt |
| Letty | Pte | 2016 | 4th Batt |
| Lewins P | Pte | 4436 | 1st Batt |
| Lewins P | Pte | 4436 | 5th Batt |
| Lighttown J | Pte | 3793 | 1st Batt |
| Lillis R | Pte | 6298 | 2nd Batt |
| Lillis T | Pte | 5117 | 2nd Batt |
| Lilly | Pte | 6235 | 4th Batt |
| Lioyd | Pte | 515 | 1st Batt |
| Lioyd | L/Cpl | 3882 | 1st Batt |
| Lioyd | Pte | 3241 | 1st Batt |
| Little | Q/Mas Sgt | 2749 | 1st Batt |
| Little | Pte | 3994 | 1st Batt |
| Little P | Pte | 7156 | 5th Batt |
| Little | Pte | 4589 | 5th Batt |
| Little | 2nd Lieut | | |
| Little P | Pte | 6823 | 2nd Batt |
| Llewelyan | L/Cpl | 5807 | 4th Batt |
| Lloyd | Sgt | 5759 | 1st Batt |
| Lloyd | L/Cpl | 5540 | 4th Batt |
| Logan | Pte | 3977 | 5th Batt |
| Logan P | L/Sgt | 5683 | 2nd Batt |
| Long | Pte | 4432 | 4th Batt |
| Long P | Pte | 4356 | 5th Batt |
| Long J | Pte | 1885 | 5th Batt |
| Long P | Pte | 6546 | 1st Batt |
| Long S | Pte | 5450 | 2nd Batt |
| Lonsdale | Captain | | |
| Looney W | Cpl | 4131 | 2nd Batt |
| Lordon E | Pte | 5056 | 2nd Batt |
| Lordon M | Pte | 4932 | 2nd Batt |
| Loughman | Pte | 1589 | 3rd Batt |
| Loughran | Pte | 4185 | 1st Batt |
| Loughran W | Cpl | 5374 | 2nd Batt |
| Louth | Pte | 6875 | 4th Batt |
| Love | Pte | 5436 | 1st Batt |
| Loveband | Captain | | |
| Loveridge R | Cpl | 6077 | 1st Batt |
| Lowe C | L/Cpl | 3078 | 1st Batt |
| Lowe F | Cpl | 3482 | 1st Batt |
| Lowe J | Pte | 5436 | 2nd Batt |
| Lowery | Pte | 4038 | 1st Batt |
| Lowndes M | Captain | | |
| Lowry | Pte | 4095 | 5th Batt |
| Lowry | Pte | 6981 | 4th Batt |
| Ludlow | Pte | 5409 | 4th Batt |
| Ludlow | Pte | 7022 | 4th Batt |
| Ludlow E | Pte | 4997 | 2nd Batt |
| Ludlow R | Pte | 4603 | 2nd Batt |
| Luff B | Pte | 7168 | 1st Batt |
| Lullis | Pte | 7561 | 1st Batt |
| Lumley | Pte | 6721 | 1st Batt |
| Lunn T | Pte | 3738 | 1st Batt |
| Lush | Pte | 1150 | 3rd Batt |
| Lynch | Pte | 2815 | 1st Batt |
| Lynch | Pte | 4045 | 1st Batt |
| Lynch | Pte | 4166 | 1st Batt |
| Lynch | Pte | 4783 | 1st Batt |
| Lynch | Pte | 3380 | 4th Batt |
| Lynch | Pte | 7367 | 1st Batt |
| Lynch | Pte | 7458 | 1st Batt |
| Lynch | Pte | 5625 | 4th Batt |
| Lynch | Cpl | 5335 | 4th Batt |
| Lynch | Pte | 5777 | 4th Batt |
| Lynch | Pte | 5840 | 4th Batt |
| Lynch | Pte | 4310 | 4th Batt |
| Lynch | Pte | 5291 | 4th Batt |
| Lynch | Pte | 5457 | 4th Batt |
| Lynch | Pte | 382 | 4th Batt |
| Lynch | Pte | 5241 | 4th Batt |
| Lynch | Pte | 4193 | 5th Batt |
| Lynch | Pte | 4107 | 5th Batt |
| Lynch | Pte | 4089 | 5th Batt |
| Lynch C | Cpl | 6707 | 1st Batt |
| Lynch J | Pte | 3781 | 5th Batt |
| Lynch J | Pte | 4015 | 4th Batt |
| Lynch P | Pte | 6696 | 1st Batt |
| Lynch P | Pte | 6969 | 4th Batt |
| Lynch P | Pte | 3880 | 1st Batt |
| Lynch P | Pte | 5595 | 1st Batt |
| Lynch T | Pte | 5287 | 2nd Batt |
| Lyons | Pte | 4423 | 1st Batt |
| Lyons | Pte | 5454 | 1st Batt |
| Lyons J | Pte | 5462 | 1st Batt |
| Lyons | Pte | 3898 | 1st Batt |
| Lyons | Pte | 3778 | 1st Batt |
| Lyons | Pte | 7446 | 1st Batt |
| Lyons M J | Pte | 6086 | 2nd Batt |
| Lyons T | Pte | 2295 | 1st Batt |
| Lyons T | Cpl | 4812 | 2nd Batt |
| MacDonnell | Captain | | |
| Macheod | Lieut | | |
| Mack J | Pte | 4803 | 2nd Batt |
| Mack P | Pte | 4012 | 2nd Batt |
| Mack T | Pte | 4217 | 4th Batt |
| Macken J | Pte | 5612 | 2nd Batt |
| MacKevoy | Pte | 3535 | 1st Batt |
| Mackey | Pte | 5629 | 1st Batt |
| Mackey T | Pte | 5869 | 2nd Batt |
| Mackin | Pte | 3022 | 4th Batt |
| MacLear | 2nd Lieut | | |
| MacPherson W | Pte | 6025 | 1st Batt |
| Madden | Cpl | 6838 | 1st Batt |
| Madden | Pte | 4326 | 5th Batt |
| Madden | Pte | 3062 | 5th Batt |
| Madden | Pte | 4563 | 4th Batt |
| Madden J | Pte | 2117 | 2nd Batt |
| Maddock T | Pte | 5058 | 2nd Batt |
| Maddox | Pte | 2393 | 4th Batt |
| Maddox M | Pte | 4672 | 1st Batt |
| Magee | L/Sgt | 3729 | 5th Batt |
| MaGee John F | Pte | 2826 | 1st Batt |
| MaGee V J | Colour Sgt | 3993 | 1st Batt |
| Magee W | Pte | 5118 | 2nd Batt |
| Maguire | Pte | 4884 | 1st Batt |
| Maguire | Cpl | 5214 | 4th Batt |
| Maguire | Pte | 5318 | 4th Batt |
| Maguire | Pte | 5404 | 4th Batt |
| Maguire | Pte | 3226 | 5th Batt |
| Maguire N | Pte | 6699 | 2nd Batt |
| Maher | Pte | 6394 | 1st Batt |
| Maher | Pte | 1077 | 3rd Batt |
| Maher | Pte | 7878 | 1st Batt |
| Maher | Pte | 1863 | 4th Batt |
| Maher | Pte | 6757 | 4th Batt |
| Maher | Pte | 2973 | 5th Batt |
| Maher | Pte | 3409 | 5th Batt |
| Maher | Pte | 4341 | 5th Batt |
| Maher W | Cpl | 6244 | 1st Batt |
| Maher J | Pte | 6755 | 1st Batt |
| Maher J | Pte | 5185 | 2nd Batt |
| Maher P | Pte | 4445 | 2nd Batt |
| Maher T | Pte | 1687 | 2nd Batt |
| Maher W | Pte | 5317 | 2nd Batt |
| Mahon | Pte | 4180 | 1st Batt |
| Mahon | Pte | 5835 | 4th Batt |
| Mahon C | Pte | 4638 | 2nd Batt |
| Mahon J | Pte | 3333 | 1st Batt |
| Mahon W | Pte | 1988 | 1st Batt |
| Mahoney | Pte | 5309 | 1st Batt |
| Mahoney | Pte | 5883 | 4th Batt |
| Mahoney | Sgt | 5872 | 4th Batt |
| Mahoney | Pte | 2210 | 5th Batt |
| Mahoney J T | Pte | 3928 | 4th Batt |
| Mahoney R | Pte | 6760 | 2nd Batt |
| Mahoney R | Pte | 5987 | 2nd Batt |
| Mahony | Pte | 3928 | 1st Batt |
| Mainwaring A E | Captain | | |
| Malins | Pte | 3339 | 1st Batt |
| Mallon | Pte | 3231 | 4th Batt |
| Mallon J | Cpl | 5051 | 2nd Batt |
| Malloney | Pte | 3817 | 4th Batt |
| Malone | Pte | 3552 | 1st Batt |
| Malone | Pte | 781 | 3rd Batt |
| Malone | Pte | 7369 | 1st Batt |
| Malone J | Pte | 2832 | 4th Batt |
| Malone | Cpl | 3332 | 4th Batt |
| Malone | Pte | 3325 | 5th Batt |
| Malone | Pte | 4140 | 5th Batt |
| Malone | Pte | 6850 | 4th Batt |
| Malone W | Pte | 5570 | 2nd Batt |
| Maloney J | Pte | 7100 | 1st Batt |
| Maloney J | L/Cpl | 1615 | 1st Batt |
| Maloney M | Cpl | 3994 | 1st Batt |
| Maloney M | L/Cpl | 1616 | 1st Batt |
| Maloney P M | Drummer | 6291 | 1st Batt |
| Malvney | Pte | 6458 | 1st Batt |
| Mangan | Pte | 3973 | 1st Batt |
| Mangan | Pte | 6236 | 1st Batt |
| Mangan | Pte | 847 | 3rd Batt |
| Mangan | Pte | 7039 | 4th Batt |
| Mangan | Pte | 5800 | 4th Batt |
| Mangan | Pte | 3745 | 4th Batt |
| Mann | Pte | 3222 | 1st Batt |
| Manning | Pte | 3942 | 1st Batt |
| Manning J | Pte | 4728 | 2nd Batt |
| Mannion J | Pte | 5361 | 2nd Batt |
| Mannion P | Pte | 5501 | 2nd Batt |
| Mansfield | Pte | 5778 | 4th Batt |
| Mansfield | Drummer | 2578 | 5th Batt |
| Mansworth | Pte | 4262 | 1st Batt |
| Manuel | Pte | 5888 | 4th Batt |
| Markey B | Sgt | 4897 | 4th Batt |
| Markey J | Pte | 6984 | 1st Batt |
| Marks | Pte | 6270 | 1st Batt |
| Marsden J | Pte | 5607 | 4th Batt |
| Marsh | Colour Sgt | 855 | 1st Batt |
| Marsh | 2nd Lieut | | |
| Marshall T | Pte | 7346 | 1st Batt |
| Marshall | Pte | 6813 | 4th Batt |
| Marshall | 2nd Lieut | | |
| Marshall A | Pte | 4517 | 2nd Batt |
| Marshall A | Pte | 6761 | 2nd Batt |
| Marshall W | Sgt | 4903 | 2nd Batt |
| Marshall W | L/Cpl | 5883 | 2nd Batt |
| Marshall W T | L/Cpl | 5883 | 5th Batt |
| Martin | Pte | 4218 | 1st Batt |
| Martin | Pte | 1921 | 1st Batt |
| Martin J | Pte | 4559 | 1st Batt |
| Martin J | Pte | 7308 | 1st Batt |
| Martin | Pte | 7016 | 1st Batt |
| Martin | Pte | 2605 | 4th Batt |
| Martin J | Pte | 6874 | 4th Batt |
| Martin | Pte | 6711 | 4th Batt |
| Martin | 2nd Lieut | | |
| Martin C | Pte | 4982 | 4th Batt |
| Martin C | Pte | 5005 | 2nd Batt |
| Martin J | Pte | 7274 | 4th Batt |
| Martin J | L/Sgt | 2187 | 2nd Batt |
| Martin J | Pte | 4074 | 2nd Batt |
| Martin J | Pte | 5801 | 2nd Batt |
| Martin W | Sgt | 2078 | 2nd Batt |
| Mason J | Pte | 6130 | 2nd Batt |
| Mason O | Pte | 5900 | 2nd Batt |
| Masterson | Pte | 3565 | 4th Batt |
| Masterson | Pte | 4925 | 4th Batt |
| Masterson J | Pte | 2481 | 1st Batt |
| Masterson J | Pte | 6417 | 1st Batt |
| Masterson W | Pte | 6054 | 2nd Batt |
| Masterson W | Cpl | 6175 | 2nd Batt |
| Matherson | Pte | 6997 | 4th Batt |
| Mathews | Pte | 1857 | 1st Batt |
| Matten | Pte | 7144 | 1st Batt |
| Matthews | Pte | 5728 | 4th Batt |
| Matthews | Pte | 6992 | 4th Batt |
| Matthews B | Cpl | 6330 | 2nd Batt |
| May | Pte | 7192 | 1st Batt |
| May C | Pte | 7279 | 1st Batt |
| May | Pte | 5399 | 4th Batt |
| May | Pte | 4105 | 4th Batt |
| May | L/Cpl | 4906 | 4th Batt |
| Mayberry | Pte | 5746 | 4th Batt |
| McAdorey | Pte | 3210 | 5th Batt |
| McAdorey | Pte | 3283 | 5th Batt |
| McAdorey | Sgt | 3221 | 5th Batt |
| McAllester R | Cpl | 1468 | 2nd Batt |
| McAllister A | Sgt | 5921 | 1st Batt |
| McAlpine W | Pte | 4299 | 2nd Batt |
| McArdle P | Pte | 5400 | 2nd Batt |
| McBean | Captain | | |
| McBride | Pte | 5895 | 4th Batt |
| McBride A | Pte | 3995 | 2nd Batt |
| McBride J | Pte | 5834 | 2nd Batt |
| McCabe | Pte | 3160 | 1st Batt |
| McCabe | Pte | 3519 | 1st Batt |
| McCabe | Pte | 1302 | 5th Batt |
| McCabe | Pte | 1738 | 5th Batt |
| McCabe | Pte | 3451 | 5th Batt |
| McCabe M | Pte | 4559 | 2nd Batt |
| McCabe P | Pte | 1354 | 2nd Batt |
| McCaffery | Pte | 6980 | 4th Batt |
| McCann | Cpl | 6735 | 1st Batt |
| McCann | Pte | 6375 | 1st Batt |
| McCann | Pte | 6735 | 1st Batt |
| McCann | Pte | 7506 | 1st Batt |
| McCann | Sgt | 4197 | 5th Batt |
| McCann | Cpl | 4500 | 5th Batt |
| McCann | Pte | 6919 | 4th Batt |
| McCann T | Pte | 5650 | 2nd Batt |
| McCann W | Pte | 5092 | 2nd Batt |
| McCarron J | Pte | 6971 | 4th Batt |
| McCarthy | Pte | 6118 | 1st Batt |
| McCarthy | Pte | 1950 | 4th Batt |
| McCarthy | Pte | 1951 | 5th Batt |
| McCarthy | Pte | 6872 | 1st Batt |
| McCarthy | Pte | 7429 | 1st Batt |
| McCarthy | Pte | 5523 | 4th Batt |
| McCarthy | Pte | 2661 | 5th Batt |
| McCarthy | Cpl | 4536 | 5th Batt |
| McCarthy | Pte | 7030 | 4th Batt |
| McCarthy | Pte | 6267 | 1st Batt |
| McCarthy | Pte | 4190 | 1st Batt |
| McCarthy C | Pte | 4582 | 2nd Batt |
| McCarthy D | Pte | 4794 | 2nd Batt |
| McCarthy J | Pte | 3594 | 1st Batt |
| McCarthy J | Pte | 4891 | 2nd Batt |
| McCarthy J | Pte | 6068 | 2nd Batt |
| McCarthy T | Pte | 4140 | 2nd Batt |
| McCarthy W | Pte | 4557 | 2nd Batt |
| McClare | Pte | 1701 | 5th Batt |
| McClear | Captain | | |
| McClokey B | Pte | 4373 | 2nd Batt |
| McClusker | Pte | 7402 | 1st Batt |
| McCluskey | Pte | 7019 | 4th Batt |
| McCluskey Philip | Pte | 4143 | 4th Batt |
| McClusky | Pte | 2758 | 4th Batt |
| McConnell J | Pte | 6795 | 1st Batt |
| McConville R | Pte | 5146 | 1st Batt |
| McCord | Pte | 3877 | 5th Batt |
| McCormack | Pte | 4113 | 5th Batt |
| McCormack | Cpl | 5098 | 4th Batt |
| McCormack | Pte | 4580 | 4th Batt |
| McCormack | Pte | 4940 | 4th Batt |
| McCormack | Pte | 3224 | 5th Batt |
| McCormack | Pte | 4652 | 5th Batt |
| McCormack E | Pte | 6465 | 2nd Batt |
| McCormack J | Pte | 6113 | 2nd Batt |
| McCormack J | Pte | 6190 | 2nd Batt |
| McCormack M | Pte | 5992 | 4th Batt |
| McCormack P | Pte | 2196 | 2nd Batt |
| McCormick | Pte | 6567 | 1st Batt |
| McCourt | Pte | 6983 | 4th Batt |
| McCoy T | L/Sgt | 1734 | 2nd Batt |
| McCready D | Pte | 6794 | 2nd Batt |
| McCrossin | Pte | 3558 | 1st Batt |
| McCullagh | Cpl | 2489 | 1st Batt |
| McCullagh | Pte | 6558 | 1st Batt |
| McCullagh | Pte | 3487 | 1st Batt |
| McDarby D | Pte | 3005 | 2nd Batt |
| McDermondy | Pte | 7035 | 3rd Batt |
| McDermott | Pte | 4317 | 1st Batt |
| McDermott | Pte | 855 | 3rd Batt |
| McDermott | Pte | 5637 | 4th Batt |
| McDermott | Pte | 3972 | 4th Batt |
| McDermott | Pte | 4138 | 5th Batt |
| McDermott | Captain | | |
| McDermott H | Pte | 4664 | 2nd Batt |
| McDermott J | Pte | 5166 | 1st Batt |
| McDermott J | Pte | 6624 | 2nd Batt |
| McDermott T | Pte | 6672 | 2nd Batt |
| McDonagh | Pte | 5628 | 4th Batt |
| McDonagh | Pte | 4343 | 4th Batt |
| McDonagh | Pte | 1833 | 3rd Batt |
| McDonald | Pte | 2223 | 5th Batt |
| McDonald | Pte | 7435 | 1st Batt |
| McDonald | Pte | 3428 | 5th Batt |
| McDonald | Pte | 6395 | 1st Batt |
| McDonald B | Pte | 5932 | 2nd Batt |
| McDonald C | Pte | 7331 | 1st Batt |
| McDonald C | Pte | 4605 | 2nd Batt |
| McDonald D | Pte | 3816 | 2nd Batt |
| McDonald D | Pte | 6637 | 2nd Batt |
| McDonald J | Pte | 2561 | 1st Batt |
| McDonald J | Pte | 6277 | 1st Batt |
| McDonald J | Pte | 3788 | 2nd Batt |
| McDonald J | Pte | 7291 | 2nd Batt |
| McDonald J | Pte | 3631 | 5th Batt |
| McDonald M | Pte | 6907 | 4th Batt |
| McDonald M | Pte | 5167 | 2nd Batt |
| McDonald R | Pte | 4917 | 2nd Batt |
| McDonnell | Pte | 6481 | 1st Batt |
| McDonnell | Pte | 5249 | 4th Batt |
| McDonnell | Pte | 4929 | 4th Batt |
| McDonnell | Pte | 4966 | 4th Batt |
| McDonnell | Pte | 4359 | 5th Batt |
| McDonnell J | Pte | 5838 | 2nd Batt |
| McDonnell J | Pte | 6305 | 2nd Batt |
| McDonnell J | Pte | 6382 | 2nd Batt |
| McDonnell J | Pte | 6836 | 2nd Batt |
| McDonnell M | Pte | 5908 | 2nd Batt |
| McDonnell P | Pte | 6220 | 1st Batt |
| McDonnell P | Pte | 1919 | 3rd Batt |
| McDonogh H | Pte | 6018 | 2nd Batt |
| McElroy E | Pte | 3152 | 2nd Batt |
| McEntee | Pte | 3192 | 4th Batt |
| McEvoy | Pte | 1857 | 3rd Batt |
| McEvoy | Pte | 5393 | 4th Batt |
| McEvoy | Pte | 5809 | 4th Batt |
| McEvoy | Colour Sgt | 3540 | 5th Batt |
| McEvoy | Pte | 3106 | 1st Batt |
| McEvoy E | Pte | 6619 | 2nd Batt |
| McEvoy J | Pte | 5706 | 2nd Batt |
| McEvoy J | Pte | 6469 | 2nd Batt |
| McEvoy W | Pte | 3975 | 2nd Batt |
| McEvoy W | Pte | 5763 | 2nd Batt |
| McEwan W | Pte | 5645 | 2nd Batt |
| McGahey G | Pte | 7069 | 5th Batt |
| McGann P | Pte | 4132 | 2nd Batt |
| McGarry | Pte | 3090 | 1st Batt |
| McGauley | Pte | 2664 | 5th Batt |
| McGauley | Pte | 1295 | 5th Batt |
| McGealey | Pte | 5926 | 4th Batt |
| McGinley J | Pte | 6309 | 2nd Batt |
| McGlow P | Cpl | 3659 | 2nd Batt |
| McGlynn | Pte | 4256 | 1st Batt |
| McGlynn | Pte | 6937 | 4th Batt |
| McGough | Pte | 7185 | 1st Batt |
| McGrane | Pte | 4165 | 1st Batt |
| McGrane | Pte | 5400 | 4th Batt |
| McGrane | Pte | 5077 | 4th Batt |
| McGrane | Pte | 6988 | 4th Batt |
| McGrath | Pte | 3888 | 1st Batt |
| McGrath | Pte | 4404 | 5th Batt |
| McGrath | Pte | 629 | 5th Batt |
| McGrath | Pte | 3601 | 5th Batt |
| McGrath | Pte | 6840 | 4th Batt |
| McGrath B | Sgt | 5877 | 4th Batt |
| McGrath J | Pte | 5137 | 2nd Batt |
| McGrath P | Pte | 7315 | 1st Batt |
| McGuinn | Pte | 6509 | 1st Batt |
| McGuinness E | Pte | 3164 | 1st Batt |
| McGuinness | Pte | 3414 | 1st Batt |
| McGuinness | Pte | 5326 | 1st Batt |
| McGuinness | Pte | 4981 | 4th Batt |
| McGuinness | Pte | 3646 | 5th Batt |
| McGuinness | L/Cpl | 4410 | 5th Batt |
| McGuinness | Pte | 4399 | 5th Batt |
| McGuinness | Pte | 4577 | 5th Batt |
| McGuinness J | Pte | 4512 | 2nd Batt |
| McGuinness P | Sgt | 5045 | 2nd Batt |
| McGuinness W | Pte | 5245 | 2nd Batt |
| McGuire | Pte | 6656 | 1st Batt |
| McGuire | Pte | 3971 | 5th Batt |
| McGuire J | Pte | 7126 | 1st Batt |
| McGuire J | Pte | 5861 | 2nd Batt |
| McGuire J | Pte | 5052 | 2nd Batt |
| McGuirk | Pte | 4832 | 1st Batt |
| McGuirk | Pte | 4221 | 5th Batt |
| McGuirke | Pte | 5802 | 1st Batt |
| McHale | Pte | 3242 | 5th Batt |
| McHolmes | Pte | 7601 | 1st Batt |
| McHugh | L/Cpl | 4771 | 4th Batt |
| McHugh | Pte | 1025 | 5th Batt |
| McHugh O | Pte | 3926 | 5th Batt |
| McHugh T | Pte | 4553 | 2nd Batt |
| McIntee | Pte | 4534 | 1st Batt |
| McIntyre | Pte | 3743 | 5th Batt |
| McIntyre J | Pte | 3756 | 1st Batt |
| McIntyre P | Pte | 5324 | 2nd Batt |
| McKearnan P | Pte | 6381 | 1st Batt |
| McKeernan | Pte | 3385 | 5th Batt |
| McKenna | Pte | 3197 | 1st Batt |
| McKenna | Pte | 2661 | 1st Batt |
| McKenna | Cpl | 4907 | 4th Batt |
| McKenna | Pte | 6947 | 4th Batt |
| McKenna | Pte | 1922 | 1st Batt |
| McKenna G | Cpl | 3139 | 2nd Batt |
| McKenna P | Pte | 6572 | 1st Batt |
| McKenna P | Pte | 6356 | 1st Batt |
| McKenzie | Pte | 6282 | 1st Batt |
| McKenzie | Cpl | 3668 | 1st Batt |
| McKenzie J | Pte | 6518 | 1st Batt |
| McKenzie J | Pte | 6518 | 2nd Batt |
| McKenzie W | Pte | 6779 | 2nd Batt |
| McKeowan | Pte | 4171 | 1st Batt |
| McKeown | Pte | 6830 | 1st Batt |
| McKeown P | Pte | 7088 | 1st Batt |
| McKie W | Pte | 3664 | 1st Batt |
| McLean | Pte | 3774 | 1st Batt |
| McLean | Pte | 6849 | 4th Batt |
| McLean A | Pte | 5772 | 2nd Batt |
| McLean J | Pte | 5836 | 2nd Batt |
| McLoughlin | Pte | 4298 | 4th Batt |
| McLoughlin | Pte | 3948 | 5th Batt |
| McLoughlin J | Pte | 4474 | 2nd Batt |
| McLoughlin J | Pte | 5378 | 2nd Batt |
| McLoughlin T | Pte | 4670 | 2nd Batt |
| McMahon | Pte | 7610 | 1st Batt |
| McMahon | Pte | 3950 | 5th Batt |
| McMahon | L/Cpl | 4374 | 5th Batt |
| McMahon R | Pte | 2899 | 2nd Batt |
| McMamie | Pte | 4983 | 4th Batt |
| McManus | Pte | 4120 | 4th Batt |
| McManus | Pte | 3397 | 5th Batt |
| McMerney | Pte | 6967 | 4th Batt |
| McMullen | Pte | 6902 | 4th Batt |
| McNall T | Pte | 5224 | 2nd Batt |
| McNally | Cpl | 5870 | 1st Batt |
| McNally G | Pte | 5615 | 2nd Batt |
| McNamara | Cpl | 3155 | 5th Batt |
| McNamara | Pte | 3358 | 5th Batt |
| McNamara | Pte | 6925 | 4th Batt |
| McNamara | Captain | | |
| McNamara E | Pte | 5364 | 2nd Batt |
| McNay D | Colour Sgt | 2547 | 2nd Batt |
| McNeice J | Colour Sgt | 3770 | 2nd Batt |
| McNicholls | L/Cpl | 5509 | 1st Batt |
| McQuillan | Pte | 7251 | 1st Batt |
| McQuinn K | Pte | 4692 | 2nd Batt |
| McQuirk | Pte | 2211 | 5th Batt |
| Meade D | Pte | 7433 | 1st Batt |
| Meagher | L/Cpl | 3087 | 1st Batt |
| Meagher | Pte | 4615 | 5th Batt |
| Mearns P | Pte | 6315 | 2nd Batt |
| Meehan | Pte | 5809 | 1st Batt |
| Meehan | Pte | 3938 | 1st Batt |
| Meehan | Pte | 392 | 5th Batt |
| Meehan | Pte | 4127 | 5th Batt |
| Meehan J | Pte | 3991 | 1st Batt |
| Meehan J | Pte | 6228 | 2nd Batt |
| Meehan P | Pte | 6984 | 2nd Batt |
| Mehain | Pte | 3509 | 4th Batt |
| Melady P | Pte | 7197 | 4th Batt |
| Meldon | Captain | | |
| Melia | Pte | 3813 | 4th Batt |
| Melia P | Pte | 5397 | 2nd Batt |
| Melia P | Pte | 6525 | 4th Batt |
| Mellerick | Pte | 2814 | 1st Batt |
| Mellington R | Pte | 3253 | 5th Batt |
| Melville H | Cpl | 2383 | 1st Batt |
| Merrick J | Pte | 3252 | 2nd Batt |
| Merrigan | Pte | 6376 | 1st Batt |
| Merrill A | Pte | 5794 | 2nd Batt |
| Merrins J | Pte | 6568 | 2nd Batt |
| Merry | Pte | 4335 | 5th Batt |
| Merry J | Cpl | 4441 | 2nd Batt |
| Merton | Pte | 5577 | 4th Batt |
| Meskett | Pte | 4497 | 5th Batt |
| Metcalfe | Pte | 1861 | 5th Batt |
| Metcalfe C | Pte | 5548 | 2nd Batt |
| Metcalfe P | Pte | 148 | 5th Batt |
| Miles W | Pte | 1206 | 2nd Batt |
| Miley | Drummer | 5813 | 4th Batt |
| Miller | Pte | 2793 | 1st Batt |
| Miller | Drummer | 3285 | 1st Batt |
| Miller | Pte | 2876 | 5th Batt |
| Miller | Pte | 4111 | 5th Batt |
| Miller | Pte | 3543 | 5th Batt |
| Miller | Pte | 6906 | 4th Batt |
| Mills | Lieut Colonel | | |
| Mills A | Sgt | 5308 | 1st Batt |
| Mills J | Pte | 7289 | 1st Batt |
| Mills J | Pte | 5330 | 2nd Batt |
| Mitten T | Pte | 4110 | 1st Batt |
| Miurtagh | Pte | 5396 | 4th Batt |
| Mogan | Pte | 4601 | 5th Batt |
| Molesworth E A | Lieut | | |
| Molloy P | Pte | 6477 | 1st Batt |
| Molloy | Pte | 1276 | 3rd Batt |
| Molloy | Pte | 1286 | 5th Batt |
| Molloy J | Pte | 6866 | 2nd Batt |
| Molloy T | Pte | 5810 | 2nd Batt |
| Molloy T | Pte | 5876 | 2nd Batt |
| Moloney | Colour Sgt | 4439 | 5th Batt |
| Moloney | 2nd Lieut | | |
| Moloney T | Pte | 5439 | 2nd Batt |
| Momsey | Cpl | 5065 | 4th Batt |
| Monachan | Pte | 5418 | 1st Batt |
| Monaghan | Pte | 4950 | 1st Batt |
| Monaghan | Pte | 3025 | 1st Batt |
| Monaghan | Pte | 3814 | 5th Batt |
| Monaghan J | Pte | 4019 | 1st Batt |
| Monaghan M | Pte | 3024 | 1st Batt |
| Monaghan P | Pte | 4739 | 2nd Batt |
| Montgomery | L/Cpl | 3445 | 1st Batt |
| Montgomery | Pte | 4909 | 1st Batt |
| Mooney | L/Cpl | 6532 | 1st Batt |
| Mooney | Pte | 6622 | 1st Batt |
| Mooney | L/Cpl | 2705 | 1st Batt |
| Mooney | Pte | 6223 | 1st Batt |
| Mooney | Pte | 6185 | 1st Batt |
| Mooney | Pte | 1906 | 3rd Batt |
| Mooney | Pte | 3666 | 4th Batt |
| Mooney | Pte | 7164 | 1st Batt |
| Mooney | Pte | 5913 | 4th Batt |
| Mooney | Pte | 5501 | 4th Batt |
| Mooney | L/Sgt | 1740 | 5th Batt |
| Mooney | Pte | 6978 | 4th Batt |
| Mooney | Pte | 6996 | 4th Batt |
| Mooney J | Pte | 3204 | 4th Batt |
| Mooney J | Pte | 4657 | 2nd Batt |
| Mooney P | Pte | 4178 | 4th Batt |
| Moore | Pte | 2628 | 1st Batt |
| Moore | Pte | 5486 | 1st Batt |
| Moore | Pte | 3210 | 1st Batt |
| Moore | Pte | 4741 | 1st Batt |
| Moore | Pte | 3646 | 1st Batt |
| Moore | Pte | 4730 | 1st Batt |
| Moore | Pte | 2358 | 4th Batt |
| Moore | Pte | 2603 | 4th Batt |
| Moore | Pte | 1435 | 5th Batt |
| Moore | Pte | 2479 | 5th Batt |
| Moore | Pte | 2628 | 1st Batt |
| Moore | Pte | 5394 | 4th Batt |
| Moore | Pte | 5145 | 4th Batt |
| Moore | Pte | 5096 | 4th Batt |
| Moore | Pte | 2124 | 5th Batt |
| Moore A | Lieut | | |
| Moore E | Pte | 4375 | 2nd Batt |
| Moore E | Pte | 5044 | 2nd Batt |
| Moore G | Pte | 4741 | 2nd Batt |
| Moore J | Pte | 2819 | 1st Batt |
| Moore J | Pte | 5068 | 2nd Batt |
| Moore J | Pte | 6891 | 2nd Batt |
| Moore P | Pte | 2681 | 5th Batt |
| Moore P | Sgt | 4855 | 2nd Batt |
| Moore T | Pte | 5186 | 2nd Batt |
| Moore T | Cpl | 5654 | 2nd Batt |
| Moore T | Pte | 5990 | 2nd Batt |
| Moore W | Pte | 4938 | 2nd Batt |
| Moran | Pte | 3425 | 1st Batt |
| Moran | Pte | 6248 | 1st Batt |
| Moran | Pte | 290 | 3rd Batt |
| Moran | Pte | 1402 | 3rd Batt |
| Moran | Pte | 3216 | 4th Batt |
| Moran | Pte | 4503 | 4th Batt |
| Moran | Pte | 7091 | 1st Batt |
| Moran | Pte | 5074 | 4th Batt |
| Moran | Pte | 5847 | 4th Batt |
| Moran | Pte | 5788 | 4th Batt |
| Moran | Pte | 7108 | 4th Batt |
| Moran | Pte | 3820 | 5th Batt |
| Moran | Pte | 4218 | 5th Batt |
| Moran | Pte | 3640 | 5th Batt |
| Moran | Pte | 6968 | 4th Batt |
| Moran | Pte | 6835 | 4th Batt |
| Moran E | Pte | 1759 | 2nd Batt |
| Moran E | Pte | 5782 | 2nd Batt |
| Moran J | L/Cpl | 4554 | 1st Batt |
| Moran J | Pte | 5995 | 2nd Batt |
| Moran M | Pte | 5321 | 2nd Batt |
| Moran M | Pte | 5745 | 2nd Batt |
| Moran P | Pte | 4335 | 2nd Batt |
| Moran P | Pte | 4365 | 2nd Batt |
| Moran T | Pte | 5781 | 2nd Batt |
| Moran T | Pte | 6590 | 2nd Batt |
| Moran W | Pte | 3890 | 1st Batt |
| Moran W | Pte | 4394 | 2nd Batt |
| Morgan E | Pte | 3912 | 4th Batt |
| Morgan | Pte | 5574 | 4th Batt |
| Morgan | Sgt | 2603 | 5th Batt |
| Morgan J | Pte | 5878 | 1st Batt |
| Morgan J | Pte | 4271 | 1st Batt |
| Morgan W | Pte | 2432 | 2nd Batt |
| Moriarty | Pte | 2464 | 3rd Batt |
| Moriarty D | Pte | 2861 | 1st Batt |
| Moriarty J | Sgt | 3515 | 2nd Batt |
| Morisy C | Pte | 4929 | 2nd Batt |
| Morisy D | Pte | 6702 | 2nd Batt |
| Morley T | Pte | 3171 | 1st Batt |
| Moroney | Sgt | 3632 | 5th Batt |
| Morrin | Pte | 4219 | 1st Batt |
| Morrin | Pte | 2268 | 1st Batt |
| Morris P | Pte | 6480 | 1st Batt |
| Morris G | Cpl | 4859 | 1st Batt |
| Morrison W | Sgt | 2801 | 2nd Batt |
| Morrissey | L/Cpl | 4610 | 5th Batt |
| Morrissey | L/Cpl | 2009 | 5th Batt |
| Morrissey T | Pte | 7021 | 4th Batt |
| Mortan | Pte | 6494 | 4th Batt |
| Moulder E | Drummer | 3014 | 2nd Batt |
| Moyers | Pte | 5591 | 4th Batt |
| Moyles J | Pte | 6249 | 1st Batt |
| Mulcahy | L/Cpl | 5795 | 4th Batt |
| Muldoon P | Pte | 1809 | 3rd Batt |
| Mulhall | Pte | 298 | 5th Batt |
| Mulhall | Pte | 3797 | 5th Batt |
| Mulhall J | Pte | 5722 | 2nd Batt |
| Mulhall J | Pte | 6101 | 2nd Batt |
| Mulhall M | Sgt | 3461 | 1st Batt |
| Mullaly P | Pte | 6646 | 2nd Batt |
| Mullane L | Pte | 4777 | 2nd Batt |
| Mullen | Pte | 6478 | 1st Batt |
| Mullen | Pte | 6499 | 1st Batt |
| Mullen | Pte | 3182 | 1st Batt |
| Mullen | L/Cpl | 3404 | 1st Batt |
| Mullen | Pte | 4537 | 1st Batt |
| Mullen | Pte | 3151 | 5th Batt |
| Mullen | L/Sgt | 3406 | 5th Batt |
| Mullen | Pte | 1486 | 4th Batt |
| Mullen J | Pte | 3843 | 2nd Batt |
| Mulligan | Pte | 4471 | 1st Batt |
| Mulligan | Pte | 6404 | 1st Batt |
| Mulligan | Pte | 4693 | 4th Batt |
| Mulligan | Pte | 4473 | 5th Batt |
| Mulligan E | Pte | 7163 | 4th Batt |
| Mulligan J | Pte | 6396 | 2nd Batt |
| Mulligan M | Pte | 6364 | 2nd Batt |
| Mullins | Bandsman | | 2nd Batt |
| Mulroy | Pte | 4656 | 5th Batt |
| Mulroy W | Pte | 4702 | 2nd Batt |
| Mulvaney | Pte | 4608 | 5th Batt |
| Mulvaney A | Colour Sgt | 3039 | 1st Batt |
| Mulvaney J | Pte | 1352 | 2nd Batt |
| Mulvaney J | Pte | 5115 | 2nd Batt |
| Mulvaney J | Pte | 5348 | 2nd Batt |
| Mulvaney M | Pte | 4424 | 2nd Batt |
| Mulvaney M | Pte | 6802 | 2nd Batt |
| Mulvaney P | Pte | 6819 | 2nd Batt |
| Mulvey B | Pte | 4336 | 1st Batt |
| Murdock P | Pte | 4006 | 2nd Batt |
| Murphy | Pte | 2292 | 1st Batt |
| Murphy | Pte | 6351 | 1st Batt |
| Murphy | Pte | 2972 | 1st Batt |
| Murphy | Pte | 3706 | 1st Batt |
| Murphy | Pte | 6260 | 1st Batt |
| Murphy | Pte | 6544 | 1st Batt |
| Murphy | Pte | 6255 | 1st Batt |
| Murphy | Pte | 6644 | 1st Batt |
| Murphy | Pte | 3194 | 1st Batt |
| Murphy | Pte | 2811 | 1st Batt |
| Murphy P | Pte | 3431 | 1st Batt |
| Murphy | Pte | 6229 | 1st Batt |
| Murphy | Pte | 6377 | 1st Batt |
| Murphy | Pte | 4208 | 1st Batt |
| Murphy | L/Cpl | 5076 | 1st Batt |
| Murphy | Pte | 4966 | 2nd Batt |
| Murphy | Pte | 1012 | 3rd Batt |
| Murphy | Pte | 85 | 4th Batt |
| Murphy | Pte | 1474 | 4th Batt |
| Murphy | Pte | 1988 | 4th Batt |
| Murphy | Pte | 473 | 5th Batt |
| Murphy | Pte | 7231 | 1st Batt |
| Murphy | Pte | 7316 | 1st Batt |
| Murphy | Pte | 5141 | 4th Batt |
| Murphy | Pte | 4560 | 4th Batt |
| Murphy | Pte | 3623 | 4th Batt |
| Murphy | Pte | 4455 | 4th Batt |
| Murphy | Pte | 5841 | 4th Batt |
| Murphy | Pte | 5707 | 4th Batt |
| Murphy | Pte | 4359 | 4th Batt |
| Murphy | Pte | 5917 | 4th Batt |
| Murphy | Pte | 5857 | 4th Batt |
| Murphy | Pte | 4515 | 4th Batt |
| Murphy | Pte | 5466 | 4th Batt |
| Murphy | Pte | 2651 | 5th Batt |
| Murphy | Pte | 4615 | 5th Batt |
| Murphy | Pte | 6475 | 5th Batt |
| Murphy | Pte | 3127 | 5th Batt |
| Murphy | Pte | 1134 | 5th Batt |
| Murphy | Captain | | |
| Murphy A | Pte | 5135 | 2nd Batt |
| Murphy A | Pte | 6119 | 2nd Batt |
| Murphy D | Pte | 1691 | 2nd Batt |
| Murphy F | Pte | 5661 | 2nd Batt |
| Murphy G | Pte | 2721 | 1st Batt |
| Murphy H | Sgt | 5490 | 1st Batt |
| Murphy J | Pte | 5488 | 1st Batt |
| Murphy J | Pte | 3103 | 1st Batt |
| Murphy J | Pte | 3841 | 3rd Batt |
| Murphy J | Pte | 6848 | 4th Batt |
| Murphy J | Pte | 6554 | 1st Batt |
| Murphy J | Pte | 4099 | 1st Batt |
| Murphy J | Drummer | 3362 | 2nd Batt |
| Murphy J | Pte | 3643 | 2nd Batt |
| Murphy J | Pte | 4448 | 2nd Batt |
| Murphy J | Pte | 4571 | 2nd Batt |
| Murphy J | Pte | 4795 | 2nd Batt |
| Murphy J | Pte | 4977 | 2nd Batt |
| Murphy J | Pte | 6803 | 2nd Batt |
| Murphy M | Pte | 4158 | 1st Batt |
| Murphy M | Pte | 4766 | 2nd Batt |
| Murphy M | Pte | 6733 | 2nd Batt |
| Murphy N | Pte | 5695 | 2nd Batt |
| Murphy P | Pte | 4583 | 1st Batt |
| Murphy P | Pte | 7296 | 1st Batt |
| Murphy P | Pte | 4462 | 2nd Batt |
| Murphy P | Pte | 4798 | 2nd Batt |
| Murphy P | Pte | 5793 | 2nd Batt |
| Murphy P | Pte | 350 | 3rd Batt |
| Murphy T | Pte | 6845 | 4th Batt |
| Murphy T | Pte | 5908 | 2nd Batt |
| Murphy W | Sgt | 4011 | 1st Batt |
| Murphy W | Sgt | 4011 | 1st Batt |
| Murphy W | Pte | 7015 | 1st Batt |
| Murran M | Pte | 5303 | 2nd Batt |
| Murray | Pte | 6208 | 1st Batt |
| Murray | L/Cpl | 3325 | 1st Batt |
| Murray | Pte | 7484 | 1st Batt |
| Murray | Pte | 5930 | 4th Batt |
| Murray | Pte | 4617 | 4th Batt |
| Murray | Pte | 5706 | 4th Batt |
| Murray | Pte | 3295 | 5th Batt |
| Murray | Cpl | 4169 | 5th Batt |
| Murray | Pte | 3311 | 5th Batt |
| Murray D | Pte | 4794 | 2nd Batt |
| Murray G | Sgt | 3281 | 1st Batt |
| Murray J | Pte | 4568 | 2nd Batt |
| Murray J | Pte | 5111 | 2nd Batt |
| Murray J | Pte | 5347 | 2nd Batt |
| Murray J | Pte | 5970 | 2nd Batt |
| Murray J | Pte | 6097 | 2nd Batt |
| Murray P | Pte | 3755 | 1st Batt |
| Murray P | Pte | 5035 | 1st Batt |
| Murray P | Pte | 3780 | 1st Batt |
| Murray P | Pte | 3640 | 1st Batt |
| Murray T | Pte | 1867 | 2nd Batt |
| Murray T | Pte | 4522 | 2nd Batt |
| Murray W | Pte | 5142 | 2nd Batt |
| Murtagh | Pte | 6416 | 1st Batt |
| Murtagh | Pte | 6976 | 5th Batt |
| Murtagh W | Pte | 6243 | 1st Batt |
| Murtha P | Pte | 6591 | 1st Batt |
| Myers | Pte | 5680 | 4th Batt |
| Myles | Pte | 6559 | 1st Batt |
| Myles | L/Cpl | 6571 | 1st Batt |
| Myron P | Cpl | 3676 | 1st Batt |
| Naland | Pte | 3556 | 1st Batt |
| Natty P | Pte | 5000 | 2nd Batt |
| Neill | Pte | 5706 | 2nd Batt |
| Neill | Pte | 7307 | 1st Batt |
| Neill | Pte | 4455 | 5th Batt |
| Neill | Pte | 1361 | 5th Batt |
| Neill | Pte | 3618 | 5th Batt |
| Neill | Pte | 2282 | 4th Batt |
| Neill | Pte | 6911 | 4th Batt |
| Neill | Pte | 6912 | 4th Batt |
| Neill J | Pte | 4192 | 1st Batt |
| Neill N | Pte | 4657 | 2nd Batt |
| Neill P | Pte | 6049 | 2nd Batt |
| Neill R | Pte | 4147 | 2nd Batt |
| Nelson | Pte | 6357 | 2nd Batt |
| Nelson | Cpl | 5648 | 4th Batt |
| Nelson | Pte | 3945 | 5th Batt |
| Nelson | Pte | 6898 | 4th Batt |
| Nelson | Captain | | |
| Nesbitt T | Cpl | 5561 | 1st Batt |
| Nesbitt T | Cpl | 5561 | 1st Batt |
| Nessitt | Pte | 3383 | 1st Batt |
| Neville | Pte | 6410 | 2nd Batt |
| Nevin | Pte | 3392 | 2nd Batt |
| Newell | Pte | 4181 | 2nd Batt |
| Newsome F | Pte | 6333 | 2nd Batt |
| Newsome T | Pte | 4860 | 2nd Batt |
| Newton | Sgt | 2332 | 1st Batt |
| Newton | 2nd Lieut | | |
| Nicholle | Lieut | | |
| Nicholls | L/Sgt | 3064 | 1st Batt |
| Nicholson | Pte | 3491 | 5th Batt |
| Niland W | Pte | 1554 | 2nd Batt |
| Noble | Cpl | 4087 | 4th Batt |
| Noctor P | Pte | 3994 | 4th Batt |
| Noctor P | Pte | 5651 | 4th Batt |
| Nolan | Pte | 3250 | 1st Batt |
| Nolan | Pte | 3417 | 1st Batt |
| Nolan | Pte | 4070 | 1st Batt |
| Nolan | Pte | 4490 | 1st Batt |
| Nolan | Cpl | 3017 | 1st Batt |
| Nolan | Pte | 1740 | 2nd Batt |
| Nolan | Pte | 4840 | 2nd Batt |
| Nolan J | Pte | 5791 | 2nd Batt |
| Nolan | Pte | 6321 | 2nd Batt |
| Nolan | Pte | 6720 | 2nd Batt |
| Nolan | Pte | 72 | 3rd Batt |
| Nolan | Pte | 2057 | 4th Batt |
| Nolan | Pte | 3553 | 5th Batt |
| Nolan | Pte | 7373 | 1st Batt |
| Nolan | Pte | 5308 | 4th Batt |
| Nolan | Pte | 5547 | 4th Batt |
| Nolan | Cpl | 4033 | 5th Batt |
| Nolan | Pte | 4563 | 5th Batt |
| Nolan | Pte | 4595 | 5th Batt |
| Nolan | Pte | 4061 | 5th Batt |
| Nolan | Pte | 4212 | 5th Batt |
| Nolan J | Cpl | 5894 | 1st Batt |
| Nolan J | Pte | 6512 | 1st Batt |
| Nolan M | Pte | 4273 | 1st Batt |
| Noon J | Pte | 7396 | 1st Batt |
| Noon | Pte | 3526 | 1st Batt |
| Noonan F | Pte | 6783 | 1st Batt |
| Noonan | Pte | 1068 | 3rd Batt |
| Noone | Pte | 275 | 3rd Batt |
| Noone A | Pte | 5104 | 2nd Batt |
| Norman | Pte | 6440 | 1st Batt |
| Norman | Pte | 6462 | 1st Batt |
| Norman | Pte | 6440 | 5th Batt |
| Norton | Pte | 5975 | 2nd Batt |
| Norton | Pte | 594 | 3rd Batt |
| Norton J | Pte | 3648 | 4th Batt |
| Nugent | Pte | 6557 | 2nd Batt |
| Nugent | Pte | 415 | 3rd Batt |
| Nugent J | Pte | 546 | 3rd Batt |
| Nugent | Cpl | 4098 | 5th Batt |
| Nugent | Pte | 4494 | 5th Batt |
| Nugent E | Pte | 6347 | 2nd Batt |
| Oakes T | Pte | 6003 | 1st Batt |
| O'Beirne P | Pte | 2426 | 1st Batt |
| O'Brien J | Cpl | 3555 | 1st Batt |
| O'Brien J | Pte | 6226 | 1st Batt |
| O'Brien J | Pte | 3099 | 1st Batt |
| O'Brien J | Pte | 5016 | 1st Batt |
| O'Brien P | Pte | 5460 | 1st Batt |
| O'Brien | Cpl | 3206 | 2nd Batt |
| O'Brien | Pte | 1389 | 2nd Batt |
| O'Brien | Pte | 3934 | 2nd Batt |
| O'Brien P | Pte | 4491 | 2nd Batt |
| O'Brien | Pte | 6137 | 2nd Batt |
| O'Brien | Pte | 6570 | 2nd Batt |
| O'Brien | Pte | 1600 | 3rd Batt |
| O'Brien | Shoe Smith | 18056 | 1st Batt |
| O'Brien | Pte | 7467 | 1st Batt |
| O'Brien | Pte | 4839 | 4th Batt |
| O'Brien | Pte | 4547 | 4th Batt |
| O'Brien | Pte | 5213 | 4th Batt |
| O'Brien | Pte | 3046 | 4th Batt |
| O'Brien | Pte | 5789 | 4th Batt |
| O'Brien | Pte | 5594 | 4th Batt |
| O'Brien | Pte | 5452 | 4th Batt |
| O'Brien | Pte | 5521 | 4th Batt |
| O'Brien | Pte | 3960 | 5th Batt |
| O'Brien | Pte | 3790 | 5th Batt |
| O'Brien | Pte | 3932 | 5th Batt |
| O'Brien | Pte | 4493 | 5th Batt |
| O'Brien | Pte | 4484 | 5th Batt |
| O'Brien | Sgt | 2528 | 5th Batt |
| O'Brien | L/Cpl | 3642 | 5th Batt |
| O'Brien | Pte | 4333 | 5th Batt |
| O'Brien | Pte | 6799 | 4th Batt |
| O'Brien M | Pte | 7245 | 1st Batt |
| O'Brien | Pte | 7476 | 1st Batt |
| O'Brien F | Pte | 6684 | 1st Batt |
| O'Brien J | L/Cpl | 5764 | 4th Batt |
| O'Brien J | Pte | 7250 | 1st Batt |
| O'Brien J | Pte | 4401 | 2nd Batt |
| O'Brien J | Pte | 2853 | 4th Batt |
| O'Brien J | Pte | 4401 | 1st Batt |
| O'Brien P | Pte | 3782 | 1st Batt |
| O'Brien T | Pte | 5161 | 2nd Batt |
| O'Brien T | Pte | 4790 | 2nd Batt |
| O'Brien-Butler | Lieut | | |
| O'Bryan | Pte | 3783 | 5th Batt |
| O'Byrne L | Pte | 6189 | 1st Batt |
| O'Callaghan J | Pte | 3871 | 1st Batt |
| O'Callaghan | Pte | 4699 | 2nd Batt |
| O'Callaghan T | Pte | 5145 | 2nd Batt |
| O'Carroll | Pte | 5847 | 2nd Batt |
| O'Carroll | Lieut | | |
| O'Connell W | Pte | 4042 | 1st Batt |
| O'Connell C | Pte | 5446 | 1st Batt |
| O'Connell | Drummer | 3925 | 5th Batt |
| O'Connell P | Pte | 4323 | 4th Batt |
| O'Connell W | Pte | 5940 | 4th Batt |
| O'Connor | Pte | 6676 | 1st Batt |
| O'Connor | Pte | 6491 | 1st Batt |
| O'Connor | Pte | 4578 | 2nd Batt |
| O'Connor | Pte | 6693 | 2nd Batt |
| O'Connor | Pte | 5436 | 4th Batt |
| O'Connor | Pte | 5856 | 4th Batt |
| O'Connor | Pte | 7227 | 4th Batt |
| O'Connor A J | Colour Sgt | 1243 | 5th Batt |
| O'Connor J | Pte | 4791 | 2nd Batt |
| O'Connor J | Pte | 6491 | 2nd Batt |
| O'Connor W | Pte | 6164 | 1st Batt |
| O'Donnell | Pte | 3023 | 1st Batt |
| O'Donnell | Pte | 3936 | 1st Batt |
| O'Donnell C | Pte | 7124 | 4th Batt |
| O'Donoghue T | Pte | 4714 | 2nd Batt |
| O'Driscoll | L/Cpl | 5617 | 4th Batt |
| O'Dwyer P | Pte | 3152 | 1st Batt |
| O'Grady | Pte | 6156 | 2nd Batt |
| O'Grady | L/Cpl | 4158 | 5th Batt |
| O'Grady J | Cpl | 7398 | 1st Batt |
| O'Grady J | Sgt | 5097 | 4th Batt |
| O'Grady P | Pte | 3441 | 4th Batt |
| O'Hagan C | Drummer | 5753 | 1st Batt |
| O'Halloran | Pte | 6349 | 1st Batt |
| O'Hanlon | Cpl | 5876 | 1st Batt |
| O'Hanlon J | Pte | 4673 | 2nd Batt |
| O'Hara | Pte | 7140 | 4th Batt |
| O'Hara | Cpl | 2959 | 5th Batt |
| O'Hara | Pte | 3315 | 5th Batt |
| O'Hara | Pte | 4385 | 5th Batt |
| O'Hara J | Pte | 5610 | 4th Batt |
| O'Hara T | Pte | 3389 | 1st Batt |
| O'Higgins J | Sgt | 4689 | 2nd Batt |
| O'Keefe | Pte | 5901 | 2nd Batt |
| O'Keefe | Pte | 6521 | 2nd Batt |
| O'Keefe | Pte | 5748 | 4th Batt |
| O'Keeffe | Pte | 2989 | 1st Batt |
| O'Keeffe J | Pte | 4492 | 1st Batt |
| O'Keeffe | Pte | 7606 | 1st Batt |
| O'Keeffe | Pte | 5261 | 1st Batt |
| O'Keeffe | Pte | 5213 | 1st Batt |
| O'Keeffe | Pte | 4659 | 2nd Batt |
| O'Keeffe | L/Cpl | 4995 | 2nd Batt |
| O'Keeffe | Pte | 5517 | 2nd Batt |
| O'Keeffe | Pte | 2394 | 4th Batt |
| O'Keeffe | Pte | 5268 | 4th Batt |
| O'Keeffe | Pte | 4707 | 4th Batt |
| O'Keeffe | Pte | 4279 | 5th Batt |
| O'Keeffe | Pte | 3737 | 5th Batt |
| O'Keeffe | Cpl | 3722 | 5th Batt |
| O'Keeffe | Pte | 6843 | 4th Batt |
| O'Keeffe J | Pte | 3294 | 1st Batt |
| O'Keeffe P | Pte | 2943 | 1st Batt |
| Oldham | Pte | 229 | 3rd Batt |
| Oldham J | Pte | 6615 | 2nd Batt |
| O'Leary | Pte | 5509 | 1st Batt |
| O'Leary | Pte | 7221 | 1st Batt |
| O'Leary | Pte | 4306 | 5th Batt |
| O'Leary | Pte | 986 | 5th Batt |
| O'Leary | Pte | 4392 | 5th Batt |
| O'Lewis | Sgt | 5434 | 1st Batt |
| Oliver A W | Pte | 5064 | 2nd Batt |
| O'Loughlin | Pte | 6777 | 2nd Batt |
| O'Loughlin | Pte | 5638 | 4th Batt |
| O'Loughlin | Pte | 7332 | 4th Batt |
| O'Loughlin D | L/Cpl | 6048 | 2nd Batt |
| O'Loughlin W | Pte | 6037 | 2nd Batt |
| O'Malley | Sgt | 7099 | 5th Batt |
| O'Malley | Pte | 7480 | 1st Batt |
| O'Neill | Pte | 6214 | 1st Batt |
| O'Neill | Pte | 1364 | 2nd Batt |
| O'Neill | Pte | 1868 | 2nd Batt |
| O'Neill | Pte | 1981 | 2nd Batt |
| O'Neill | Pte | 6241 | 2nd Batt |
| O'Neill | Pte | 305 | 3rd Batt |
| O'Neill | Pte | 2142 | 4th Batt |
| O'Neill | Pte | 3123 | 5th Batt |
| O'Neill | Pte | 6912 | 1st Batt |
| O'Neill | Pte | 7253 | 1st Batt |
| O'Neill | Pte | 5526 | 4th Batt |
| O'Neill | Pte | 5944 | 4th Batt |
| O'Neill | L/Cpl | 3862 | 5th Batt |
| O'Neill | Pte | 2305 | 5th Batt |
| O'Neill | Pte | 6979 | 4th Batt |
| O'Neill | Major | | |
| O'Neill J | Pte | 6083 | 2nd Batt |
| O'Neill P | Pte | 5746 | 2nd Batt |
| O'Neill W | Pte | 4836 | 4th Batt |
| Oram W | Pte | 6950 | 2nd Batt |
| O'Raw P | Pte | 3616 | 1st Batt |
| O'Reilly | Pte | 7371 | 1st Batt |
| O'Reilly | Drummer | 3904 | 5th Batt |
| O'Reilly L | L/Cpl | 6159 | 1st Batt |
| O'Reilly M | L/Cpl | 5709 | 2nd Batt |
| Ormsby D | Colour Sgt | 2699 | 1st Batt |
| O'Rourke | Pte | 5128 | 1st Batt |
| O'Rourke | Pte | 5189 | 4th Batt |
| O'Rourke | Sgt | 249 | 5th Batt |
| O'Rourke | Sgt | 3190 | 5th Batt |
| O'Rourke T | Pte | 5691 | 2nd Batt |
| Orr J | Pte | 575 | 2nd Batt |
| Osborne J | Sgt | 3715 | 2nd Batt |
| O'Shea | L/Cpl | 4536 | 5th Batt |
| O'Shea C | Pte | 5646 | 2nd Batt |
| O'Toole | Pte | 6427 | 1st Batt |
| O'Toole | Pte | 5259 | 2nd Batt |
| O'Toole | Pte | 7305 | 1st Batt |
| O'Toole | Pte | 5563 | 4th Batt |
| O'Toole A P | Sgt | 4744 | 2nd Batt |
| O'Toole P | Pte | 6442 | 1st Batt |
| Owens | Pte | 1739 | 2nd Batt |
| Owens | L/Cpl | 4825 | 2nd Batt |
| Owens | Pte | 6386 | 2nd Batt |
| Oxford | Pte | 6785 | 1st Batt |
| Page | Pte | 4450 | 5th Batt |
| Page G | Pte | 7262 | 1st Batt |
| Paisley | Pte | 7042 | 3rd Batt |
| Paisley | Pte | 3985 | 5th Batt |
| Paisley J | Pte | 4219 | 1st Batt |
| Paisley M | Cpl | 5081 | 4th Batt |
| Pakenham J | Pte | 5017 | 2nd Batt |
| Pallett | Pte | 4041 | 5th Batt |
| Palmer | Pte | 3529 | 1st Batt |
| Palmer | Pte | 4312 | 5th Batt |
| Panton | Pte | 7084 | 5th Batt |
| Parker | L/Cpl | 6197 | 1st Batt |
| Parker H | Pte | 3534 | 1st Batt |
| Parkinson | Pte | 5702 | 4th Batt |
| Parle | Pte | 4394 | 5th Batt |
| Parnell | L/Cpl | 5406 | 1st Batt |
| Parnell H | Pte | 4202 | 2nd Batt |
| Parsons | Pte | 2866 | 1st Batt |
| Partridge H T | L/Cpl | 5903 | 1st Batt |
| Patey G E R | Lieut | | |
| Payne | L/Cpl | 5793 | 4th Batt |
| Payne F | Pte | 5328 | 2nd Batt |
| Pearse | Cpl | 6125 | 1st Batt |
| Pearse | Lieut Colonel | | |
| Pearse J | Pte | 6134 | 2nd Batt |
| Pearson | Sgt | 6028 | 2nd Batt |
| Peel A | Pte | 3518 | 2nd Batt |
| Peel W | Pte | 5532 | 2nd Batt |
| Pender | Pte | 7434 | 1st Batt |
| Pender | Pte | 6550 | 2nd Batt |
| Pender W | Pte | 5928 | 2nd Batt |
| Perkins | Sgt | 4122 | 1st Batt |
| Perreau | Captain | | |
| Perry | | 4678 | 4th Batt |
| Perry J | Pte | 3137 | 1st Batt |
| Pert | Pte | 2640 | 4th Batt |
| Pescod J | Pte | 3704 | 1st Batt |
| Pettit | Pte | 5666 | 4th Batt |
| Peyton | Pte | 4108 | 1st Batt |
| Phelan | Pte | 5965 | 1st Batt |
| Phelan | Pte | 5102 | 2nd Batt |
| Phelan | Pte | 3091 | 4th Batt |
| Phelan | Pte | 5368 | 4th Batt |
| Philips | Pte | 3479 | 5th Batt |
| Phillips G | Pte | 4540 | 5th Batt |
| Phoenix | Pte | 4548 | 2nd Batt |
| Phoenix | Pte | 6883 | 4th Batt |
| Picken T | Pte | 5272 | 2nd Batt |
| Picken T | Pte | 5272 | 1st Batt |
| Piggott | Sgt | 5033 | 4th Batt |
| Pigott | L/Cpl | 3481 | 1st Batt |
| Pigott | Pte | 4337 | 1st Batt |
| Pilson A F | Captain | | |
| Pitman | Pte | 721 | 3rd Batt |
| Plenderleith | Pte | 5205 | 2nd Batt |
| Pluck | Pte | 4855 | 4th Batt |
| Plunkett | Pte | 6991 | 4th Batt |
| Polley | Pte | 4901 | 1st Batt |
| Pollock J | Pte | 2944 | 1st Batt |
| Pomeroy E A G | Captain | | |
| Poole | Pte | 3477 | 1st Batt |
| Pooley S | Pte | 5881 | 2nd Batt |
| Porter | Pte | 6276 | 1st Batt |
| Poutch | Pte | 2994 | 5th Batt |
| Powell | Cpl | 3679 | 1st Batt |
| Powell | Pte | 2728 | 2nd Batt |
| Power | Pte | 6894 | 1st Batt |
| Power D | Pte | 1505 | 2nd Batt |
| Power | Pte | 1603 | 2nd Batt |
| Power | Pte | 38 | 3rd Batt |
| Power | L/Cpl | 5197 | 4th Batt |
| Power | Pte | 4440 | 4th Batt |
| Power | Pte | 5286 | 4th Batt |
| Power | Pte | 5453 | 4th Batt |
| Power P | Pte | 4327 | 5th Batt |
| Power M | Pte | 6380 | 1st Batt |
| Preen | Cpl | 4650 | 5th Batt |
| Price | Pte | 4412 | 1st Batt |
| Price F | L/Sgt | 5879 | 1st Batt |
| Prince | Pte | 1865 | 5th Batt |
| Pringle | Pte | 6725 | 4th Batt |
| Proctor | Sgt | 3174 | 1st Batt |
| Pryor | L/Sgt | 5579 | 2nd Batt |
| Purcell | Pte | 4344 | 1st Batt |
| Purcell | Pte | 4020 | 1st Batt |
| Purcell | Colour Sgt | 3581 | 2nd Batt |
| Purcell | Pte | 4896 | 4th Batt |
| Purcell | Cpl | 5230 | 4th Batt |
| Purcell T | Pte | 5618 | 2nd Batt |
| Purcer | Pte | 5284 | 4th Batt |
| Purfield | Pte | 3295 | 2nd Batt |
| Quaid | Pte | 3071 | 1st Batt |
| Quaide P | Pte | 6524 | 1st Batt |
| Quigley | Pte | 3469 | 1st Batt |
| Quigley W | Sgt | 4524 | 1st Batt |
| Quigley W | Sgt | 4524 | 4th Batt |
| Quinn J | Pte | 1841 | 2nd Batt |
| Quinn | L/Cpl | 2115 | 2nd Batt |
| Quinn E | Pte | 4472 | 2nd Batt |
| Quinn | Pte | 1716 | 3rd Batt |
| Quinn | Pte | 7051 | 3rd Batt |
| Quinn | Pte | 5373 | 4th Batt |
| Quinn | Pte | 4196 | 4th Batt |
| Quinn W | Drummer | 5607 | 5th Batt |
| Quinn J | L/Cpl | 4567 | 5th Batt |
| Quinn | Pte | 7196 | 4th Batt |
| Quinn H | Pte | 6764 | 1st Batt |
| Quinn M | Pte | 5540 | 2nd Batt |
| Quinn P | Pte | 7270 | 1st Batt |
| Quirke M | Pte | 4984 | 1st Batt |
| Quirke J | Pte | 4029 | 4th Batt |
| Radforth | Major | | |
| Raffelle | Pte | 4833 | 2nd Batt |
| Rafferty F | Pte | 4247 | 1st Batt |
| Rafferty | Pte | 3563 | 2nd Batt |
| Rafferty | Pte | 4534 | 2nd Batt |
| Rafferty E | Pte | 7089 | 1st Batt |
| Rafferty | Pte | 5656 | 4th Batt |
| Rafferty M | Pte | 6172 | 1st Batt |
| Rafter | Pte | 5086 | 4th Batt |
| Rafter | Cpl | 5095 | 4th Batt |
| Rafter | Pte | 1186 | 5th Batt |
| Rainey | Pte | 2983 | 2nd Batt |
| Ralph | Pte | 2748 | 5th Batt |
| Ramsay | Pte | 2131 | 2nd Batt |
| Ramsey | Pte | 3577 | 5th Batt |
| Ray | Pte | 4105 | 5th Batt |
| Raynor C | Pte | 5007 | 1st Batt |
| Redden | Pte | 2122 | 5th Batt |
| Redding | Pte | 2443 | 5th Batt |
| Reddy | Pte | 7913 | 4th Batt |
| Reddy P | Pte | 5175 | 2nd Batt |
| Redmond | Pte | 2854 | 1st Batt |
| Redmond | Pte | 6379 | 2nd Batt |
| Redmond | Pte | 6825 | 4th Batt |
| Redmond J | Pte | 6877 | 2nd Batt |
| Redmond M | Pte | 3524 | 5th Batt |
| Reed | Sgt | 933 | 5th Batt |
| Reel | Pte | 2095 | 5th Batt |
| Reeves | Pte | 7380 | 1st Batt |
| Reeves S E | Sgt | 6798 | 1st Batt |
| Regan | Pte | 5907 | 2nd Batt |
| Regan R | Pte | 4360 | 2nd Batt |
| Reid | Pte | 6056 | 2nd Batt |
| Reid | Pte | 7382 | 1st Batt |
| Reid | Cpl | 4220 | 4th Batt |
| Reid | Pte | 5597 | 4th Batt |
| Reid | Pte | 4321 | 5th Batt |
| Reid | Pte | 4264 | 5th Batt |
| Reid T | Pte | 4743 | 1st Batt |
| Reidy S | Pte | 5055 | 2nd Batt |
| Reilly | Pte | 3645 | 1st Batt |
| Reilly | L/Cpl | 6519 | 1st Batt |
| Reilly C | Pte | 4155 | 1st Batt |
| Reilly | Pte | 6201 | 1st Batt |
| Reilly | Pte | 4200 | 1st Batt |
| Reilly J | Pte | 4226 | 2nd Batt |
| Reilly J | Pte | 4961 | 2nd Batt |
| Reilly W | Pte | 5218 | 2nd Batt |
| Reilly J | Pte | 5234 | 2nd Batt |
| Reilly | Pte | 5545 | 2nd Batt |
| Reilly | Pte | 5656 | 2nd Batt |
| Reilly | Pte | 6324 | 2nd Batt |
| Reilly | Pte | 10 | 3rd Batt |
| Reilly | Pte | 2826 | 4th Batt |
| Reilly | Pte | 4834 | 4th Batt |
| Reilly | Pte | 5586 | 4th Batt |
| Reilly | Pte | 3990 | 4th Batt |
| Reilly | Pte | 4916 | 4th Batt |
| Reilly | Pte | 5652 | 4th Batt |
| Reilly | Pte | 5861 | 4th Batt |
| Reilly | Cpl | 5892 | 4th Batt |
| Reilly | Pte | 4459 | 5th Batt |
| Reilly | L/Cpl | 4288 | 5th Batt |
| Reilly | Pte | 2977 | 5th Batt |
| Reilly J | Pte | 688 | 4th Batt |
| Reilly J | Pte | 5012 | 2nd Batt |
| Reilly J | Pte | 4987 | 2nd Batt |
| Reilly R | Pte | 6786 | 2nd Batt |
| Reliiy | Pte | 3903 | 4th Batt |
| Rennie | Lieut | | |
| Reynolds | Pte | 4787 | 4th Batt |
| Reynolds G | Pte | 4865 | 2nd Batt |
| Reynolds J | Cpl | 4636 | 2nd Batt |
| Reynolds J | Pte | 5595 | 2nd Batt |
| Reynolds P | Pte | 1881 | 4th Batt |
| Riccard | Captain | | |
| Rice | Pte | 6528 | 1st Batt |
| Rice | Pte | 6578 | 1st Batt |
| Rice W | Pte | 6548 | 1st Batt |
| Rice | Pte | 2857 | 1st Batt |
| Rice J | Pte | 6697 | 1st Batt |
| Rice | Cpl | 5920 | 4th Batt |
| Rice J | Pte | 5210 | 2nd Batt |
| Richards R | Sgt | 5544 | 2nd Batt |
| Richardson | Pte | 4226 | 4th Batt |
| Richardson | Pte | 3758 | 5th Batt |
| Richardson | Pte | 6209 | 1st Batt |
| Richardson G | Pte | 7234 | 1st Batt |
| Richardson M | Pte | 5038 | 2nd Batt |
| Richardson R | Pte | 2178 | 1st Batt |
| Richardson W | Pte | 6391 | 2nd Batt |
| Righton | Pte | 4931 | 2nd Batt |
| Rigney | Pte | 4019 | 5th Batt |
| Riley | Pte | 6728 | 1st Batt |
| Ring T | Pte | 4384 | 1st Batt |
| Roach M | Pte | 2844 | 1st Batt |
| Roach | Pte | 6265 | 2nd Batt |
| Roach | Pte | 6687 | 5th Batt |
| Roach | Pte | 5442 | 4th Batt |
| Roach G | Pte | 7049 | 3rd Batt |
| Roachford | L/Cpl | 4056 | 4th Batt |
| Rober-Caldwick | Captain | | |
| Roberts W | Pte | 5292 | 2nd Batt |
| Robertson I S | Lieut | | |
| Robertson J | Pte | 6839 | 1st Batt |
| Robinson T | Pte | 3736 | 1st Batt |
| Robinson | Pte | 6630 | 1st Batt |
| Robinson | Pte | 4853 | 4th Batt |
| Robinson | L/Cpl | 4963 | 4th Batt |
| Robinson | 2nd Lieut | | |
| Robinson | Captain | | |
| Robinson R H St Clare | Lieut | | |
| Robotham | Pte | 4470 | 4th Batt |
| Roche L | Pte | 5231 | 2nd Batt |
| Roche | Pte | 5934 | 2nd Batt |
| Roche | Pte | 675 | 3rd Batt |
| Rock | Pte | 5915 | 4th Batt |
| Rock | Pte | 5744 | 4th Batt |
| Roe | Pte | 5875 | 4th Batt |
| Rogers | Pte | 3221 | 1st Batt |
| Rogers | Pte | 3244 | 2nd Batt |
| Rogers | Pte | 6538 | 2nd Batt |
| Rogers | Pte | 186 | 3rd Batt |
| Rogers | Pte | 7125 | 5th Batt |
| Rogers | Pte | 5619 | 4th Batt |
| Rogers | Lieut | | |
| Rogers M | Pte | 7255 | 1st Batt |
| Romer | Captain | | |
| Roonan | Pte | 3678 | 1st Batt |
| Roone | Pte | 2088 | 3rd Batt |
| Rooney P | Pte | 4438 | 1st Batt |
| Rooney J | Pte | 4834 | 2nd Batt |
| Rooney | Pte | 5867 | 2nd Batt |
| Rooney P | Pte | 2413 | 4th Batt |
| Rooney W | Pte | 3141 | 2nd Batt |
| Rothwell | Pte | 6853 | 1st Batt |
| Rourke | Pte | 3001 | 1st Batt |
| Rourke | Pte | 2794 | 1st Batt |
| Rourke | Pte | 6213 | 1st Batt |
| Rourke | Pte | 1793 | 2nd Batt |
| Rourke J | Pte | 5771 | 2nd Batt |
| Rourke | Pte | 284 | 3rd Batt |
| Rourke T | Pte | 5402 | 2nd Batt |
| Rourke T | Pte | 5956 | 2nd Batt |
| Rourke W | Pte | 5022 | 2nd Batt |
| Rowe | Pte | 6702 | 1st Batt |
| Rowland | Lieut | | |
| Rowlands | Pte | 3887 | 1st Batt |
| Rowley | 2nd Lieut | | |
| Royden w | Pte | 4748 | 2nd Batt |
| Ruddock | Pte | 6545 | 1st Batt |
| Rully | Pte | 3941 | 5th Batt |
| Rushbrooke H | Pte | 6460 | 2nd Batt |
| Russell | Pte | 5999 | 4th Batt |
| Ruth | Pte | 1943 | 5th Batt |
| Rutherford A | Major | | |
| Rutherford W | Pte | 6689 | 1st Batt |
| Rutledge T | Pte | 3308 | 5th Batt |
| Rutley | Pte | 2846 | 2nd Batt |
| Ryan | Pte | 2863 | 1st Batt |
| Ryan | Pte | 3895 | 1st Batt |
| Ryan J | Pte | 3473 | 1st Batt |
| Ryan | Pte | 6401 | 1st Batt |
| Ryan | Pte | 6259 | 1st Batt |
| Ryan | Pte | 3207 | 1st Batt |
| Ryan | Pte | 3950 | 1st Batt |
| Ryan | Pte | 2893 | 1st Batt |
| Ryan | Pte | 2723 | 2nd Batt |
| Ryan | Pte | 3138 | 2nd Batt |
| Ryan | Sgt | 4139 | 2nd Batt |
| Ryan | Pte | 4605 | 2nd Batt |
| Ryan | Pte | 5164 | 2nd Batt |
| Ryan | Pte | 5323 | 2nd Batt |
| Ryan | Pte | 6996 | 2nd Batt |
| Ryan | Pte | 108 | 4th Batt |
| Ryan | Pte | 5779 | 4th Batt |
| Ryan | Pte | 5797 | 4th Batt |
| Ryan | Pte | 5727 | 4th Batt |
| Ryan | Pte | 5901 | 4th Batt |
| Ryan | Pte | 3984 | 5th Batt |
| Ryan | Cpl | 4635 | 5th Batt |
| Ryan | L/Sgt | 1426 | 5th Batt |
| Ryan | Pte | 6862 | 4th Batt |
| Ryan | Pte | 6522 | 1st Batt |
| Ryan D | Pte | 6923 | 4th Batt |
| Ryan D | Com Sgt | 1689 | 5th Batt |
| Ryan F | Pte | 5811 | 2nd Batt |
| Ryan J | Sgt | 2892 | 2nd Batt |
| Ryan T | Pte | 5179 | 2nd Batt |
| Ryan W | Pte | 3896 | 1st Batt |
| Ryland | Pte | 1627 | 3rd Batt |
| Saddler | Pte | 3964 | 1st Batt |
| Sallinger | Pte | 6102 | 2nd Batt |
| Sallinger J | Pte | 6913 | 4th Batt |
| Sandford | Pte | 7326 | 1st Batt |
| Sandilands J | Pte | 3601 | 2nd Batt |
| Sarsfield | Pte | 3532 | 4th Batt |
| Saul | Pte | 5671 | 4th Batt |
| Saunders D | Pte | 5672 | 2nd Batt |
| Savage | Sgt | 3271 | 2nd Batt |
| Saville | L/Cpl | 4799 | 4th Batt |
| Sawyer | Pte | 7805 | 4th Batt |
| Scanlan T | Pte | 2985 | 4th Batt |
| Scanlon | Pte | 3121 | 1st Batt |
| Scanton | Sgt | 3110 | 5th Batt |
| Scoon | Cpl | 3065 | 1st Batt |
| Scotchmer H | Pte | 5389 | 1st Batt |
| Scott | L/Cpl | 1757 | 2nd Batt |
| Scott | Pte | 5685 | 4th Batt |
| Scott | 2nd Lieut | | |
| Scott | Pte | 4047 | 1st Batt |
| Scott J | Pte | 6831 | 4th Batt |
| Scotton | Sgt | 5457 | 1st Batt |
| Scully | Pte | 8466 | 2nd Batt |
| Scully | Pte | 6596 | 2nd Batt |
| Scully | L/Cpl | 4646 | 5th Batt |
| Scully B | Pte | 5516 | 2nd Batt |
| Scully J | Pte | 6261 | 1st Batt |
| Scully M | Pte | 2868 | 5th Batt |
| Seery | Pte | 3442 | 1st Batt |
| Seery J | Pte | 4026 | 1st Batt |
| Seery J | Pte | 4026 | 4th Batt |
| Seery B | Pte | 4329 | 5th Batt |
| Seery | Sgt | 4907 | 1st Batt |
| Seery J | Cpl | 1613 | 5th Batt |
| Sellers | Pte | 3784 | 2nd Batt |
| Semmence H A | Sgt | 3007 | 1st Batt |
| Semmence O | Cpl | 2525 | 1st Batt |
| Sergeant W | Pte | 6216 | 1st Batt |
| Sessions | Pte | 7416 | 1st Batt |
| Seymour | 2nd Lieut | | |
| Seymour A | Cpl | 4261 | 2nd Batt |
| Shakespeare T | L/Sgt | 4245 | 1st Batt |
| Shanks | Pte | 7256 | 1st Batt |
| Shanks W J | Sgt | 5414 | 1st Batt |
| Shannon | Pte | 2141 | 2nd Batt |
| Sharkey | Pte | 4414 | 5th Batt |
| Sharkey P | Pte | 3556 | 5th Batt |
| Shaughnessy | Pte | 5283 | 2nd Batt |
| Shaw | Major | | |
| Shea T | Pte | 1510 | 2nd Batt |
| Shea | Colour Sgt | 2312 | 5th Batt |
| Shea | Pte | 3809 | 5th Batt |
| Sheehan | Pte | 4921 | 2nd Batt |
| Sheehan | Pte | 4763 | 1st Batt |
| Sheehan P | Pte | 4683 | 1st Batt |
| Sheehan P | Pte | 6414 | 1st Batt |
| Sheen J | Pte | 3666 | 1st Batt |
| Sheils | Pte | 5359 | 4th Batt |
| Sheldon | Pte | 4189 | 4th Batt |
| Shelley | Pte | 4518 | 2nd Batt |
| Shelley | 2nd Lieut | | |
| Shelock J | Pte | 7106 | 1st Batt |
| Sheppardson S | L/Cpl | 3992 | 1st Batt |
| Sheridan | Pte | 4098 | 1st Batt |
| Sheridan | Pte | 4772 | 4th Batt |
| Sheridan | Pte | 4544 | 5th Batt |
| Sheridan W | Pte | 6354 | 2nd Batt |
| Sheridan P | Sgt Major | 1664 | 2nd Batt |
| Sherlock J | Cpl | 4588 | 5th Batt |
| Sherry | Sgt | 3440 | 5th Batt |
| Sherwin C | Pte | 1717 | 5th Batt |
| Sherwin W | Pte | 5619 | 2nd Batt |
| Shewan | Captain | | |
| Shiel W | Pte | 6715 | 1st Batt |
| Shields | Pte | 2770 | 1st Batt |
| Shields J | Pte | 6632 | 1st Batt |
| Shields J | Pte | 5957 | 1st Batt |
| Shields J | Pte | 3828 | 1st Batt |
| Shields P | Pte | 6254 | 1st Batt |
| Shine J | Pte | 6776 | 2nd Batt |
| Shortall | Pte | 4469 | 2nd Batt |
| Shortall | Pte | 1972 | 4th Batt |
| Simmons F J | Sgt | 6463 | 5th Batt |
| Simpson E G | Sgt | 5578 | 1st Batt |
| Simpson J | Pte | 4754 | 2nd Batt |
| Simson | Pte | 4306 | 1st Batt |
| Singleton | Pte | 5392 | 4th Batt |
| Sinnott | Pte | 4393 | 2nd Batt |
| Sitwell | Major | | |
| Skelley | Pte | 4514 | 2nd Batt |
| Skinner R | Pte | 7261 | 1st Batt |
| Slater V | Pte | 4842 | 1st Batt |
| Slater | Pte | 3031 | 1st Batt |
| Slater N | Pte | 5087 | 2nd Batt |
| Slavin | Pte | 7024 | 4th Batt |
| Smith | Pte | 3077 | 1st Batt |
| Smith | Pte | 4454 | 1st Batt |
| Smith J | Pte | 6183 | 1st Batt |
| Smith | Pte | 3273 | 1st Batt |
| Smith | Pte | 5407 | 1st Batt |
| Smith | L/Cpl | 5270 | 2nd Batt |
| Smith | Pte | 1194 | 3rd Batt |
| Smith | Pte | 2380 | 4th Batt |
| Smith | Pte | 2406 | 4th Batt |
| Smith | Pte | 4179 | 4th Batt |
| Smith | Pte | 4821 | 4th Batt |
| Smith | Pte | 5667 | 4th Batt |
| Smith | Pte | 5865 | 4th Batt |
| Smith | Pte | 4428 | 4th Batt |
| Smith | Pte | 4809 | 4th Batt |
| Smith | Pte | 4496 | 5th Batt |
| Smith | Pte | 3414 | 5th Batt |
| Smith | Pte | 3718 | 5th Batt |
| Smith | Pte | 4004 | 5th Batt |
| Smith | Pte | 2962 | 4th Batt |
| Smith | Pte | 6889 | 4th Batt |
| Smith | 2nd Lieut | | |
| Smith | Pte | 3908 | 2nd Batt |
| Smith | Cpl | 4921 | 2nd Batt |
| Smith | Pte | 4940 | 2nd Batt |
| Smith | Pte | 5163 | 2nd Batt |
| Smith | Pte | 7151 | 1st Batt |
| Smith | Pte | 7499 | 1st Batt |
| Smith | Pte | 6708 | 4th Batt |
| Smith J | Pte | 4488 | 2nd Batt |
| Smith J | Pte | 4359 | 2nd Batt |
| Smith J | Pte | 4959 | 2nd Batt |
| Smith G | Sgt Drummer | 5882 | 2nd Batt |
| Smith H | Pte | 4210 | 2nd Batt |
| Smith J | Pte | 7065 | 4th Batt |
| Smith J | Pte | 5984 | 2nd Batt |
| Smith J | Pte | 2395 | 4th Batt |
| SmitH J | Pte | 5006 | 2nd Batt |
| Smith J | Pte | 4959 | 1st Batt |
| Smith J | Pte | 1716 | 2nd Batt |
| Smith L | Pte | 6870 | 4th Batt |
| Smith R G M | Pte | 5508 | 2nd Batt |
| Smith S | Pte | 2843 | 1st Batt |
| Smith W E | Pte | 5020 | 2nd Batt |
| Smithwick | 2nd Lieut | | |
| Smullen | Pte | 4029 | 5th Batt |
| Smyth | L/Cpl | 3904 | 1st Batt |
| Smyth | Pte | 3378 | 5th Batt |
| Smyth J | Sgt | 1207 | 5th Batt |
| Sneddon R | Pte | 7165 | 1st Batt |
| Somers | Pte | 3257 | 2nd Batt |
| Somers | Pte | 3741 | 4th Batt |
| Sparrow | Pte | 7115 | 1st Batt |
| Spears | Pte | 6564 | 1st Batt |
| Spencer | Pte | 3588 | 1st Batt |
| Stack | Pte | 4429 | 4th Batt |
| Stack T J | Pte | 6122 | 2nd Batt |
| Stafford J | Pte | 3468 | 1st Batt |
| Stanton W | Pte | 4787 | 1st Batt |
| Stanton | Pte | 4063 | 5th Batt |
| Stanton P | Pte | 1143 | 4th Batt |
| Stanton T | Pte | 5329 | 2nd Batt |
| Steenson | Pte | 7012 | 4th Batt |
| Stenson | Pte | 6083 | 1st Batt |
| Stewart | Pte | 1875 | 1st Batt |
| Stewart | Pte | 3216 | 1st Batt |
| Stewart | Pte | 3862 | 1st Batt |
| Stewart W | Pte | 5112 | 2nd Batt |
| Stimp | Pte | 4021 | 5th Batt |
| Stirling | Lieut | | |
| Stockton F | Pte | 6593 | 1st Batt |
| Stokes J | Pte | 6151 | 2nd Batt |
| Storey | Pte | 6867 | 4th Batt |
| Stow | Pte | 3823 | 1st Batt |
| Straighton | Pte | 4477 | 2nd Batt |
| Strain | Pte | 2387 | 1st Batt |
| Street | Captain | | |
| Stringer | Pte | 5676 | 5th Batt |
| Strode | Pte | 7099 | 1st Batt |
| Stwart | Pte | 3421 | 2nd Batt |
| Stwart F | Pte | 3910 | 2nd Batt |
| Sullivan | Pte | 4615 | 1st Batt |
| Sullivan | Pte | 4349 | 2nd Batt |
| Sullivan | Pte | 3923 | 4th Batt |
| Sullivan J | Pte | 3905 | 3rd Batt |
| Sullivan J | Cpl | 4367 | 2nd Batt |
| Sullivan J | Pte | 4619 | 2nd Batt |
| Summers | Pte | 1837 | 1st Batt |
| Summers | Pte | 5041 | 2nd Batt |
| Summerville R | Pte | 4620 | 2nd Batt |
| Supple | 2nd Lieut | | |
| Sutton | Sgt | 2596 | 1st Batt |
| Sutton | Cpl | 6345 | 2nd Batt |
| Sutton | Pte | 4876 | 4th Batt |
| Sutton J | Pte | 5967 | 2nd Batt |
| Sutton S C | Pte | 2980 | 1st Batt |
| Swaine P | Pte | 6885 | 4th Batt |
| Swan | Pte | 2704 | 1st Batt |
| Swan | Pte | 3225 | 2nd Batt |
| Swan A | Pte | 7073 | 1st Batt |
| Sweeney | Pte | 4194 | 1st Batt |
| Sweeney | Pte | 4151 | 1st Batt |
| Sweeney | Pte | 2871 | 1st Batt |
| Sweeney | Pte | 6024 | 1st Batt |
| Sweeney | Pte | 5301 | 2nd Batt |
| Sweeney | Pte | 2773 | 4th Batt |
| Sweeney | Pte | 5301 | 5th Batt |
| Sweeney | Pte | 6024 | 5th Batt |
| Sweeney | Pte | 4194 | 5th Batt |
| Sweeney | Pte | 2775 | 5th Batt |
| Sweeney | Pte | 2535 | 5th Batt |
| Sweeney | Pte | 2376 | 4th Batt |
| Sweeney | Pte | 6989 | 4th Batt |
| Swift | Pte | 7284 | 4th Batt |
| Swift | Captain | | |
| Swift W | L/Cpl | 6360 | 1st Batt |
| Swifte | Lieut | | |
| Swoods | Pte | 3447 | 5th Batt |
| Swords | Pte | 4153 | 4th Batt |
| Synott J F | Pte | 5930 | 2nd Batt |
| Synott T | Cpl | 6011 | 2nd Batt |
| Taaffe | Pte | 5688 | 4th Batt |
| Taggart | Pte | 5652 | 2nd Batt |
| Tait | L/Cpl | 6891 | 2nd Batt |
| Taite | L/Sgt | 3881 | 2nd Batt |
| Talbot | Pte | 6106 | 2nd Batt |
| Talbot | Pte | 3381 | 4th Batt |
| Talbot | Pte | 5488 | 4th Batt |
| Tallon P | Pte | 5739 | 2nd Batt |
| Tate | Pte | 325 | 5th Batt |
| Taylor | Pte | 3671 | 1st Batt |
| Taylor | Pte | 3538 | 2nd Batt |
| Taylor | Pte | 5344 | 2nd Batt |
| Taylor | L/Sgt | 5668 | 2nd Batt |
| Taylor | Pte | 6581 | 2nd Batt |
| Taylor | Pte | 2544 | 3rd Batt |
| Taylor | Pte | 7263 | 1st Batt |
| Taylor | Pte | 5147 | 4th Batt |
| Taylor | Lieut | | |
| Taylor A | Pte | 5637 | 2nd Batt |
| Teacher F | Pte | 6196 | 4th Batt |
| Terrance | Pte | 570 | 3rd Batt |
| Tevlin | Pte | 2082 | 4th Batt |
| Thackeray | Pte | 3916 | 1st Batt |
| Thackeray | Pte | 3916 | 1st Batt |
| Thames | L/Cpl | 3843 | 5th Batt |
| Thomas | Pte | 3813 | 1st Batt |
| Thompkins | Pte | 5808 | 4th Batt |
| Thompson | Pte | 4288 | 1st Batt |
| Thompson | Pte | 7420 | 1st Batt |
| Thompson | L/Cpl | 5810 | 4th Batt |
| Thompson | Pte | 5253 | 4th Batt |
| Thompson | Sgt | 3791 | 5th Batt |
| Thompson | 2nd Lieut | | |
| Thompson | Pte | 5113 | 2nd Batt |
| Thompson | Pte | 6229 | 2nd Batt |
| Thompson G | Pte | 2921 | 2nd Batt |
| Thompson W | Pte | 4708 | 1st Batt |
| Thorogood | Pte | 5720 | 1st Batt |
| Thoroughgood | Pte | 3091 | 2nd Batt |
| Thorpe | Pte | 6610 | 1st Batt |
| Thorpe | Pte | 5658 | 2nd Batt |
| Thurlow J | Pte | 6771 | 1st Batt |
| Tierney A | Cpl | 6706 | 2nd Batt |
| Tighe | Pte | 4206 | 1st Batt |
| Tighe | Pte | 6274 | 1st Batt |
| Tighe M | L/Cpl | 5982 | 2nd Batt |
| Timmins | Pte | 3849 | 1st Batt |
| Timmins | Pte | 6388 | 1st Batt |
| Timmins | Pte | 3303 | 4th Batt |
| Tinsley S | Pte | 6674 | 1st Batt |
| Tippet | Major | | |
| Tobin | Pte | 2194 | 2nd Batt |
| Tobin | Pte | 4597 | 2nd Batt |
| Tobin | Pte | 7272 | 1st Batt |
| Tobin | Pte | 7341 | 1st Batt |
| Tobin E | Pte | 6510 | 2nd Batt |
| Tobin R | Pte | 4291 | 5th Batt |
| Todd | Captain | | |
| Toole J | Pte | 4255 | 1st Batt |
| Toole | Pte | 1291 | 2nd Batt |
| Toole | Pte | 4551 | 2nd Batt |
| Toole | Pte | 7342 | 4th Batt |
| Toole | Pte | 4492 | 5th Batt |
| Toole | Pte | 6072 | 1st Batt |
| Toole E | Pte | 5032 | 2nd Batt |
| Toole J | Pte | 4387 | 1st Batt |
| Toole P | Pte | 4706 | 2nd Batt |
| Toomey | Pte | 4788 | 2nd Batt |
| Toomey | Pte | 757 | 3rd Batt |
| Toomey C | Pte | 5698 | 2nd Batt |
| Toward | L/Cpl | 3950 | 2nd Batt |
| Towey | Sgt | 3150 | 1st Batt |
| Towey | Sgt | 3150 | 2nd Batt |
| Townsell | Pte | 5848 | 2nd Batt |
| Townsend | Sgt | 1850 | 2nd Batt |
| Townsend | Pte | 7127 | 5th Batt |
| Townsend | Sgt Major Tailor | 7850 | 4th Batt |
| Townsend | Drummer | 6041 | 5th Batt |
| Townsend A | Pte | 5736 | 2nd Batt |
| Townsend G | Pte | 6166 | 2nd Batt |
| Tracey | Pte | 3463 | 1st Batt |
| Tracey | Pte | 3409 | 1st Batt |
| Tracey | Pte | 1324 | 1st Batt |
| Tracey | Pte | 5481 | 1st Batt |
| Tracey | Pte | 4962 | 2nd Batt |
| Tracey | Pte | 5364 | 4th Batt |
| Tracey J | Pte | 5635 | 2nd Batt |
| Tramble H | Pte | 6384 | 1st Batt |
| Travers | Pte | 3235 | 1st Batt |
| Travers | Pte | 3752 | 2nd Batt |
| Traynor | Pte | 3951 | 2nd Batt |
| Traynor | Pte | 4417 | 2nd Batt |
| Traynor | Pte | 2187 | 4th Batt |
| Treacey | Pte | 6008 | 1st Batt |
| Tredennick | 2nd Lieut | | |
| Trew | Pte | 3205 | 1st Batt |
| Troy | Pte | 4638 | 4th Batt |
| Tucker J | Pte | 6809 | 4th Batt |
| Tuite | Pte | 2236 | 5th Batt |
| Tuite J | Pte | 3677 | 4th Batt |
| Tully P | Pte | 7505 | 1st Batt |
| Tully | Pte | 4884 | 4th Batt |
| Tully | Pte | 4366 | 4th Batt |
| Tully | Pte | 2379 | 5th Batt |
| Turley R | Pte | 4175 | 1st Batt |
| Turner | Pte | 3386 | 1st Batt |
| Turner | Pte | 6266 | 1st Batt |
| Turner R | Pte | 4000 | 1st Batt |
| Tutty | Pte | 3667 | 1st Batt |
| Tutty | Pte | 6557 | 1st Batt |
| Twohig | Pte | 3567 | 1st Batt |
| Tynan | Pte | 4409 | 1st Batt |
| Tyrell | Pte | 177 | 3rd Batt |
| Tyrrell | Pte | 3134 | 1st Batt |
| Tyrrell | Pte | 3797 | 1st Batt |
| Tyrrell | Pte | 4993 | 1st Batt |
| Tyrrell | Pte | 6154 | 5th Batt |
| Tyrrell | Cpl | 4493 | 4th Batt |
| Tyrrell | Pte | 5684 | 4th Batt |
| Tyrrell M | Pte | 5573 | 2nd Batt |
| Tyrrell P | Pte | 6087 | 2nd Batt |
| Underhay | Drummer | 6039 | 2nd Batt |
| Urwin | Pte | 4044 | 1st Batt |
| Urwin | Pte | 4044 | 1st Batt |
| Usher | Pte | 5915 | 4th Batt |
| Usher P | Pte | 4095 | 1st Batt |
| Valentine | Pte | 6278 | 2nd Batt |
| Valentine | Pte | 5857 | 4th Batt |
| Valentine | Pte | 3057 | 4th Batt |
| Vaughan | Pte | 5302 | 2nd Batt |
| Vaughan | Pte | 3982 | 5th Batt |
| Vear | Pte | 5614 | 1st Batt |
| Vear | Pte | 6104 | 2nd Batt |
| Venour | Captain | | |
| Verey | Pte | 5816 | 2nd Batt |
| Vicars | Pte | 4310 | 1st Batt |
| Victory | Pte | 5871 | 4th Batt |
| Virgo A R | Sgt | 5852 | 1st Batt |
| Virnall | L/Sgt | 5650 | 1st Batt |
| Vodrey W | Pte | 5134 | 2nd Batt |
| Waddingham W | Pte | 4826 | 1st Batt |
| Wade | Pte | 6306 | 2nd Batt |
| Wade P | Pte | 2872 | 5th Batt |
| Wakefield | Drummer | 6584 | 1st Batt |
| Waldron | Pte | 3034 | 1st Batt |
| Waldron | Pte | 3417 | 4th Batt |
| Waldron | Pte | 7463 | 1st Batt |
| Walker | Cpl | 4898 | 2nd Batt |
| Walker | Pte | 967 | 3rd Batt |
| Walker | Pte | 5814 | 1st Batt |
| Walker C | Pte | 7002 | 4th Batt |
| Walker T | Pte | 4134 | 1st Batt |
| Wall | Pte | 2226 | 1st Batt |
| Wall | Pte | 4326 | 1st Batt |
| Wall | Pte | 5524 | 2nd Batt |
| Wall J | Pte | 5537 | 2nd Batt |
| Wallace | Pte | 5271 | 2nd Batt |
| Wallace | Pte | 5743 | 4th Batt |
| Wallace | Pte | 5843 | 4th Batt |
| Wallace | Pte | 3329 | 5th Batt |
| Wallace C N | Pte | 6642 | 1st Batt |
| Wallsworth | Sgt | 5491 | 2nd Batt |
| Walsh | Pte | 6219 | 1st Batt |
| Walsh | Pte | 4866 | 1st Batt |
| Walsh N | Sgt | 5169 | 1st Batt |
| Walsh | Pte | 3726 | 1st Batt |
| Walsh | Pte | 4830 | 1st Batt |
| Walsh | Pte | 6655 | 1st Batt |
| Walsh | Cpl | 6341 | 1st Batt |
| Walsh | Pte | 1440 | 2nd Batt |
| Walsh | Pte | 2393 | 2nd Batt |
| Walsh | Pte | 4596 | 2nd Batt |
| Walsh | Pte | 4778 | 2nd Batt |
| Walsh | Pte | 4800 | 2nd Batt |
| Walsh | Pte | 2022 | 3rd Batt |
| Walsh | Pte | 3065 | 4th Batt |
| Walsh | Pte | 3846 | 4th Batt |
| Walsh | Pte | 3420 | 5th Batt |
| Walsh | Pte | 7470 | 1st Batt |
| Walsh | Pte | 7479 | 1st Batt |
| Walsh | Pte | 7488 | 1st Batt |
| Walsh | Pte | 7295 | 1st Batt |
| Walsh | Pte | 5687 | 4th Batt |
| Walsh | Pte | 5904 | 4th Batt |
| Walsh | Pte | 4837 | 4th Batt |
| Walsh | Cpl | 5939 | 4th Batt |
| Walsh | Pte | 5038 | 4th Batt |
| Walsh | Pte | 5572 | 4th Batt |
| Walsh | Pte | 6182 | 4th Batt |
| Walsh | Pte | 3441 | 5th Batt |
| Walsh | Pte | 4226 | 5th Batt |
| Walsh | Pte | 1820 | 5th Batt |
| Walsh | Pte | 3658 | 5th Batt |
| Walsh | Pte | 2838 | 4th Batt |
| Walsh | Captain | | |
| Walsh | Pte | 6765 | 1st Batt |
| Walsh James | Pte | 2717 | 5th Batt |
| Walsh M | Pte | 3852 | 1st Batt |
| Walsh M | Pte | 3257 | 1st Batt |
| Walsh P | Cpl | 5318 | 4th Batt |
| Walsh S | Pte | 3906 | 1st Batt |
| Walsh T | Pte | 6908 | 4th Batt |
| Walsh T | Pte | 4853 | 2nd Batt |
| Walsh W | Pte | 6842 | 4th Batt |
| Walsh W | Pte | 5368 | 4th Batt |
| Walsh W | Pte | 5689 | 4th Batt |
| Walters | Pte | 7111 | 5th Batt |
| Walton E | Sgt | 5426 | 4th Batt |
| Wane | Sgt | 4199 | 1st Batt |
| Ward | Pte | 3107 | 1st Batt |
| Ward | Pte | 6868 | 1st Batt |
| Ward | Pte | 4465 | 4th Batt |
| Ward | Pte | 4682 | 4th Batt |
| Ward | Pte | 2775 | 4th Batt |
| Ward | Pte | 4464 | 4th Batt |
| Ward | Lieut | | |
| Ward T | Pte | 5765 | 4th Batt |
| Ward J | Pte | 4171 | 4th Batt |
| Warner G | Pte | 5507 | 4th Batt |
| Warren | L/Cpl | 4607 | 4th Batt |
| Waters | Pte | 5473 | 4th Batt |
| Watkins | Pte | 5768 | 1st Batt |
| Watson | Pte | 7067 | 4th Batt |
| Watts | Pte | 4498 | 4th Batt |
| Webb | Pte | 4039 | 1st Batt |
| Webb | Pte | 5848 | 4th Batt |
| Webb | Pte | 4590 | 4th Batt |
| Webb | Pte | 3545 | 5th Batt |
| Webb T | Drummer | 4201 | 4th Batt |
| Webster | Cpl | 4611 | 4th Batt |
| Weir | Pte | 3604 | 5th Batt |
| Weldon | Captain | | |
| Weldon | 2nd Lieut | | |
| Wellington | Pte | 2748 | 1st Batt |
| Wernham | Pte | 3277 | 4th Batt |
| Weston J L | Lieut | | |
| Westworth | Pte | 2389 | 1st Batt |
| Westworth | Pte | 4373 | 4th Batt |
| Weyer M | Pte | 6342 | 1st Batt |
| Whalen | Sgt Major | 5021 | 5th Batt |
| Whearty P | Pte | 5737 | 4th Batt |
| Wheeler | Pte | 2962 | 1st Batt |
| Wheeler | Pte | 3089 | 4th Batt |
| Wheeler | Lieut | | |
| Whelan | Pte | 2746 | 1st Batt |
| Whelan J | Pte | 5778 | 1st Batt |
| Whelan | Pte | 4120 | 1st Batt |
| Whelan | Pte | 5314 | 1st Batt |
| Whelan | Pte | 1116 | 3rd Batt |
| Whelan | Pte | 1685 | 3rd Batt |
| Whelan | Pte | 2037 | 4th Batt |
| Whelan | Pte | 3163 | 4th Batt |
| Whelan P | Pte | 3833 | 4th Batt |
| Whelan | Pte | 4113 | 4th Batt |
| Whelan | Pte | 3016 | 5th Batt |
| Whelan | Pte | 4054 | 5th Batt |
| Whelan J | Pte | 6530 | 1st Batt |
| Whelan | Pte | 7347 | 1st Batt |
| Whelan | Pte | 5691 | 4th Batt |
| Whelan | Pte | 1105 | 4th Batt |
| Whelan | Pte | 4089 | 4th Batt |
| Whelan | Pte | 4590 | 4th Batt |
| Whelan | Pte | 5679 | 4th Batt |
| Whelan | L/Cpl | 5304 | 4th Batt |
| Whelan P | Pte | 5480 | 4th Batt |
| Whelan | Pte | 6368 | 4th Batt |
| Whelan | Pte | 3301 | 5th Batt |
| Whelan | Pte | 2912 | 1st Batt |
| Whelan J | Pte | 639 | 3rd Batt |
| Whelan M | Cpl | 4097 | 5th Batt |
| Whelan T | Pte | 4760 | 1st Batt |
| Whirter | Pte | 4125 | 4th Batt |
| Whitby | L/Cpl | 3104 | 1st Batt |
| White | Pte | 3597 | 1st Batt |
| White | Pte | 3914 | 1st Batt |
| White | Pte | 3157 | 1st Batt |
| White | Pte | 6378 | 1st Batt |
| White | Pte | 5631 | 4th Batt |
| White | Pte | 3030 | 4th Batt |
| White | Pte | 3138 | 4th Batt |
| White | Pte | 4453 | 4th Batt |
| White | Pte | 4871 | 4th Batt |
| White | Pte | 5278 | 4th Batt |
| White | Pte | 6651 | 4th Batt |
| White | Pte | 3352 | 5th Batt |
| White P | Pte | 5352 | 4th Batt |
| Whitelaw J | Pte | 2573 | 5th Batt |
| Whitelaw J | Pte | 7109 | 5th Batt |
| Whittell | Pte | 3253 | 1st Batt |
| Whyley | Cpl | 4928 | 1st Batt |
| Whyte | 2nd Lieut | | |
| Whyty A | Pte | 6269 | 1st Batt |
| Wilby F | Pte | 4948 | 4th Batt |
| Wilkins | Pte | 7143 | 1st Batt |
| Willey T | L/Cpl | 4617 | 5th Batt |
| Williams | Pte | 3605 | 1st Batt |
| Williams | Pte | 3673 | 1st Batt |
| Williams | Pte | 3440 | 1st Batt |
| Williams | Cpl | 5025 | 4th Batt |
| Williams C | Pte | 5961 | 4th Batt |
| Williams J | Pte | 3762 | 1st Batt |
| Williams J | Pte | 5144 | 4th Batt |
| Williams T | Pte | 2597 | 4th Batt |
| Williams T | Pte | 7392 | 1st Batt |
| Williamson | Pte | 7066 | 5th Batt |
| Willis | Pte | 4822 | 4th Batt |
| Willock | 2nd Lieut | | |
| Willoughby | Pte | 6552 | 1st Batt |
| Wilmott J | Pte | 4570 | 4th Batt |
| Wilson | Pte | 2395 | 1st Batt |
| Wilson | Pte | 6467 | 1st Batt |
| Wilson | Pte | 4067 | 1st Batt |
| Wilson | Pte | 4056 | 1st Batt |
| Wilson | Pte | 4124 | 4th Batt |
| Wilson | Pte | 5881 | 4th Batt |
| Wilson | Pte | 2440 | 4th Batt |
| Wilson | Pte | 4737 | 4th Batt |
| Wilson | Pte | 5154 | 4th Batt |
| Wilson | Pte | 5002 | 4th Batt |
| Wilson | Pte | 7158 | 4th Batt |
| Wilson | Pte | 5518 | 5th Batt |
| Wilson J | Pte | 6713 | 4th Batt |
| Wilton | Pte | 4507 | 5th Batt |
| Winters | Pte | 5905 | 4th Batt |
| Winters | L/Cpl | 3992 | 5th Batt |
| Wisdom J | L/Cpl | 6002 | 1st Batt |
| Wisely | Pte | 5462 | 4th Batt |
| Wodehouse | 2nd Lieut | | |
| Wolfe | Pte | 5472 | 5th Batt |
| Wolfe | Pte | 5472 | 4th Batt |
| Woods | Pte | 3572 | 1st Batt |
| Woods | Pte | 1894 | 1st Batt |
| Woods | Pte | 5420 | 1st Batt |
| Woods | Pte | 3816 | 1st Batt |
| Woods J | Pte | 7311 | 1st Batt |
| Woods | Pte | 4549 | 4th Batt |
| Woods | Pte | 4003 | 4th Batt |
| Woods | Pte | 5420 | 4th Batt |
| Woods J | Pte | 5666 | 4th Batt |
| Woods | Pte | 6307 | 4th Batt |
| Woods | Drummer | 4257 | 5th Batt |
| Woods | Pte | 3985 | 4th Batt |
| Woods P | Pte | 7003 | 4th Batt |
| Wright | Pte | 7096 | 5th Batt |
| Wright | L/Cpl | 7130 | 5th Batt |
| Wright | Pte | 5717 | 4th Batt |
| Wylde S | Pte | 3432 | 1st Batt |
| Wylly | Pte | 7077 | 5th Batt |
| Wynn | Pte | 3569 | 1st Batt |
| Wynne | Pte | 3031 | 4th Batt |
| Wynne | Pte | 3323 | 1st Batt |
| Wynne | Cpl | 5815 | 4th Batt |
| Wynne | Pte | 5944 | 4th Batt |
| Wynne C | L/Cpl | 5756 | 4th Batt |
| Yates | Pte | 3214 | 1st Batt |
| Yates | Pte | 3326 | 4th Batt |
| Yeats | Pte | 3939 | 5th Batt |